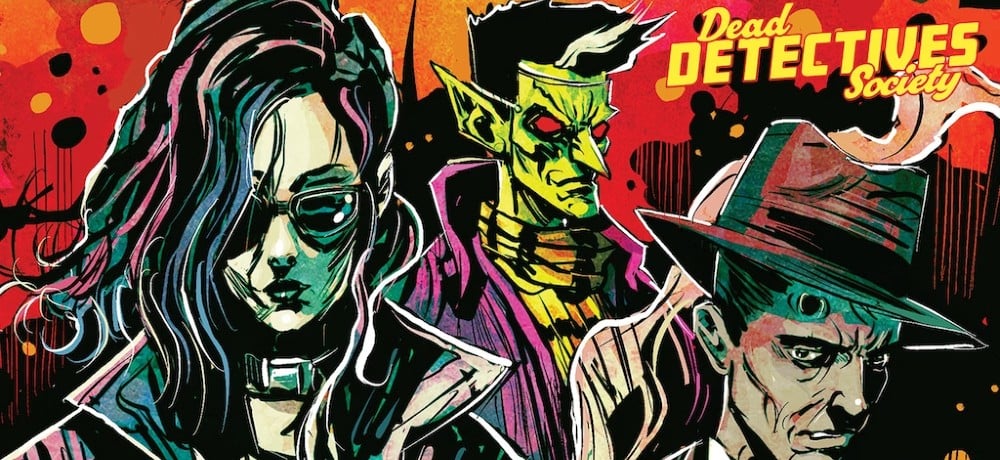 "In the tradition of the great pulps of yesteryear, contemporary masters of the macabre Kevin J. Anderson, David Avallone, Nancy A. Collins, Nancy Holder & Alan Phillipson, John Jennings, Kasey Lansdale & Joe R. Lansdale, Rena Mason, Jonathan Maberry, Lisa Morton, Steve Niles, Jeff Strand, Tim Waggoner, and writer and editor James Aquilone are joining forces for DEAD DETECTIVES SOCIETY. This one-of-a-kind anthology from Monstrous Books features a cover by Hugo Award-winner John Jennings and interior art by Zac Atkinson, J.K. Woodward and Jennings."
Now funding on Kickstarter, I caught up with James to learn more about his love of weird detective stories, what we can expect from the new anthology, and more!
How did you first get exposed to weird horror pulp detective stories? Was there a particular book or story that got you hooked?
James Aquilone: I've always loved detective stories, going back to when I read Sherlock Holmes's "The Red-Headed League" in grade school. The teacher stopped the story before the mystery was solved and we had to come back the next day with our guess. I acted like Sherlock and went to the library and listened to an audiobook—on cassette!—of the story and got the answer. Later I became a big fan of Elmore Leonard and I thought I'd be a crime writer, but instead I gravitated toward speculative fiction. Back in 2006, I wanted to write a detective story, but I wanted to give it a weird twist. I thought a zombie detective was pretty weird so I wrote the story, which became Dead Jack. Hellboy was my inspiration. And coincidentally, the Dead Jack short story was my first story acceptance and it was in the legendary pulp magazine Weird Tales. This year Mike did the cover for Weird Tales, and I got to edit a Hellboy story for the issue as managing editor of the magazine. Full circle.
Having successfully released and coordinated KOLCHAK and CLASSIC MONSTERS UNLEASHED, has DEAD DETECTIVES SOCIETY been in the works for some time? Did you always know it was going to be your next project?
James Aquilone: Soon after I came up with the idea for Dead Detectives Society, I went to work on it. This was late summer/early fall of 2022, just as I was finishing work on the Kolchak 50th anniversary graphic novel. I don't like to take breaks!
You've assembled a great group of writers that are sharing stories with both established and brand-new characters. Can you give our readers a tease of some of the writers and characters that will be appearing in this anthology?
James Aquilone: Dead Detectives Society will have a lucky 13 stories. About half of the anthology features established characters like Kevin J. Anderson's Dan Shamble, Tim Waggoner's Matt Richter, Nancy A. Collins' Sonja Blue, Steve Nile's Cal McDonald, Nancy Holder & Alan Phillipson's Johnny Fade, and my own Dead Jack, Zombie Detective. And then we've added new characters like John Jennings' Saul When: Halloween Detective and Rena Mason's Jin G. Fox. David Avallone put a new twist on an old character with a reanimated version of pulp detective Nick Carter. Plus, we have new detectives from Lisa Morton, Kasey & Joe R. Lansdale, Jeff Strand, and Jonathan Maberry
Additionally, what are some of the new characters you're especially excited about?
James Aquilone: John Jennings' Saul When: Halloween Detective and Rena Mason's Jin G. Fox are really fantastic and different. David Avallone's Nick Carter is a very pulpy action-packed story. I can't wait to see these characters' continued adventures in future editions of Dead Detectives Society.
You're also tackling a new story with Dead Jack? Can you tell our readers a bit about your history with the character and tease the new story?
James Aquilone: I wrote the first Dead Jack short story in 2006 and filed it away. I didn't think anyone would publish it. It wasn't until 2012 that I submitted it to a publisher. It got accepted for Weird Tales Undead issue and was published in 2014. In 2016, I ran a Kickstarter, my first, for a Dead Jack novel. Between the campaign and its publication, the series was optioned for TV and film. Since then, I've written two other Dead Jack novels, four short stories, and a TV pilot. 
In the new story, "The Case of the Ravenous Werewolf," a shapeshifter hires Jack to assassinate him before he transforms and kills again.
Like your other projects, this anthology is being offered on Kickstarter. Can you tell our readers some of the rewards that are being offered?
James Aquilone: The book will be available as a paperback and ebook. Everyone who buys the print book will get a signed and numbered Dead Detectives Society membership card. We'll have T-shirts, signed prints, plus, signed copies of the contributors' books featuring their characters, like Steve Nile's Cal McDonald books.
---
"DEAD DETECTIVES SOCIETY is now funding on Kickstarter. Everyone who backs at a physical level will receive a signed and numbered Dead Detectives Society membership card. Other tiers include signed books by Steve Niles, Rena Mason, Lisa Morton, and Tim Waggoner."
DEAD DETECTIVES SOCIETY gathers the greatest weird detectives in pulpdom, including:

Dan Shamble, Zombie P.I. (who has featured in nine novels and dozens of short stories  by New York Times bestseller Kevin J. Anderson),

Cal McDonald (Steve Niles's occult detective whose adventures have been published by Dark Horse Comics and IDW Publishing),

Matt Richter (zombie detective who's been featured in award-winning author Tim Waggoner's Nekropolis series),

Sonja Blue (punk vampire hunter who has starred in four novels as well as short stories and comics from the Bram Stoker Award-winning author Nancy A. Collins),

and Dead Jack (the zombie detective who first appeared in Weird Tales magazine and has featured in three novels from Bram Stoker Award nominated editor and writer James Aquilone)

…and adds some new macabre investigators to their ranks, including:

A reanimated Nick Carter by David Avallone, based on the character who appeared in the Nick Carter-Killmaster novels written by his father, Michael Avallone.

Saul When: Halloween Detective by John Jennings and Jin G. Fox, Death Investigator by Rena Mason, based on a character from her story in the award-winning anthology Black Cranes.

As part of the Kickstarter, Monstrous Books will also be launching MONSTROUS MAGAZINE, a digest-size magazine — just like pulps of yesteryear — that will feature a mix of comics, prose stories, and articles. The debut issue will include:

A collectible cover by Colton Worley (Classic Monsters Unleashed, The Shadow)

An essay by Elvira Mistress of the Dark writer David Avallone about the legacy of his father, pulp legend Michael Avallone

A reprint of pulp legend Michael Avallone's first short story "The Man Who Walked on Air, " originally published in Weird Tales in 1953,

The very first Dead Jack comic, "Dead Jack and Oswald Meet Frankenstein," written by James Aquilone and illustrated by J.K. Woodward,

"Monster Rally," a comic story by Nancy A. Collins with art by Zac Atksinson

"'Monster Rally' will be packed with all —and we mean all — of your favorite classic monsters," said editor James Aquilione.

DEAD DETECTIVES SOCIETY will include:

"Mystery Meat: a Dan Shamble, Zombie P.I. Adventure" by Kevin J Anderson

Dan Shamble, Zombie P.I. is back from the dead and back on the case. In the Unnatural Quarter, inhabited by all manner of unusual people, Dan has to solve his wormiest case yet, when Mama Fly's children go missing…and secretive industrial magnate Gold Boris launches a brand new "mystery meat" product that is taking the unnaturals by storm.

"Dead Drop: A Johnny Fade Story" by Nancy Holder and Alan Philipson

Deceased, corrupt, circa-1940 Hollywood Homicide cop Johnny Fade gets a furlow from Deadtown (the last stop before the Worse Place) whenever singing, dancing, homicidal, living movie star Rachel Alcina gets herself in trouble. This time, the L.A. mob has forced her to act in a bio-pic about Oso the Maneater, a professional wrestler and in-the-ring murderer. Rachel knows it will end her career: her medium told her so.

"The Ghost Thieves" by John Jennings

Saul When: Halloween Detective gets hired by a haunted house whose favorite ghosts have been stolen. Saul must use his Halloween tricks to get to the bottom of the ghost-napping and face whatever entity that has the power to actually steal a spirit from its spectral home.

"I was so honored to be asked to be a part of such a groundbreaking collection," said John Jennings. "The premise is so unique and it's filled with some of the greats in the genre! The anthology sports my original cover art and my story centers on a new character of mine called Saul When: Halloween Detective. The collection features Saul's very first adventure called 'The Ghost Thieves.'"

"Jin G. Fox, Death Investigator: Vixen Screams" by Rena Mason

Slain after receiving the dreaded fourth tail, the unrelenting vixen, Jin G. Fox is given another chance to earn her full powers back, as well as immortality, from the Queen Mother of the West by becoming a Death Investigator tasked with cleaning up 1900s San Francisco to make way for a "new" Chinatown.

"Being a part of the Dead Detectives Society means the world to me," said three-time Bram Stoker Award winner Mason. "There's nothing more exciting, fun, and humbling than creating a character who gets to play in the sandbox alongside legends." – Rena Mason, three-time Bram Stoker Award winner.

"Half A Monster Is Better Than None" by Tim Waggoner

Zombie P.I. Matt Richter works the very mean streets of Nekropolis, an other-dimensional city full of monsters, ghosts, and witches. Matt's latest client is a shifter with a unique problem. She's a were-thylacine – an exceptionally rare breed – and someone has stolen her animal form, making it impossible for her to change shape. Even if Matt can figure out who stole her shifter form and why, how can he possibly reunite his client's two halves and make her whole again? Good thing Matt's already dead, or this case just might kill him.

"You can't keep a good zombie P.I. down, and I'm thrilled that Matt Richter is going to join the Dead Detectives Society!" said four-time Bram Stoker Award winner Waggoner. "Get ready for more magic, monsters, mystery, and mayhem on the very dark streets of Nekropolis!"

"Snippy" by Jeff Strand

Timothy Perkins incorrectly promotes himself as the greatest detective who ever lived. His most marketable skill is his ability to wander into dangerous situations, because every time he's killed he comes back to life. This advantage is offset by his occasional glimpses into The Void, where he screams in uncontrollable terror because there is no existence beyond our current realm. Hopefully he can get his client's dog back.

"The Case of the Ravenous Werewolf" by James Aquilone

Dead Jack has a dilemma on his hands when a creepy werewolf asks the zombie detective to kill him. The fairy-dust-addicted P.I. must decide to become an assassin or allow dozens of innocent fairies to get devoured.

"This anthology gave me a chance to write a character my father rebooted in 1964," says David Avallone, who has (literally) reanimated Nick Carter for a new adventure, "and bridge together two pieces of detective genre history that have been begging to be connected ever since...in a short story that should, if I'm successful, remind readers of the particular pulp fiction genius and madness of Michael Angelo Avallone"

"DEAD DETECTIVES SOCIETY is my pulpy passion project," says editor James Aquilone. "With this annual anthology series I hope to expand the weird detective subgenre and have a blast while doing it." Aquilone's first two anthologies — both of which were crowdfunded on Kickstarter — recently won Rondo Hatton Classic Horror Awards (Best Graphic Novel or Collection for KOLCHAK and Best Graphic Novel or Collection for CLASSIC MONSTERS UNLEASHED). Both books are also nominated for an Imadjinn Award this year, while KOLCHAK is up for the Best Graphic Novel Bram Stoker Award.
For updates, follow Monstrous Books on Twitter and Facebook. To support the project, visit Kickstarter.