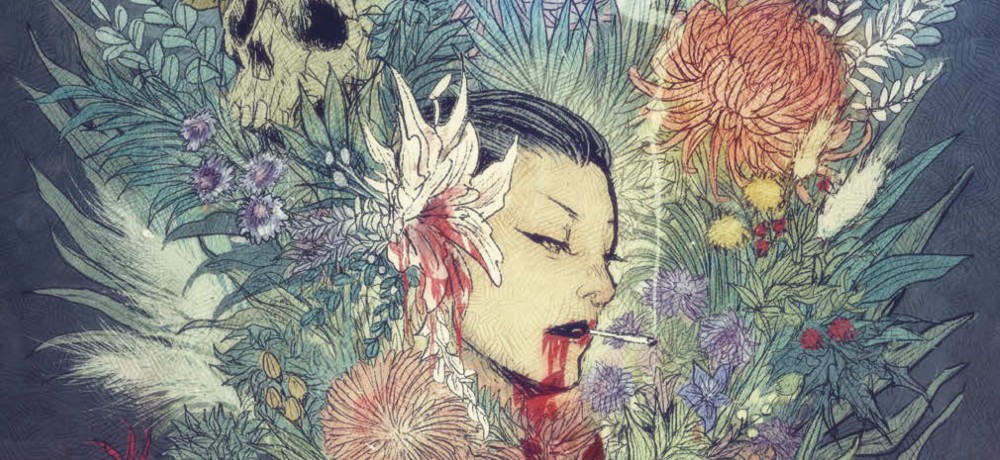 Many comic book readers are already familiar with writer Marjorie Liu and artist Sana Takeda from their creative collaborations on Monstress and X-23, and now the creative duo are bringing their talents together once again for the new graphic novel The Night Eaters: She Eats The Night. The first graphic novel in a new trilogy, The Night Eaters: She Eats The Night is now available from Abrams ComicArts, and we caught up with Marjorie Liu (who was recently featured on two panels at New York Comic-Con) in a new Q&A feature to discuss exploring the complex dynamics between immigrant parents and their children, writing The Night Eaters: She Eats the Night during a creative burst in the midst of the pandemic, what readers can expect from the next two installments of The Night Eaters trilogy, and continuing to team up with artist Sana Takeda to help bring this new story to life!
Below, you can read our full Q&A with Marjorie Liu, and we also have preview pages from The Night Eaters: She Eats The Night for Daily Dead readers to enjoy!
To learn more about The Night Eaters: She Eats The Night, visit Abrams and Amazon!
Thank you so much for taking the time to answer questions for us, Marjorie, and congratulations on The Night Eaters: She Eats The Night! When did you and Sana Takeda come up with the idea for this graphic novel?
Marjorie Liu: Well, Sana and I had been wanting to stretch our wings creatively, but this book wasn't necessarily part of that plan. In fact, writing it took me by surprise. I sat down on a Thursday, asking myself what would happen if women like my aunts and grandmothers decided to clean out a haunted house—and by Monday the book was done. I wrote it in a very intense burst of creativity over the course of four days. Now, this was in the middle of the pandemic, and I'd spent the previous four months watching a ton of horror movies, gardening, looking at real estate sites, watching way too many cooking shows, and I clearly had a lot of pent-up energy that I poured into the book. But also, as soon as I started writing, the plot unfolded in front of me like an accordion—all I had to do was run to catch up with it. It was a remarkable creative experience. Writing the sequel definitely wasn't as easy.
The Night Eaters: She Eats The Night explores the relationship between Chinese American twins Milly and Billy and their parents, Ipo and Keon. How important was it for you to focus on the dynamics of this family in addition to the horrors they encounter at the house next door?
Marjorie Liu: In fact, that was the only thing that mattered to me as I was writing the book. The horrors were just a way to talk about family, and the secrets that parents keep from their children.
Some secrets are small. Some are life-changing. Some are horrific. And we've probably all had moments when our parents reveal something in passing that completely upends everything we've taken for granted about them. Those can be really shocking moments, too, because we forget that they've had lives before us. We forget that we're born to people who contain whole other worlds inside of them, worlds we sometimes glimpse, or walk through, but can't ever fully understand. Or want to understand.
And then, of course, The Night Eaters addresses the dilemma of immigrant families and their children: to assimilate, or not? Some families make a deliberate choice not to teach a mother tongue, or pass down culture, in the hopes that their children will have an easier life in a new country. Some families do just the opposite, but find themselves still outnumbered by the society at large, which puts tremendous pressure on children to fit in. This is what Ipo and Keon have wrestled with, only to realize too late that perhaps they made the wrong choice for their children.
The Night Eaters: She Eats The Night is illustrated by the amazing Sana Takeda, with whom you worked on your Monstress comic book series. What is it about Sana's art style that made her the perfect fit to bring the characters of The Night Eaters to life?
Marjorie Liu: One of the remarkable things about Sana's genius is that she has so many styles, each with their own unique "voice." We've collaborated on three different projects, and not one of them—X-23, Monstress, or The Night Eaters—looks the same. I don't know anyone else who can do that, and even as I was writing the book, I was thinking of her—and the loose, penciled lines that she uses when she's designing characters and settings for Monstress. It's a super energetic, vibrant, alive style that I've always loved, and wanted to find room for in an actual book. We finally got the chance in The Night Eaters.
Ultimately, what do you hope readers take away from The Night Eaters: She Eats The Night? 
Marjorie Liu: A sense of hope, that there's good in the world, that even the things that scare us aren't more powerful than family—blood family, or chosen family.
She Eats the Night is the first graphic novel in a planned trilogy. What can readers expect from the next two graphic novels?
Marjorie Liu: Mayhem. They've been exposed to something strange and terrifying—the world suddenly got much, much bigger—and they're struggling, stumbling along, not quite getting the support that they need from their parents.
What advice would you give to aspiring writers who are just getting started?
Marjorie Liu: Try not to get overwhelmed. The only thing you need to focus on is your story. The only thing you need to do is finish your story. I always joke that my computer is a graveyard of half-finished novels, but it's the truth. I suffer from "stopping at the third chapter" syndrome, and I know a lot of other people do, too. The problem, of course, is that if you don't finish writing your book, if you get distracted by every shiny new idea that comes your way, you will never be published. And that bit of advice definitely sits at the top of my list, right above: "be a reader first" and "don't take rejection personally."
With The Night Eaters: She Eats The Night now available in hardcover from Abrams ComicArts, do you have any other upcoming projects that you can tease for our readers?
Marjorie Liu: The next few years are busy. Her Little Reapers, which is the second book in The Night Eaters trilogy, will be published by Abrams next year. I've already seen some of Sana's art, and it's brilliant. I wish I could say more about the story, but without spoiling anything: a new family member shows up. And of course Monstress is still ongoing, and so is my other series for middle grade readers, Wingbearer.
---------
This fall, Abrams ComicArts will publish the first volume in The Night Eaters trilogy, an all-new graphic novel horror series from Eisner Award–winning and bestselling author Marjorie Liu and illustrator Sana Takeda, the creative team behind the New York Times–bestselling series Monstress. Marjorie Liu and Sana Takeda have crafted a wild and wicked tale that will leave readers hungry for more.

In The Night Eaters: She Eats The Night (Abrams ComicArts; October 11, 2022; U.S. $24.99; Hardcover with jacket), Chinese American twins Milly and Billy are having a tough time. On top of the multiple failures in their personal and professional lives, they're struggling to keep their restaurant afloat. Luckily, their parents, Ipo and Keon, are in town for their annual visit. Having immigrated from Hong Kong before the twins were born, Ipo and Keon have supported their children through thick and thin and are ready to lend a hand—but they're starting to wonder, has their support made Milly and Billy incapable of standing on their own?

When Ipo forces them to help her clean up the house next door—a hellish and run-down ruin that was the scene of a grisly murder—the twins are in for a nasty surprise. A night of terror, gore, and supernatural mayhem reveals that there is much more to Ipo and her children than meets the eye.

The Night Eaters: She Eats The Night has an announced first printing of 100,000 and will be supported by a robust publicity and marketing campaign, including national media and advertising, author events, and promotions at San Diego Comic-Con and New York Comic Con.

About the Authors
Marjorie Liu is an attorney and a New York Times–bestselling novelist and comic book writer. Her work at Marvel includes the series X-23, Black Widow, Han Solo, Dark Wolverine, and Astonishing X-Men. She is also the cocreator of the Monstress series from Image Comics, which has won multiple Hugo Awards, British Fantasy Awards, the Harvey Award, and five Eisner Awards, making Liu the first-ever woman—and woman of color—to win an Eisner in the best writer category. She lives in Boston, Massachusetts.

Sana Takeda is a Japanese Hugo and Eisner Award–winning illustrator and comic book artist behind the Monstress series. After having worked as a designer at Sega Corporation, she became a freelancer. While drawing for Marvel, she also creates illustrations for games and children's books. Takeda lives in Tokyo.

About the Book
The Night Eaters: She Eats The Night

By Marjorie Liu and Sana Takeda

Abrams ComicArts | October 2022

U.S. $24.99 | CAN $31.99

Hardcover with jacket | 208 pages

6½ x 9¾" | Full-color illustrations throughout

ISBN: 978-1-4197-5870-6

Ebook ISBN: 978-1-64700-526-9
Cover Art and Preview Pages: