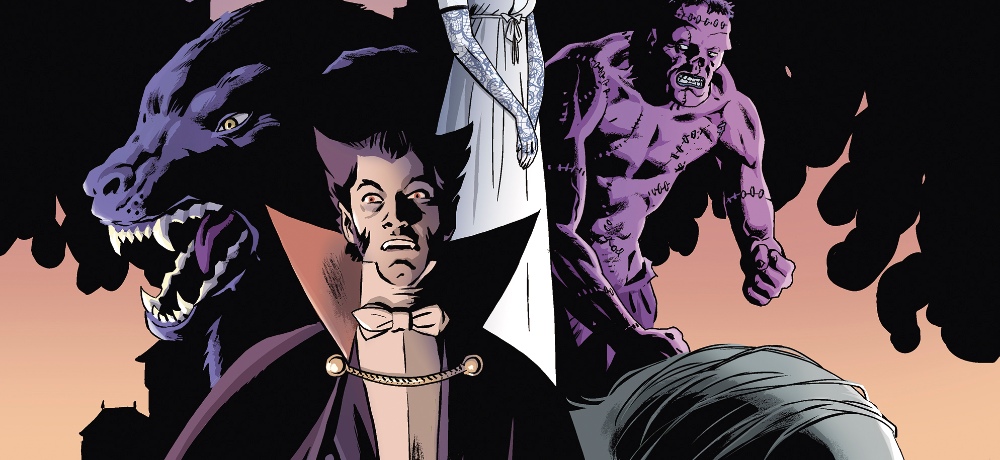 From The Flintstones and Superman to the Bible and beyond, writer Mark Russell is no stranger to giving unique twists to well-known stories and iconic characters, and over the past several years in AHOY Comics' Edgar Allan Poe's Snifter of… anthologies, readers have been treated to Russell's epic, tragic, and altogether gothic take on the monstrous mascots of cereals from a bygone era of Saturday morning cartoons and bottomless bowls of sugar-sweet bliss that were all part of a balanced breakfast.
Brought to ghoulishly gorgeous life on the paneled page by artist Peter Snejbjerg, Russell's breakfast-centric stories are collected for essential consumption in AHOY Comics' new volume Cereal, which includes three never-before-published chapters that bring this bittersweet saga to a chillingly tragic conclusion. To celebrate the release of Cereal in bookstores, we caught up with Mark Russell in a new Q&A feature to discuss the origin of his Cereal comics, collaborating with artist Peter Snejbjerg on this creative journey, what readers can expect from the new chapters in this volume of Cereal, and his desire to write his own version of the Donald Duck universe!
You can read our full Q&A with Mark Russell below, and to learn more about Cereal, visit:
Thank you for taking the time to answer questions for us, Mark, and congratulations on the upcoming release of Cereal, a collection of your unique takes on iconic breakfast cereal characters that were previously published in Edgar Allan Poe's Snifter of… anthologies from AHOY Comics (as well as three new chapters). How and when did you initially come up with the idea for these Cereal comics?
Mark Russell: Hey, thanks! It originally started, as several of my comics have, as a sort of a joke. I was doing these Edgar Allan Poe-esque dialogues between cereal mascots on Facebook. Frankenberry and Count Chocula sharing these really baroque conversations. I had just sort of written it off as a gag, but when AHOY told me that they were looking for stories for their Edgar Allan Poe-themed anthology, my mind returned to these cereal monster dialogues and it occurred to me that there was a whole world here waiting to be explored.
Have you always been a fan of breakfast cereal characters such as Count Chocula and Franken Berry? Did you create your own stories for them when you were growing up?
Mark Russell: When I was young and stupid I had a hard time differentiating Boo Berry and Captain Crunch ads from the Saturday morning cartoons they appeared in. Now that I'm old and stupid, I still can't. So I guess, in a way, these are primordial characters in my imagination the same way that the Super Friends or the Scooby-Doo gang was.
Peter Snejbjerg's art style perfectly pairs with your prose and brings these Cereal comics to life with a vintage look reminiscent of Universal Monsters and Hammer horror films. What has it been like working with Snejbjerg to bring these Cereal stories to life on the paneled page?
Mark Russell: Pete's a great artist and perfect for a project like this, that combines a sort of goofiness with sheer morbidity. I never have much feedback for him because he seems to have just gotten this tonality from the beginning. Although, I don't think he grew up with these characters the way I did, which may have been a good thing for him in creating a new look for them. His versions feel much more three-dimensional and lived-in than the originals they're based on.
I love how you balance the humor of these breakfast cereal characters with a real sense of tragedy and pathos. How important was it for you to infuse these sugar-sweet characters with genuine, raw emotions?
Mark Russell: That's basically all I wanted to accomplish with this book. To write about these characters as if they lived in a real world. Not our world, per se, but a real world of their own where they have emotions and deal with death and betrayal that happens, presumably off-screen when the commercials are over.
In addition to collecting your previously published segments from Edgar Allan Poe's Snifter of… anthologies, Cereal also includes three never-before-published chapters that bring your Cereal saga to a riveting conclusion. What can readers expect from these new installments to your overarching Cereal story?
Mark Russell: Well, a conclusion for one thing. The Edgar Allan Poe series ended when I was still midway through telling my story with the cereal characters. But more than that, I wanted to really underscore the tragedy of these characters. That you don't stop being a monster when the story's over.
Even though Cereal brings this story to a satisfying close (much like the sugar found at the bottom of a bowl of breakfast cereal), do you have any plans to return to this world and continue these adventures in future comic books?
Mark Russell: No plans at present. But I would if I had some more ideas for stories.
What has it been like to team up with AHOY Comics to release this Cereal collection and the previously published stories over the past several years?
Mark Russell: I've really looked forward to this coming out as a collected edition, because even though people seemed to really enjoy them in the Edgar Allan Poe comics, those comics came out so infrequently that I imagine most people read each chapter as a standalone story, whereas now they get to read them as I intended—as chapters in an ongoing saga.
Ultimately, what do you hope readers take away from Cereal?
Mark Russell: Basically, I never want them to watch an old cereal commercial the same way ever again.
In addition to breakfast cereal characters, you've also written unique takes on Superman, The Flintstones, and the Bible in your previous work. Do you have any other iconic figures that you would like to write your own versions of in the future?
Mark Russell: Oh, loads of them. I would love to do a deep dive into the Donald Duck universe. He's got a deep and viney family tree with a rich cast of dysfunctional relatives. I think Howard the Duck would be great, too. Basically, I'm looking to get into duck-fiction.
What advice would you give to aspiring comic book writers who are just getting started?
Mark Russell: Keep a file with all your best one-liners and story ideas and weird ideas. Even if you aren't working on anything you can use them in now, it helps to have a stocked freezer full of ideas and quips you can thaw out later.
With Cereal now in bookstores from AHOY Comics, do you have any other projects coming up that you can tease? Also, where can our readers go online to keep up to date on your work?
Mark Russell: Yes! Rumpus Room issue #1 just came out. It tells the story of a billionaire who keeps prisoners in his basement and has them crushed, one by one, and turned into this really amazing skin cream. Bryce Ingman and I are also writing a third season of My Bad, so keep your eyes open for that, too. I introduce the League of Regional Superheroes. Basically a Hall of Justice for local not-ready-for-primetime superheroes.
---------
Press Release: They lurk in the shadows—and in your shopping cart. The dangerous and the damned, the monstrous and the mutilated, the devils who snarl at innocent children from boxes of sugar cereal. AHOY Comics is proud (and slightly terrified) to present CEREAL, a dark, distinctly adult, and lovingly funny take on an earlier generation's beloved monsters from writer Mark Russell (Second Coming) and artist Peter Snejbjerg (BPRD: Hell on Earth, The Boys). The volume collects every chapter from AHOY's Edgar Allan Poe's Snifter of… anthologies, as well as an all-new three-part conclusion.

"Monsters play such an expansive role in our collective conscience, being used for everything from giving face to our deepest fears to selling us breakfast cereal," said Russelll. "This book looks at monsters from every angle at once. It sees them as we are — as cartoonish but scary, as comical, and yet, still sad."

The Marquis de Cocoa, recently transformed into a vampire, braves the agony of sunrise to throw his famous breakfast parties, where he plays his deadly games with such oddly familiar characters as the Quaker, Beau Berrie, and The Brute. This is their secret backstory, a chilling tale of a war of monsters who kill without remorse and stay crunchy in milk. Three climatic chapters—42 never-before-published pages of comics—complete this volume which ComicMix called "a satirical farce of everything that's near and dear to every kid who grew up watching Hammer monster movies and eating cereal for breakfast."

"CEREAL is a delicious slice of satire," said AHOY Comics Editor-in-Chief Tom Peyer. "I can't wait for readers to load up on pop rocks, down a bunch of soda, and discover the charm of The Marquis de Cocoa, the Quaker, Beau Berrie, and The Brute."

CEREAL will be available in stores on October 12, 2023.

For more updates on AHOY Comics, visit them on Twitter, Facebook and Instagram.

About AHOY Comics

AHOY Comics debuted in the fall of 2018 with the bold promise for readers to expect more from its line of comic book magazines, featuring comic book stories, poetry, prose fiction, and cartoons. The independent, Syracuse-based company is the brainchild of publisher Hart Seely, an award-winning reporter whose humor and satire has appeared in The New York Times and on National Public Radio. AHOY's editor-in-chief Tom Peyer is committed to publishing comics with a (dark) sense of humor with titles like the religious satires SECOND COMING and HIGH HEAVEN, the superhero parodies THE WRONG EARTH and HASHTAG: DANGER, the sci-fi spoof CAPTAIN GINGER, the time travel tales PLANET OF THE NERDS and BRONZE AGE BOOGIE, and the humor/horror anthology series EDGAR ALLAN POE'S SNIFTER OF BLOOD.

About the Creators

Mark Russell is the author of not one, but two, books about the Bible: God Is Disappointed in You and Apocrypha Now. In addition, he is the writer behind various DC comic books such as Prez, The Flintstones, and Exit Stage Left: The Snagglepuss Chronicles. He lives in obscurity with his family in Portland, Oregon.

Peter Snejbjerg draws drawings for a living and has done so for many years. He has worked for a number of American and international comic book publishers. He lives in Copenhagen, Denmark.