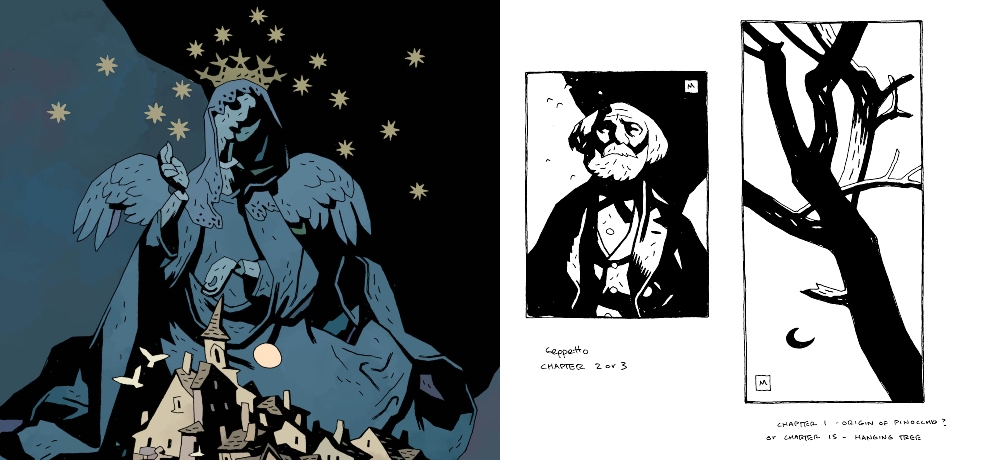 For decades, Mike Mignola has dazzled readers with the amazing artwork and spooky stories of his ever-expanding Mignolaverse, taking readers on eerie adventures with Hellboy, Abe Sapien, and Sir Edward Grey, to name a few. For one of his latest projects, though, Mignola utilizes his unique creative vision to adapt Carlo Collodi's classic character Pinocchio for Beehive Books' Pinocchio: The Illuminated Edition!
Featuring more than 50 illustrations by Mignola and over 100 annotations by author Lemony Snicket, Pinocchio: The Illuminated Edition is now on Kickstarter, and we caught up with Mignola in a new Q&A to discuss how Pinocchio has influenced his own work, what it was like to illustrate his vision of Carlo Collodi's iconic tale, and he also discussed the upcoming Hellboy movie based on his comic book miniseries Hellboy: The Crooked Man. As an added treat, we also have an exclusive reveal of some of Mignola's excellent artwork for Pinocchio: The Illuminated Edition.
Check out our Q&A with Mignola and exclusive artwork below, and to learn more, visit the illustrated novel's official Kickstarter page!
Thank you for taking the time to answer questions for us, Mike! In addition to creating new stories that expand your Mignolaverse, you've teamed up with Beehive Books for Pinocchio: The Illuminated Edition. How did you initially get involved with this new version of Carlo Collodi's classic book?
Mike Mignola: I don't remember quite how it all started… I know some years back Beehive Books Editor-in-Chief Josh O'Neill contacted me about doing a book. I think I mentioned that Pinocchio was one of my all time favorite books. I seem to remember he was interested right away and then I seem to remember trying to back out of it—and at some point he must have gotten back to me and I'd had time to think about it and I said yes. Initially I wasn't sure I'd be able to bring anything new to it as it's been illustrated so many times.
Do you remember the first time you read Pinocchio or watched the Disney film adaptation? How has Collodi's iconic story impacted you as a writer and artist over the years?
Mike Mignola: I don't remember when I first saw the film. I was really young but I loved it.
I do sort of remember reading the book years later, being bowled over by how crazy and in places very dark it is. I think the magic combination of reading Dracula and Pinocchio have kind of defined what I try to bring to the page when I write my own stuff.
Pinocchio: The Illuminated Edition features a new cover that you created and more than 50 of your illustrations. How did you approach bringing Carlo Collodi's Pinocchio to life with your own unique style? Was it a different creative process adapting someone else's work as opposed to working on your own creations?
Mike Mignola: Illustrating someone's work is a whole different thing—I wanted to be faithful to the text but also wanted my specific style in there. It took a while to figure out how to do that but in the end I think I got there.
Do you have a favorite moment in Pinocchio: The Illuminated Edition that you're excited for readers to see for the first time?
Mike Mignola: I'm very proud of my FAIRY WITH THE AZUR HAIR, more commonly known as "The Blue Fairy."
Pinocchio: The Illuminated Edition also includes more than 100 annotations by Lemony Snicket. What have you enjoyed the most about combining your artwork with Snicket's prose for this project?
Mike Mignola: Well he and I didn't really connect at all other than the drawing I did of him (sort of) for the back of the book. But it was such a great idea to bring him into the project. I can't think of a better person to write a running commentary on such an odd book.
In addition to Pinocchio: The Illuminated Edition, you also have another very exciting project coming up: a new Hellboy movie that you co-wrote with Christopher Golden that's based on your comic book miniseries Hellboy: The Crooked Man. What was it like to adapt your own work for the big screen, and what are you excited for viewers to experience in this latest cinematic version of Hellboy?
Mike Mignola: I'm pretty excited about it. And the adaptation was relatively easy. Everyone agreed up front that we wanted to do the Crooked Man and we wanted to keep it as faithful to the comic as possible. We needed to add a new character and bring Hellboy a bit more into the center of the story. Chris and I had a few conversations about all that and we landed on the same approach pretty quickly. It's nice working with someone who knows the character and who you've collaborated with for years.
Your Hellboy Universe is also expanding this May with your new supernatural comic book series Miss Truesdale and the Fall of Hyperborea, featuring artwork by Jesse Lonergan. What did you enjoy the most about working on this new time-traveling series with Jesse, and what other upcoming projects do you have coming out that you're excited for readers to experience?
Mike Mignola: There are a couple really big things coming up but don't want to mention them yet. I want them to be a surprise. They will be.
As for MISS TRUESDALE…I love what Jesse does but I was really nervous about collaborating with him, as he has such a unique approach to storytelling. I had to write a lot of parts in a very loose way to give him room to do what he does—and I'm a real control freak when it comes to storytelling so I just had to hold my breath and wait and see. And what he came up with was wonderful. So many things worked in a way I hadn't imagined. I'm super happy with the book. And it adds such a nice new layer to the Hellboy world.
Exclusive Artwork by Mike Mignola: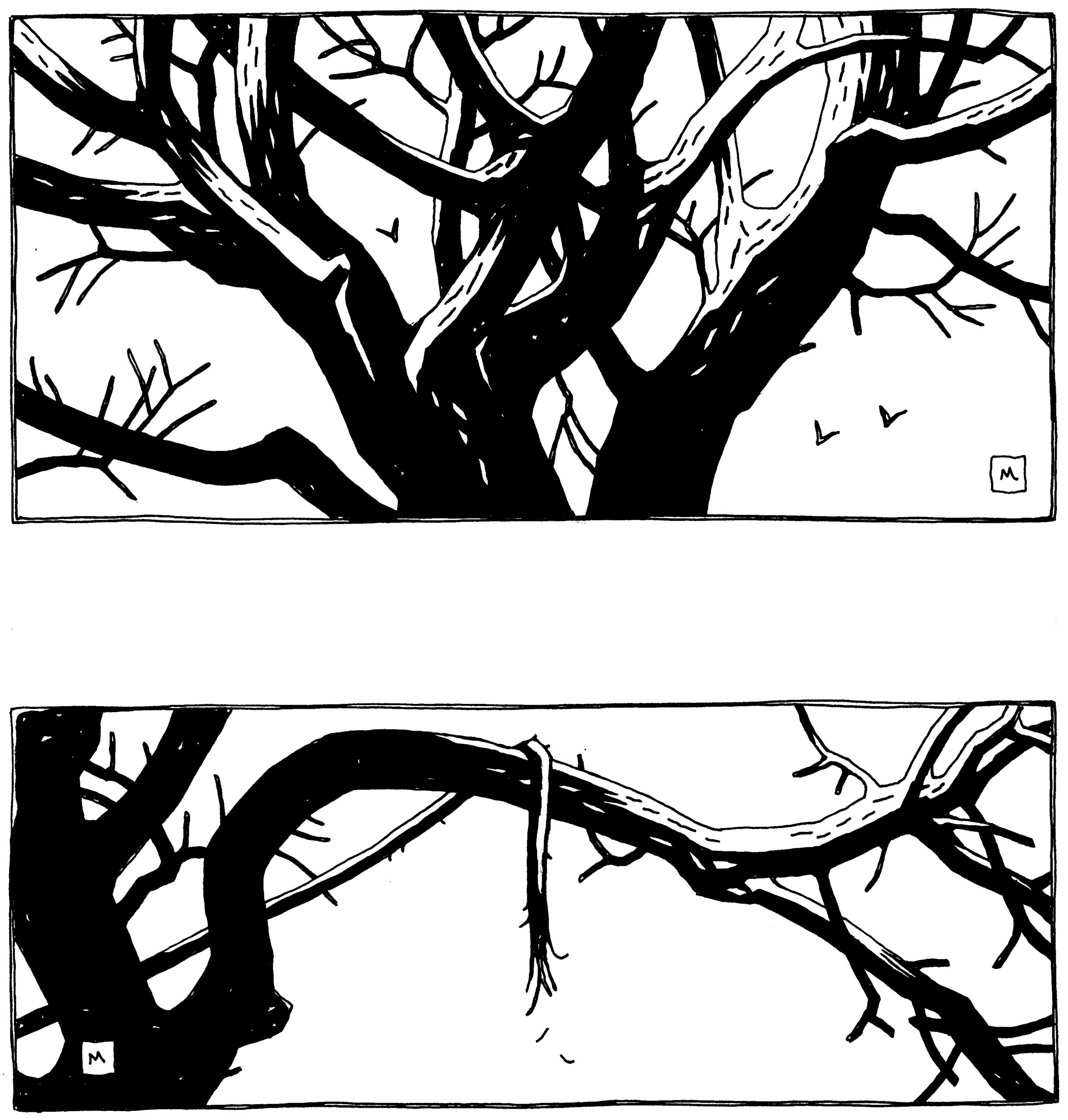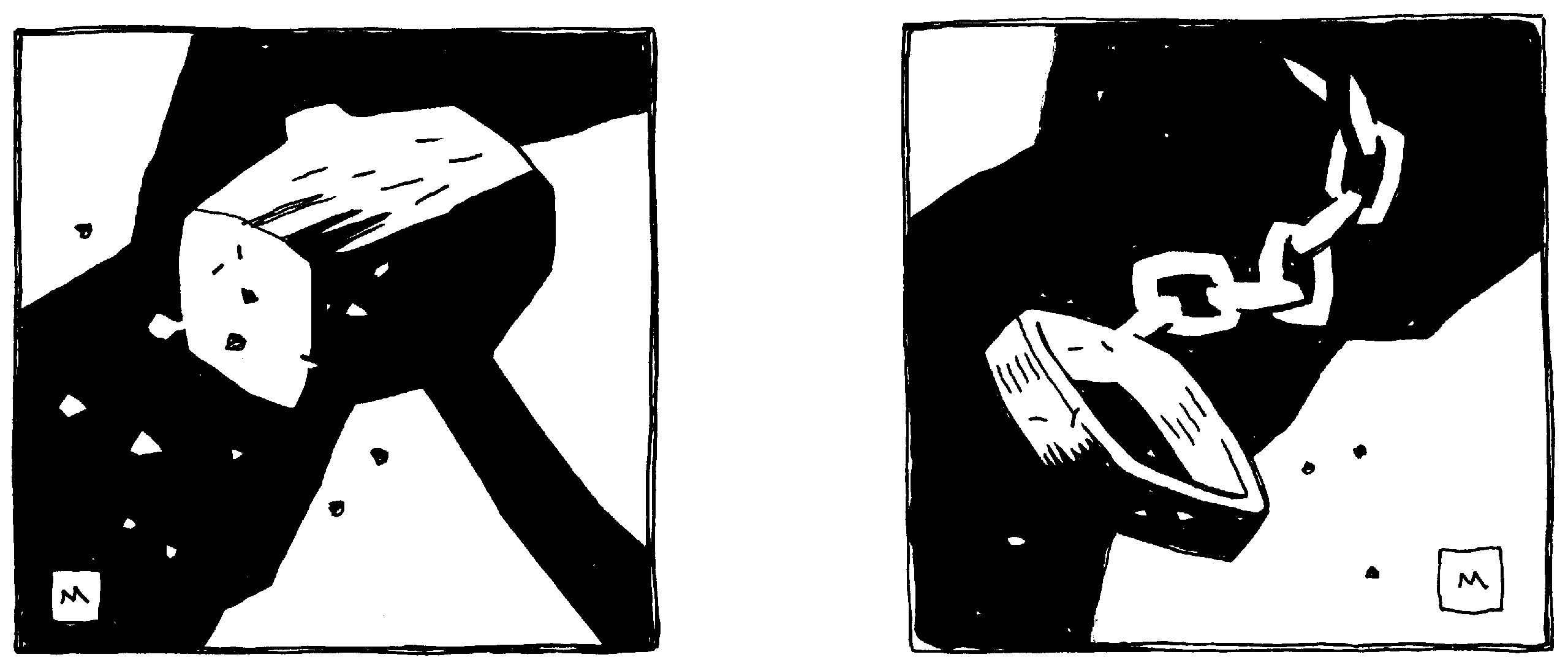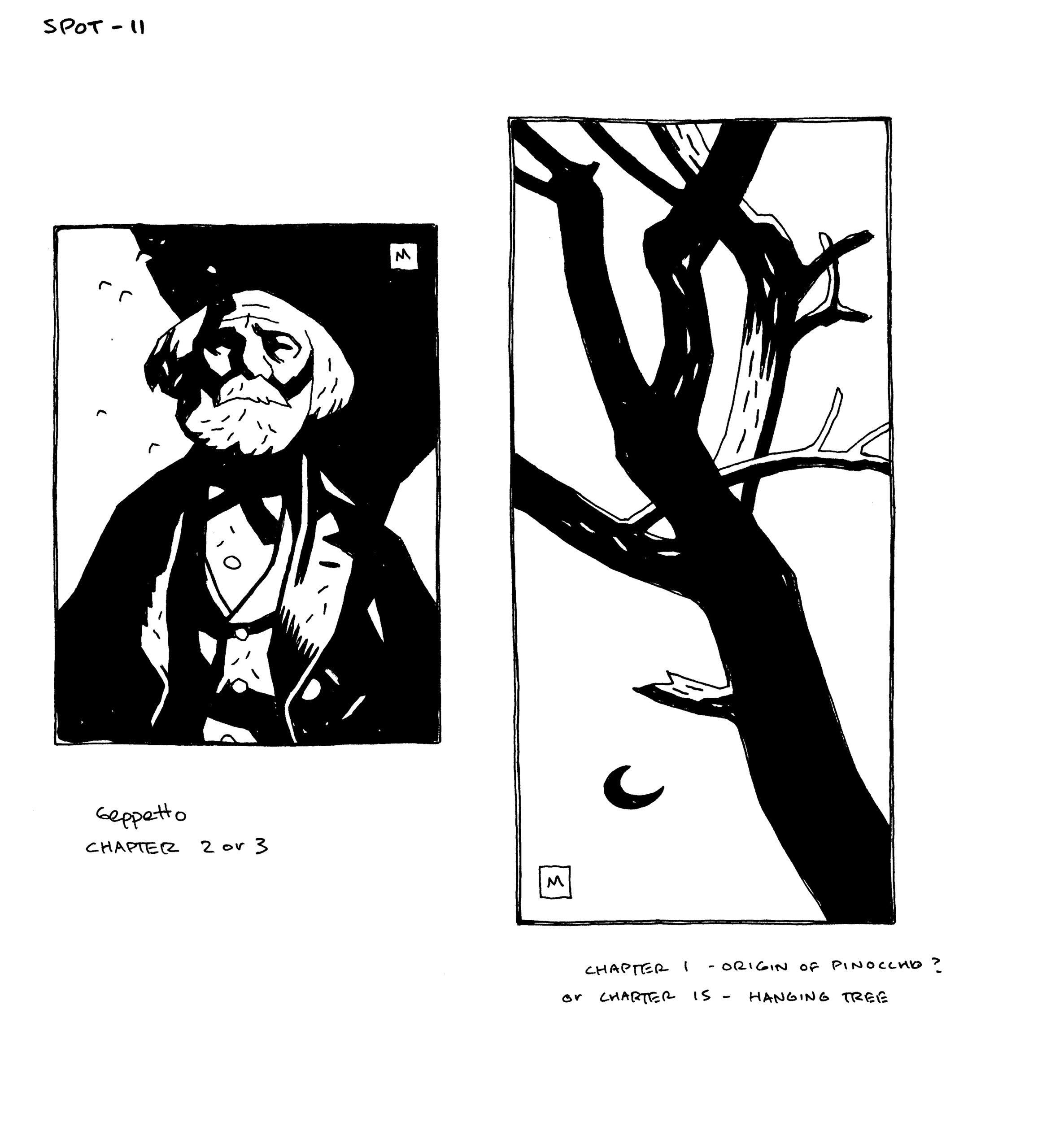 -----------
Below, we have the official press release and trailer for Pinocchio: The Illuminated Edition, and to learn more, visit the illustrated novel's official Kickstarter page!
Press Release: (March 15, 2023) Renowned Hellboy creator Mike Mignola, award-winning colorist Dave Stewart, and celebrated novelist Lemony Snicket (A Series of Unfortunate Events) are teaming up with Beehive Books for an illustrated and annotated edition of Carlo Collodi's classic novel PINOCCHIO. This all-new, deluxe hardcover edition includes over more than exquisite original illustrations from Mignola, which breathe new life to the charm, gloom, and chaos of the seminal novel, alongside over 100 full text annotations by Snicket, presented as slipped-in typewritten sheets produced by Snicket during his Pinocchio-induced descent into madness.

The project is part of Beehive Book's acclaimed Illuminated Editions imprint, the Philadelphia-based company's distinctive line of book art editions of literary classics which reimagine literary masterworks with all-new covers and illustrations from the world's greatest graphic artists, including the Balbusso Twins, Rebekka Dunlap, Brecht Evens, Dave McKean, Paul Pope, Yuko Shimizu, Bill Sienkiewicz, Kent Williams, and Jim Woodring, alongside original essays from the likes of Academy Award-winning filmmakers Guillermo Del Toro and Darren Aronofsky and Pulitzer Prize-winning novelist Michael Cunningham. The Beehive Books Illuminated Editions feature singular design sensibilities, the highest production values, and a special emphasis on comics and graphic art. Beehive Books is now crowdfunding the PINOCCHIO: The Illuminated Edition on Kickstarter. New York's Society of Illustrators is hosting an exhibit of Mignola's full portfolio of yet-to-be-published Pinocchio illustrations, including all the drawings done for the book, as well as additional art not included in the book, including paintings, process work for the project, and an original puppet from Red Nose Studios. The exhibit will be open to the public from March 22nd to July 8.

"I've been in love with PINOCCHIO as long as I can remember," said Mignola. "Probably starting with the Disney film and then really drilled into me when I finally read the Collodi novel. It's just so brilliantly strange—very very funny and also heartbreakingly sad. It's one of the two books (along with DRACULA) that I think sort of make me do what I do the way I do them.When Beehive Books approached me about doing a book… Well, at the time, the last thing I wanted to do was take on another project, but once I started thinking about doing Pinocchio I just couldn't say no. The challenge was to come up with MY version of Pinocchio—much harder than I thought that was going to be but in the end I think I got there." The Illuminated Edition includes 10 original illustrations from Mignola and colorist Dave Stewart, as well as 40 additional black-and-white spot illustrations from Mignola.

Beehive Book's PINOCCHIO: The Illuminated Edition provides commentary by Lemony Snicket, which takes both the reader and the acclaimed writer on a first experience of the iconic novel, chock full of surreal symbolism and commentary. "For many years I have been curious to see if I, too, will join the tradition of readers completely transformed into lunatics from a reading of PINOCCHIO, and although Carlo Collodi died long ago, I like to think that somewhere, somehow, he is interested in seeing what I might have to say as I read this book and likely lose my mind," writes Snicket. "Perhaps you are too."

"Collodi's PINOCCHIO is one of the most popular tales in the Western world, but perhaps also one of the most mis-remembered," said Beehive Book's Publisher Josh O'Neill. "Best known among English-speakers for its sanitized Disney adaptation, PINOCCHIO is in fact a bizarre, fantastical tale in which the series of strange and horrific events that befall a foolhardy wooden puppet-child shed light on the cruelties of society, the redemptions of family, and what it means to be human. The story of Pinocchio, as Collodi told it, is full of betrayals, poisonings and assassins, among other various and sundry bedevilments to go along with all its magic, musicality, humor and warmth. In this edition, Beehive Books spotlights the glorious, troubling strangeness of this text, which truly has no parallel in children's fiction – or maybe in fiction of any kind."

PINOCCHIO: An Illuminated Edition comes in three print editions: a slipcase hardcover, a signed and numbered edition, and a sketched and lettered edition. All ten titles in the Beehive Books' Illuminated Editions series are available through the campaign, and Beehive will offer certain discounts on bulk orders. Each title also comes as a DRM-free digital PDF, which is included along with every print edition. The standard edition is an oversize 9x12" hardcover, bound in sewn signatures, and housed in an elaborately embossed and debossed die-cut slipcase, silk-screened or foil-stamped with artwork. The interior is printed on creamy, acid-free heavy-weight 140gsm uncoated paper with a fine tooth, and includes dozens of full color illustrations, illuminated letters, and special design pieces. The entire package is designed by Maëlle Doliveux with a restrained graphic boldness, and an unparalleled eye for beauty, clarity and readability. There will also be a signed & numbered edition limited to 250 backers which comes in a foil-stamped slipcase wrapped in natural-fiber binding cloth. The editions have dyed edges, bound-in silk ribbon markers, and specialty bookplates, signed and numbered by Mike Mignola and Lemony Snicket. This edition also comes with a Kickstarter-exclusive foil-blocked 8x11" print by Mike Mignola. The lettered edition comes in a clamshell housing with enamel plates re-creating Mignola's artwork mounted onto its French door enclosures, and includes an original Pinocchio drawing from Mignola. All editions include dozens of slipped-in typesheet pages authored by Snicket on a mid-century Smith Corona typewriter.

"I'm happy with what I did and thrilled with how the book is turning out, " said Mignola. "My thanks to Josh O'Neil for giving me the opportunity and to Maelle Doliveux for her brilliant design work. And, of course, thanks to the great Dave Stewart for stepping in to color the illustrations."

"Our goal with Illuminated Editions has always been to offer something more than a beautiful edition of a classic text: we want to do something transformative," said Josh O'Neill. "We frankly cannot believe that these two titans have entered the Beehive to create this unutterably splendid new publication. To have the opportunity to set minds like Mignola and Snicket loose in the untamed wilds of one of the best-beloved yet most mis-remembered texts of all time is not just a pleasure, it's a profound privilege."

For updates on Beehive Books, follow them on Twitter, Instagram, and Facebook. To back the project, head to Kickstarter.

https://www.kickstarter.com/projects/beehivebooks/pinocchio-an-illuminated-edition-by-mike-mignola?ref=9ov9p0.

About Beehive Books: Beehive Books is a Philadelphia-based small press founded by artist and designer Maëlle Doliveux and author and editor Josh O'Neill. They create book art editions of literary and pictorial works with a special emphasis on graphic art, design, and experimentation. Their catalog includes monographs on Harrison Cady and Herbert Crowley; a line of lavishly illustrated classic novels featuring artists like Dave McKean, Yuko Shimizu, Jim Woodring and Mike Mignola; the ongoing experimental periodical LAAB Magazine, created and curated by Ronald Wimberly, and much more. Learn more at www.beehivebooks.com, or on Instagram @beehivebooks.

About Mike Mignola: Reading Dracula at age 12 introduced Mike Mignola to folklore and Victorian supernatural literature, from which he has still never recovered. He began working as a comic book artist in 1982, working for both Marvel and DC Comics before creating Hellboy, published by Dark Horse Comics in 1994. What began as a single comic-book series would eventually expand to a "Hellboy Universe" of related graphic novels, prose novels, short story anthologies, and both animated and live action films. He also wrote and drew The Amazing Screw-On Head and Other Curious Objects. He has co-written novels with Christopher Golden (Baltimore, or, The Steadfast Tin Soldier and the Vampire) and Thomas Sniegoski (Grim Death and Bill the Electrocuted Criminal), worked with Francis Ford Coppola on Bram Stoker's Dracula, was a production designer on Disney's Atlantis: The Lost Empire, and was a visual consultant to Guillermo Del Toro on Blade II, Hellboy, and Hellboy II: The Golden Army. A new Hellboy film directed by Neil Marshall was released in April 2019. Mike's comics and graphic novels have earned numerous awards, and are published in a great many countries. He lives in Southern California with his wife and a very demanding cat.

About Lemony Snicket: LEMONY SNICKET is the author of far too many books, including the four-volume All The Wrong Questions, the thirteen-volume A Series of Unfortunate Events, and the single-volume Poison for Breakfast, and has won several dubious and/or notorious awards, most recently the Charlotte Zolotow Award for The Dark, and the Peabody Award for an alleged television adaptation of his work. He is represented in all legal, literary and social matters by Daniel Handler, the author of seven novels, including We Are Pirates, All The Dirty Parts and Bottle Grove.
Pinocchio: The Illuminated Edition Cover Art: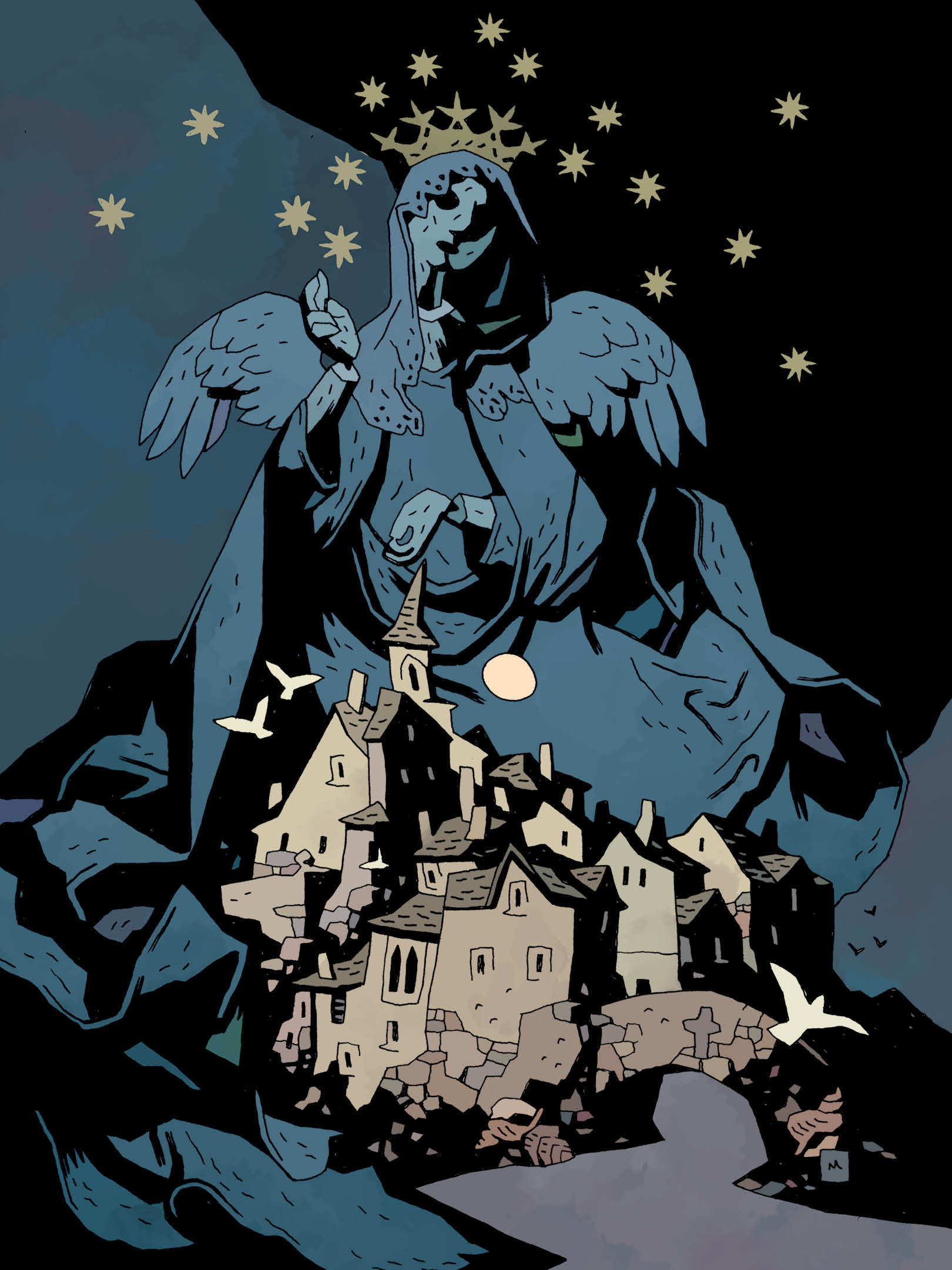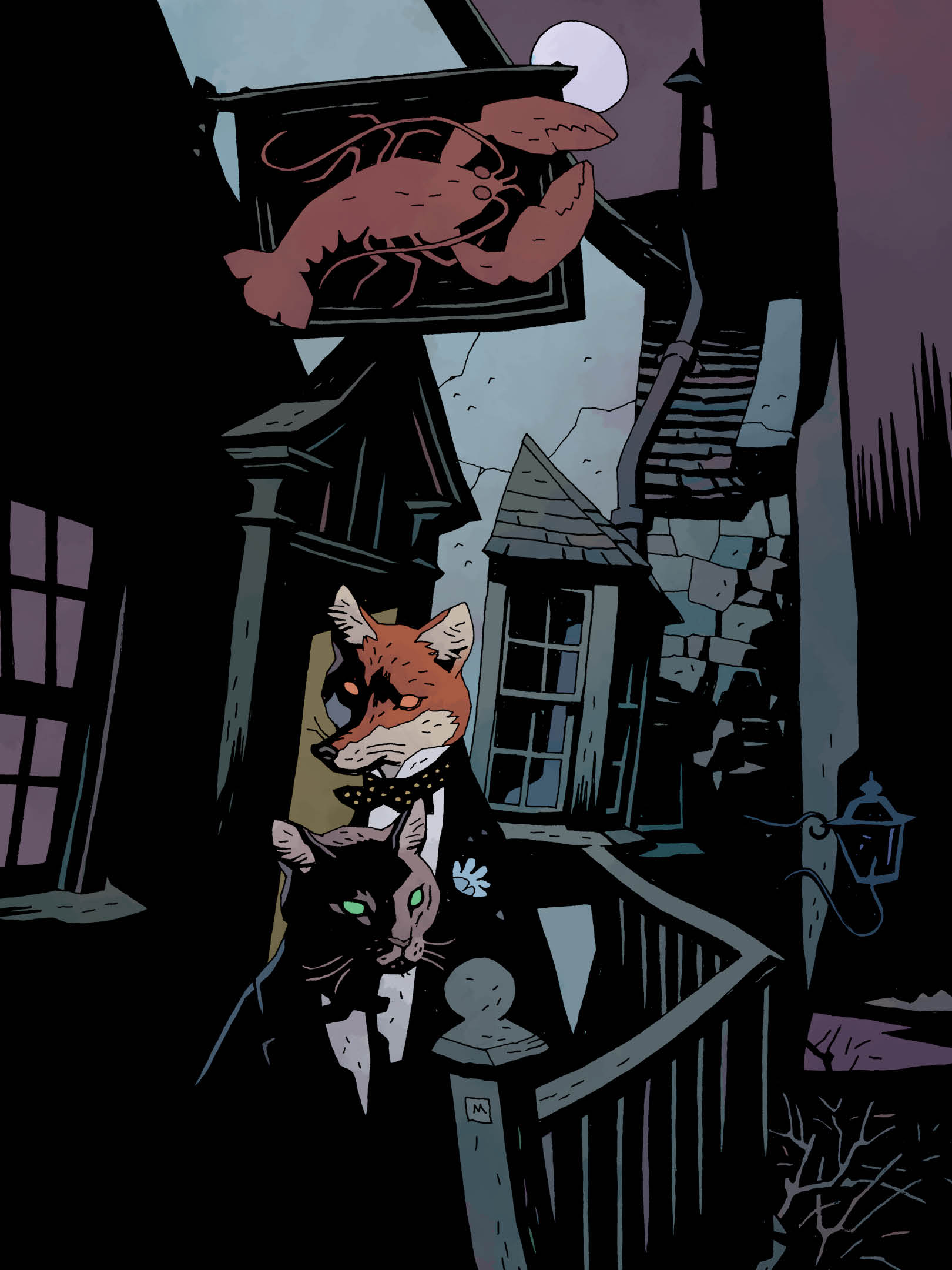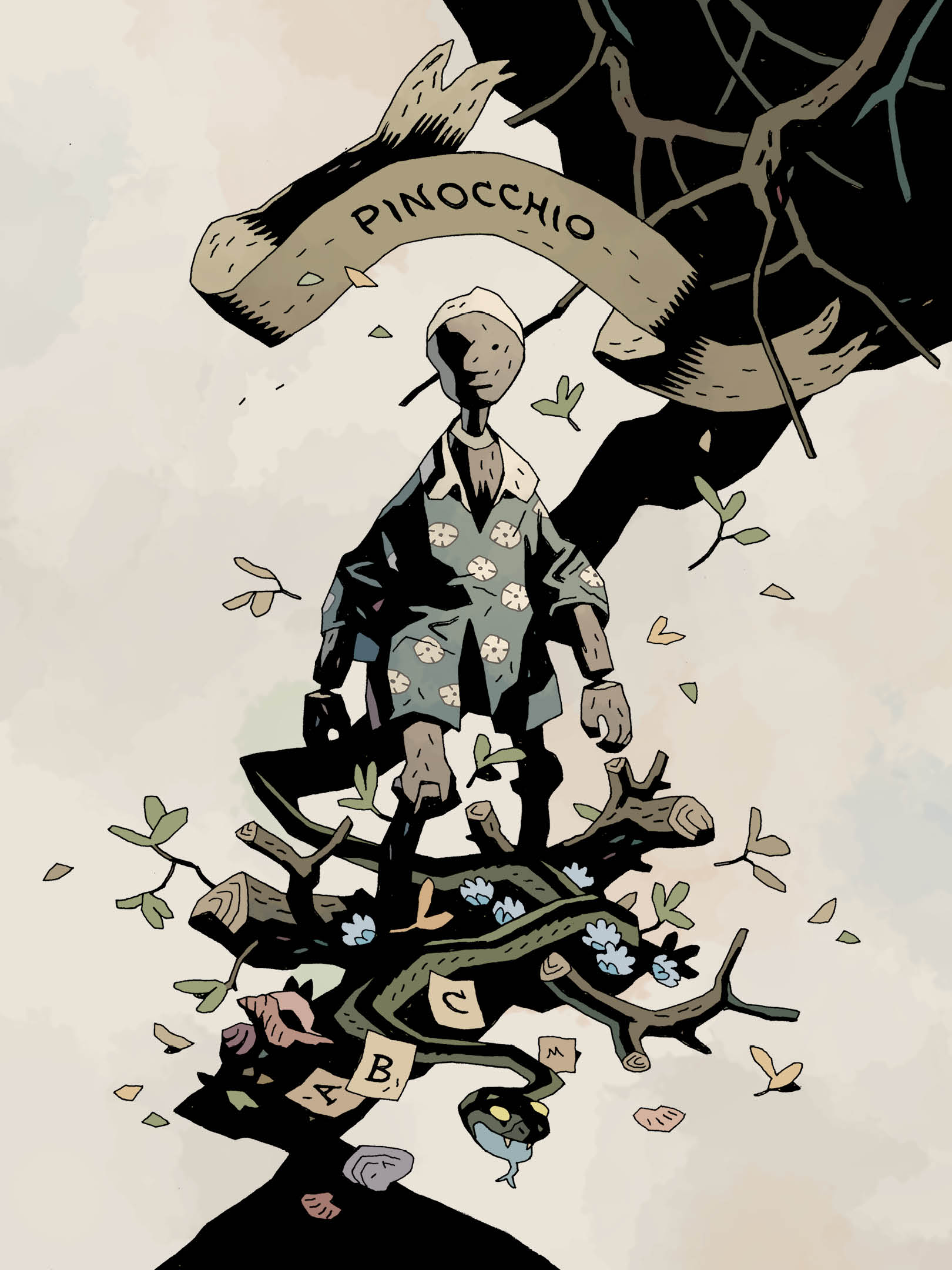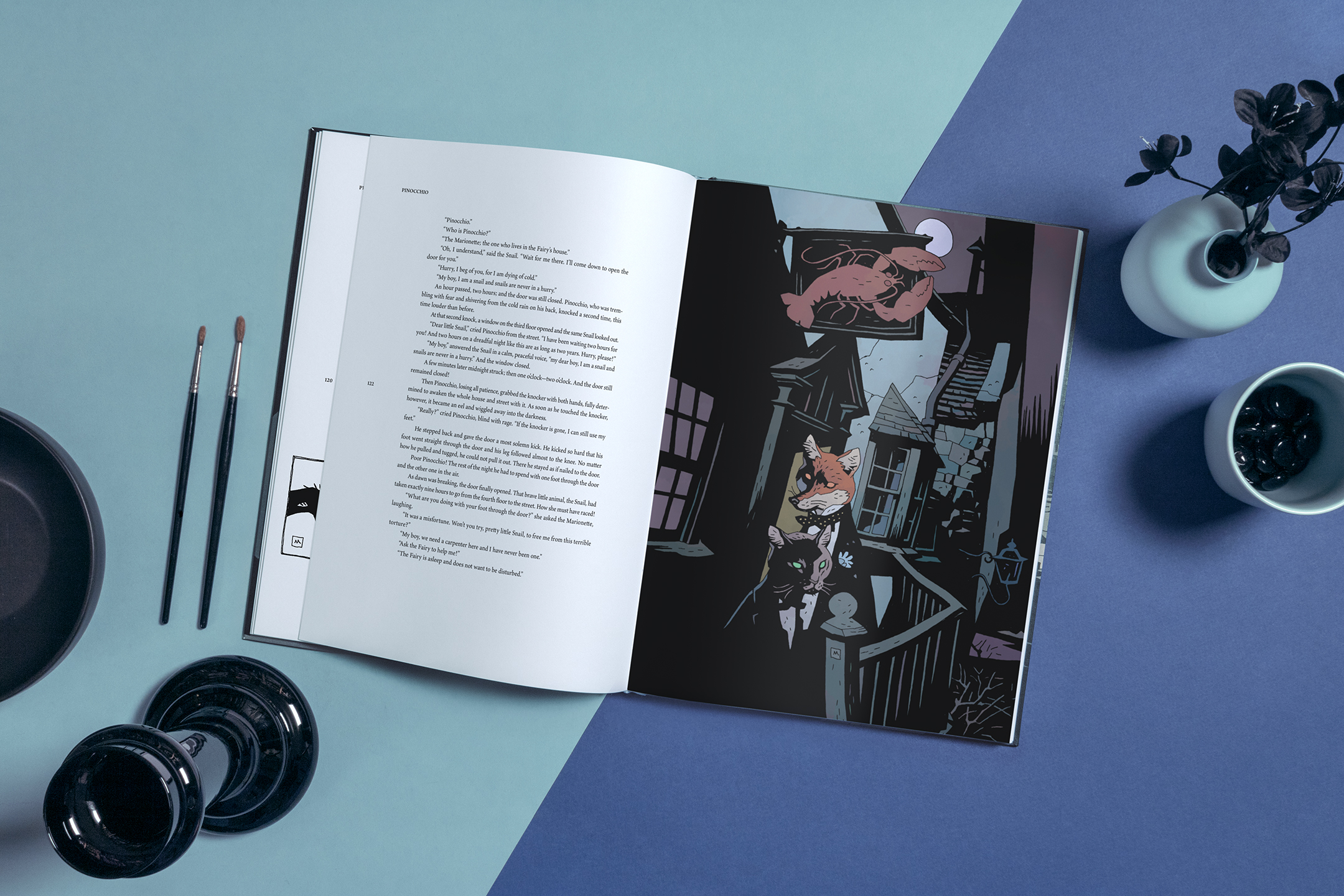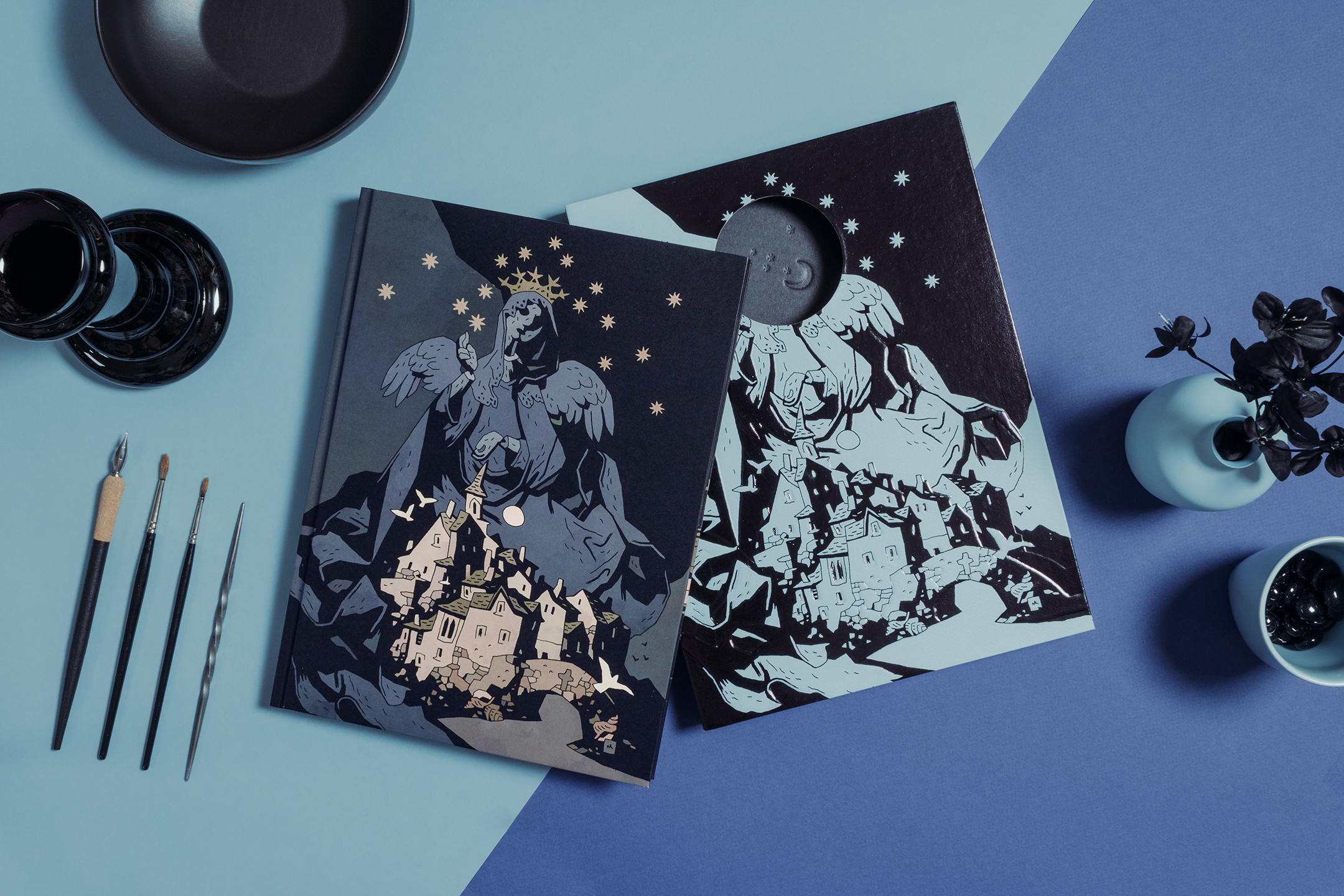 Miss Truesdale and the Fall of Hyperborea Cover by Jesse Lonergan: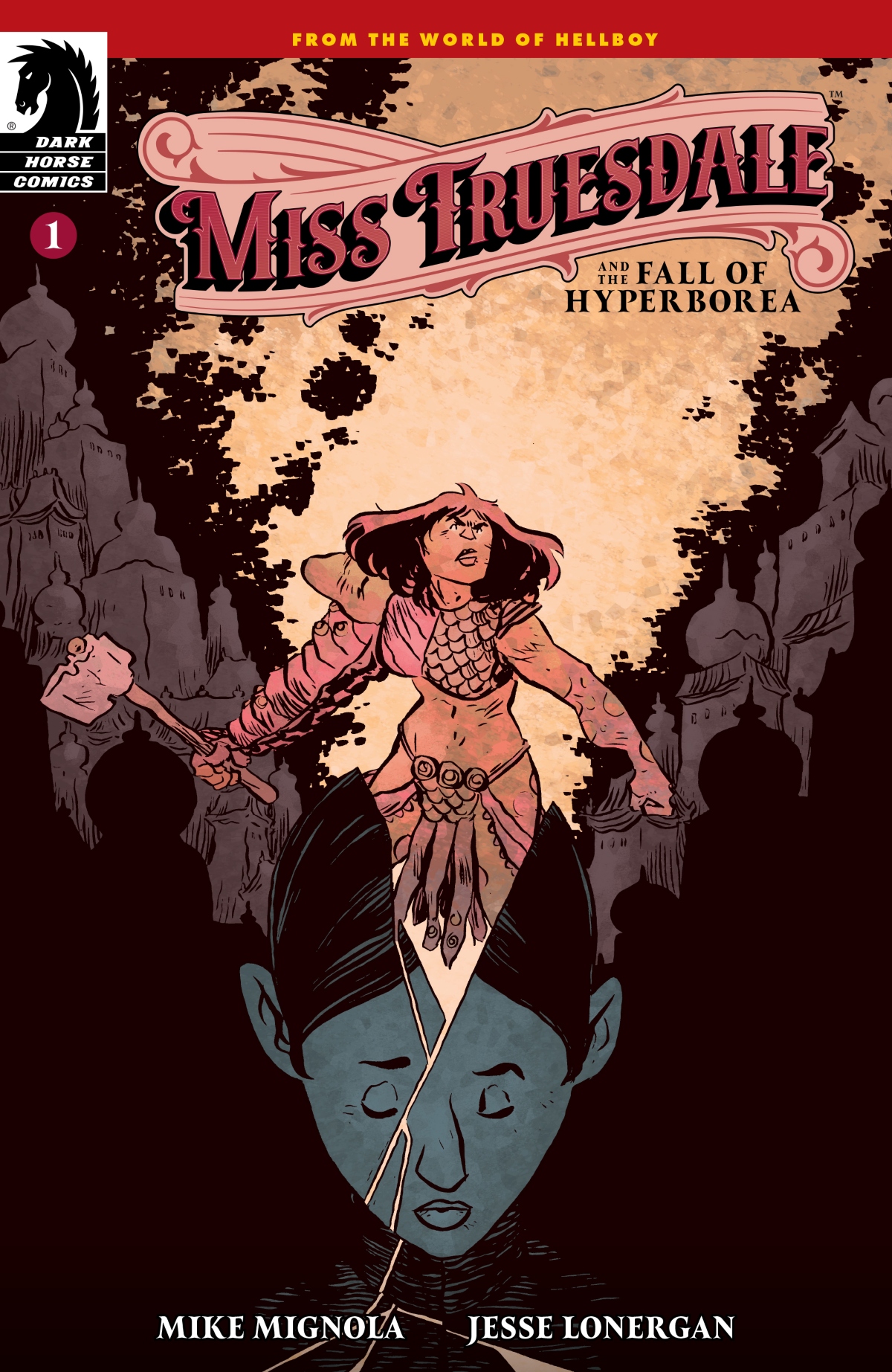 Miss Truesdale and the Fall of Hyperborea Variant Cover by Mike Mignola: