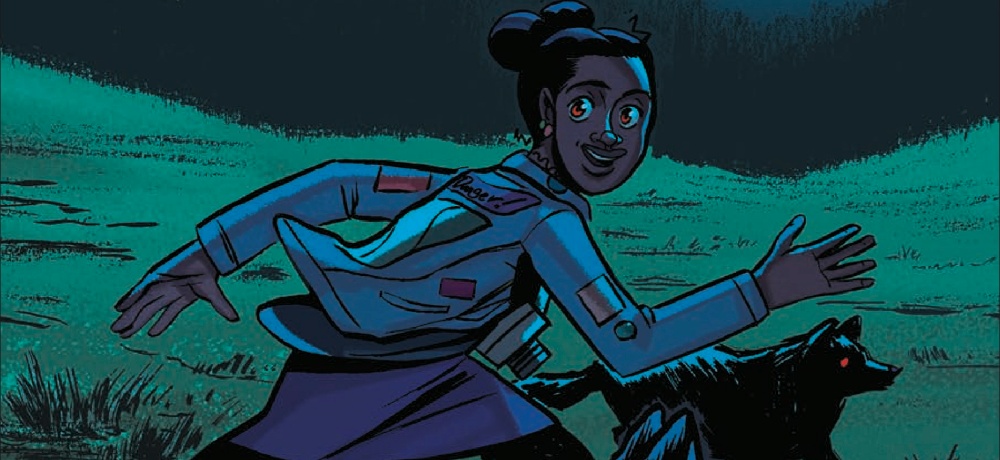 On top of navigating a new town and school, a teenager discovers the empowering news that she is a descendant of werewolves in Olivia Stephens' Artie and the Wolf Moon! With the graphic novel now available from Lerner Publishing Group's Graphic Universe in paperback, hardcover, and eBook, we caught up with writer and illustrator Olivia Stephens in a new Q&A feature to discuss the journey of bringing Artie and the Wolf Moon to life!
Thanks for taking the time to answer questions for us, Olivia, and congratulations on your new graphic novel, Artie and the Wolf Moon! When did you originally get the idea for Artie and the Wolf Moon, and how long did you work on the story and illustrations before the graphic novel was ready to submit for publication?
Olivia Stephens: I started developing the pitch for Artie in 2017 during my final year of art school. I spent the final semester working on the proposal and sent it off to literary agents that summer. And then after I signed with an agent to represent the project, we submitted it to publishers later in the year. It was about six months from first concept to submission.
In addition to learning about werewolves, Artie also has to deal with bullying and racism at her school. How important was it for you to incorporate these real-life issues alongside the family-friendly werewolf elements of the story?
Olivia Stephens: I incorporated these issues to round out both sides of Artie's life for readers and to draw certain parallels between the two worlds that Artie inhabits: human and supernatural. She faces obstacles in both worlds that have a similar draining effect on her. And neither have simple solutions.
Were you influenced or inspired by any other werewolf stories while creating Artie and the Wolf Moon?
Olivia Stephens: I do have a certain nostalgic fondness for MTV's Teen Wolf, but I'd say I was more inspired by the elements that other werewolf stories I consumed weren't exploring as much. I wanted to write a werewolf story that borrowed from the values that actual wolves possess. They're affectionate and family-oriented animals, and a lot of their strength comes from their power in numbers. It was more important to me to focus on the idea of packs as family units (the way they organize themselves in the wild) rather than to write a werewolf story that paints wolves as violent, insatiable beasts. That's not what wolves are to me.
Do you have a favorite moment in Artie and the Wolf Moon that you can't wait for readers to experience?
Olivia Stephens: There is a moment where Artie makes herself heard, loud and clear.
Do you have any plans to continue Artie's story beyond this graphic novel?
Olivia Stephens: There aren't any plans for more right now, but I have some ideas brewing if that ever changes!
What has it been like to team up with Lerner Publishing Group to release Artie and the Wolf Moon?
Olivia Stephens: It's been so surreal to have a dedicated team behind you to help get your book in front of more eyes! I started out self-publishing my comics in college, so I'm very grateful for the opportunity to partner with a publisher and gain access to these resources I could only dream of before.
Ultimately, what do you hope readers take away from Artie and the Wolf Moon?
Olivia Stephens: You are never alone. There are people in the world who love you and want the very best for you. You have a pack. Sometimes you just need to search for them.
What advice would you give to graphic novel creators who are just getting started?
Olivia Stephens: Finish a comic. It doesn't have to be long and it doesn't have to be good. Write a one-page comic with a beginning, middle, and end. Teach yourself to tell a complete story, and more importantly, teach yourself that you are capable of telling a complete story. I think it's so important to build up that confidence and to know that you can finish things. Afterwards you can finish a comic that's a little bit longer, and then keep going.
With Artie and the Wolf Moon now available in hardcover, paperback, and eBook from Lerner Publishing Group, what other projects do you have coming up that you're excited about, and where can our readers go online to keep up with your work?
Olivia Stephens: Nothing I can announce publicly yet, but you can follow me on Twitter: https://twitter.com/OliveOilCorp and Instagram: https://www.instagram.com/oliveoilcorp/. And you can subscribe to my Patreon: https://www.patreon.com/oliveoilcorp to see behind-the-scenes work on my projects.
Thank you very much, Olivia!
Olivia Stephens: Thank you!
You can check out preview pages and the press release below, and to learn more about Artie and the Wolf Moon, visit:
Press Release: MINNEAPOLIS, MN— This September Graphic Universe, an imprint of Lerner Publishing Group, will publish Olivia Stephens's eagerly awaited YA graphic novel debut Artie and the Wolf Moon. A graduate of the Rhode Island School of Design, Stephens has created a timely and original take on werewolf lore, one that celebrates the importance of community and the joy of family, no matter how unusual those family members might be. Published just in time for Halloween, Graphic Universe is introducing a major new cartoonist, with a book that is fun, playful, heartfelt, and just right for the spooky season.

In Artie and the Wolf Moon, Artie Irvin discovers her family's past is full of secrets. After sneaking out against her mother's wishes, Artie spots a massive wolf—then watches it don a bathrobe and transform into her mom. Thrilled to discover she comes from a line of werewolves, Artie asks her mom to share everything—including the story of Artie's late father. Her mom reluctantly agrees. After finding a new community, Artie thrives and even develops a crush on her new friend, Maya. But the more she learns the history of werewolves and her own parents' past, she discovers that wolves aren't the scariest thing in the woods...

Graphic Universe will publish Olivia Stephens's Artie and the Wolf Moon on September 7, 2021.

About the Author and Artist

Olivia Stephens is a graphic novelist, illustrator, and writer from the Pacific Northwest. Artie and the Wolf Moon is her debut graphic novel. She has illustrated for a number of publications and graduated with a BFA in Illustration from the Rhode Island School of Design.

About the Publisher

Graphic Universe™, an imprint of Lerner Publishing Group, creates high-interest and nonfiction titles through supreme graphic novel artwork and story lines created by industry veterans and up-and-coming talents.