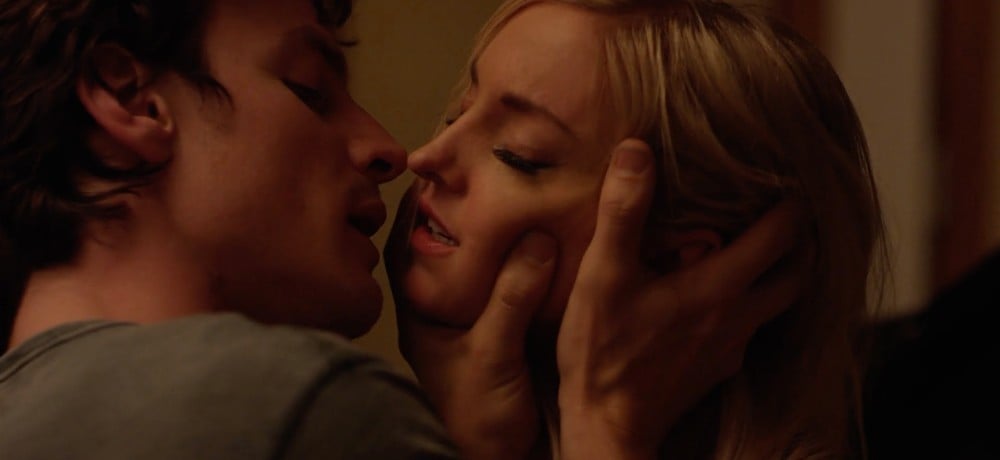 A social media star on the rise (played by Dani Barker) discovers that online fame can come at a deadly price in the new thriller Follow Her, an innovative and enthralling film that was one of my favorite features screened at the 2022 Popcorn Frights Film Festival (where it won the Jury Prize for Best Film).
With Follow Her now in theaters and on VOD via Quiver, Daily Dead caught up with director Sylvia Caminer in a new Q&A feature to discuss the making of Follow Her, including working with lead actor Dani Barker (who also wrote the screenplay), keeping horror fans on their toes with the film's subversive scares, exploring the dangerous side of social media, what it was like to direct her first narrative feature after a successful career of documentary filmmaking, and plans to continue exploring the world of Follow Her in a potential trilogy or series.
Thanks for taking the time to answer questions for us, Sylvia, and congratulations on Follow Her! Your film absolutely blew me away when I watched it as a member of the jury for last year's Popcorn Frights Film Festival, and following a very successful festival run, I'm excited for viewers to see Follow Her! This movie was written by Dani Barker, who also stars in the film as Jess. When did you initially read Dani's screenplay, and what was it about this story that made you want to bring it to life on screen?
Sylvia Caminer: Thank you so much. I truly appreciate your kind words about the film, and I welcome this opportunity to discuss it with you!
The script came to me through friend and mentor, John Gallagher, in early 2018. Dani was looking for a director and a way to get it made. It was originally called A Killer Script and from the first read I connected with the story and felt it had a lot going for it and could see Dani was an exciting and talented writer. I love character-driven films, especially with flawed protagonists and the fact that it was a female lead who would have to fight tooth and nail for her very survival also interested me. I'd been reading a ton of genre scripts for a full year focused on finding the right project with which to make my narrative feature debut as a director. After talking with Dani and sensing that we would collaborate really well, I decided to go all in, and we spent the next 10 months or so workshopping it and bringing in certain elements to make it even more current.
As someone with extensive experience as a documentary filmmaker (including Tanzania: A Journey Within and An Affair of the Heart), how did making Follow Her compare to directing non-fiction films?
Sylvia Caminer: I think finding the truth of a story and understanding the character arc for individual scenes is basically the same in any format. My early work as a stage director came in handy, as I felt comfortable working with actors, breaking the script down into beats, and blocking the action in a way that would open up the rather lengthy part of the film that takes place inside the barn. I also feel fortunate that my initial experience in film, producing indies, came before I ever sat in the director's chair. A director I worked with a few times, John Gallagher, was a master at allowing actors the space to improv which worked so beautifully on our film The Deli and further drove home the need to make the set safe for the actors to explore. I also produced quite a few films with first-time filmmakers, so I saw firsthand some of the pitfalls to avoid.
Probably the biggest difference for me is that on a documentary you must recognize a moment and often shift with it as it takes the story in perhaps a new way, but here working with the actors and script, you need to have that well mapped out and know where you are going and what beats you need to hit in order to get there.
Follow Her taps into a lot of modern-day situations involving social media and the relentless pursuit of fame that can come at a deadly cost. How important was it to you and Dani to dive into these real-life issues while still delivering plenty of thrills and chills along the way?
Sylvia Caminer: I love horror/thriller films that don't just provide escapist entertainment but make you question the world around you and your place in it. We saw the potential for that here. I loved focusing on how Jess uses social media for her own gain and how destructive that can be. If one isn't careful online, you might just get your comeuppance. There really isn't any regulation (just being banned from a platform) so that leaves it up to the online community and how far might that go?  The film also deals with the utter loss of privacy we all face in our daily life.  Plus, one of the most dangerous aspects of social media – in my opinion is a false sense of friendship or believing you know anything truthful about a total stranger you've met online. We see how this (plus the fact that Tom is very charming) causes Jess to let her guard down and put herself in a dangerous situation. Hopefully these are some of the themes the film might have you pondering.
I was a bit slow to jump on board the social media wave as I am a very private person, and the thought of sharing or using my personal life (real or otherwise) for the consumption of others was off-putting. The documentarian in me however found this fascinating and dove in. Dani and I spent quite a lot of time determining what Jess' angle was and, more importantly, how she views herself in this competitive world and justifies her actions. It is Jess' hunt or rather need for fame that drives her down a path that many people would not continue on but hopefully the film allows you to see how this might happen and what a slippery slope it is.
Every time I thought I knew where Follow Her was going, the story went in a completely different direction as Jess navigates her way through the real-life horror movie that she finds herself in. How important was it for you and Dani to subvert expectations as much as possible to keep horror fans on their toes throughout Follow Her?
Sylvia Caminer: That was one of our big goals for the film. I really hoped we could keep the audience off balance so just as they thought they knew where things were going it went in the opposite direction. The opening scene was something we added in our workshopping process. Right from that first scene it starts as one thing and then very quickly becomes something completely different. We also wanted to tease the horror element of the film and get the audience used to being a bit off balance. That was a fun and exciting aspect of the project.
So much of this movie hinges on the interactions between Dani Barker and Luke Cook, who plays Tom in the film. What was it like to collaborate with Dani and Luke to bring out the maximum amount of suspense as their characters played their deadly, seductive game of cat and mouse?
Sylvia Caminer:  Finding Luke Cook to portray Tom was the most important part of that equation. Dani and I were committed to finding the right actor and understood the entire success of the film was on the line. Once we had Luke, we were off to the races.
We had just two days of rehearsal. We used that time to read through the script, and discuss beats/shifts, although I was sure to avoid any in-depth character discussions as I wanted to do that individually. I thought that was especially important so both actors were a little off balance, not always sure where the other would be coming from. We mostly used rehearsal to block the film – this only worked because 50 pages was taking place in one location. My stage training made me believe that the movement could potentially free the actors and motivate their performance. We did however leave things a bit flexible so in the moment we had freedom to reimagine movement. This allowed our DP, Luke Geissbuhler, and his gaffer, Mike Sita, and the rest of the very small team the opportunity to pre-light so we could move quicker. We also played a bit with pacing to enhance tension and framing - at times making things feel very intimate and then very quickly shifting so things felt confrontational.
Early on, Luke and I had discussed his character and how once "Tom" shifts we really need to believe he is capable of ANYTHING. There has to be a nuanced menace to him, and I truly hoped he could bring this and boy did he. Luke actually came to me the day before we started filming that section of the film to let me know that he had been working on some stuff and planned to go pretty far, which I totally encouraged, and we purposefully did not tell Dani. I've heard Dani say that this section of the film was not quite how she perceived things in her writing and that it was way more brutal, which enhanced her performance. Dani really did a beautiful job letting go here and just responding. Throughout, they have such great chemistry.
Where did filming for Follow Her take place, and how many days were in your shooting schedule?
Sylvia Caminer: The first part of filming took place over 12 days in the Hudson Valley primarily in Saugerties NY with a few scenes in the surrounding area of Woodstock and Kingston. We shot out Luke Cook's character, Tom. Afterward, we shot an additional 6 days (+ 3 second unit days) In NYC and Brooklyn with even 1 day in Staten Island.
Looking back at your time on set, is there a favorite or memorable moment that stands out?
Sylvia Caminer: It's funny, but the very last thing we shot was a quick scene late in Act 3.  Jess (Dani) is in an Uber racing to get back to her apartment; during that ride she is realizing how vulnerable she is and how complete her loss of privacy is. The Uber driver is played by our producing partner, Michael Indjeian, who makes a few cameos in the film as someone who is watching Jess. We were filming this take with a GoPro camera mounted from the dashboard, which would see the entire car. The only place for me to hide was in the trunk/hatchback. So here you have the three producers of the film alone driving through Brooklyn, shooting the final frames. I'm hollering out directions while lying in a ball to avoid being seen and watching the camera on my phone … it felt kind of surreal and perfect!
Ultimately, what do you hope viewers take away from Follow Her?
Sylvia Caminer: First off, I hope they are entertained! That's important to me especially with the current chaos in the world. Additionally, I hope the film makes them question their own relationship to social media or someone they love and how they are using it? Who are they trusting online and how do they keep themselves safe? Plus, how do we maintain even a modicum of privacy? As a society I think these are important questions to ponder.
Do you and Dani have any plans for a sequel to Follow Her?
Sylvia Caminer: We would LOVE that opportunity!  From the start we saw the opportunity the story offered to spin off. We actually have a trilogy in mind which we will write together if we get the opportunity. There are so many directions this could go in and we also have ideas for a series. We will pursue all opportunities in that regard, it would be great fun to collaborate together again.
With Follow Her coming to theaters and VOD on June 2nd via Quiver Distribution, what other projects do you have coming up that you're excited about, and where can our readers go online to keep up to date on your work?
Sylvia Caminer: I do have a couple of projects I am super excited about, but I'd like to start by saying that I stand 100% behind the Writer's Strike! I trust they will negotiate a fair deal which is vital for everyone making a living in the business. There is a lot of BS currently going on in Hollywood...
Back in November I was laid up in bed for a few days with the flu and stumbled onto this brilliant time travel series of books by Nick Jones. Two hours into listening to the first book, And Then She Vanished, on Audible I desperately wanted to make it for the screen. Fortunately, I managed to track down the writer on Instagram, haha I guess social media isn't all bad! We decided to collaborate on the screenplay and began writing it in early January. The entire series is tremendous, very character driven with a lot of heart and sci-fi elements, and has the makings of a franchise.
Late last year I also partnered with producer, David Higgins (Hard Candy) on an elevated horror script, It Walks Among Us, surprisingly also from a U.K. writer, Will Davis. This project is ready to go and we are about to begin casting. This is a more straight forward horror film than Follow Her but also makes some relevant and timely comments about society.
Thank you very much for your time, Sylvia!
Sylvia Caminer: Thank you for the very thought-provoking questions.
------------
To learn more about Follow Her, visit:
Synopsis: Jess (Dani Barker) has finally found her hook: secretly filming creepy interactions she encounters via online job listings, and using the kinks of others to fuel her streaming success. For her next episode, she's been hired by Tom (Luke Cook) to write the ending of a screenplay in a remote, lavish cabin. Once there, the alluring self-proclaimed screenwriter hands her a script in which the two of them are the main characters. This client isn't what he seems, and even though the money's great... the real payment here could cost her life. Follow Her is a psycho-sexual thriller which questions the ethical boundaries of social media.