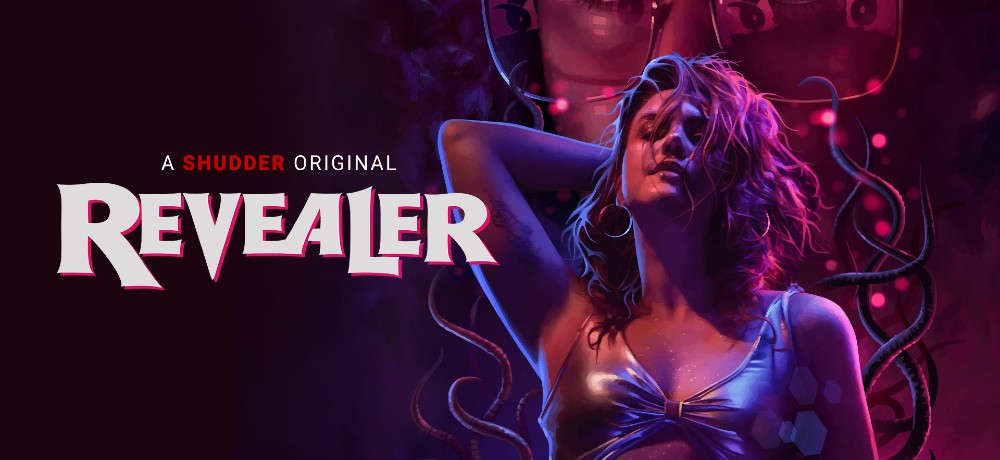 Written by Tim Seeley (Hack/Slash, Revival) and Michael Moreci (Barbaric, The Plot), Revealer will be available exclusively on Shudder on Thursday, June 23rd. We caught up with director Luke Boyce for our latest Q&A, who talked about his work with Tim Seeley and Michael Moreci to develop this project, filming the movie during the pandemic, working with an incredible cast, and he gives an update on the Revival movie:
How did this project come about, and can you talk about working with Tim Seeley and Michael Moreci to tell this story? 
Tim Seeley and I have been working together for some time and wanted to do something original and smaller, and we had developed a couple of projects with Michael Moreci. So when COVID happened, and we went into quarantine, we all started discussing the possibilities of developing a story that we could make within COVID restrictions. We started talking to our producers, Sarah Sharp and Brett Hays, about the kinds of films we could make as they were developing COVID protocols. So we came up with this self-contained story about a stripper, and religious protester stuck in peep show booths as a way to keep their interaction limited. The story evolved a bit from there, and we adjusted the parameters. Still, the idea remained: create a single-location story in which we can have no more than two characters interacting for the majority and doing so entirely on a self-contained, controllable set. But the thing with Tim and Michael is that, as comic book writers, they can tap into these really big character moments and beats, and these characters just came alive immediately, and so the limitations we were working under blossomed into real creative benefits where we could explore the deeper meanings of two very different people having to deal with their prejudices to survive. That being said: it was very important to us to not necessarily make a "pandemic movie" but only to make a movie under pandemic restrictions. We wanted to make something that lived outside the pandemic and didn't rely on it as context.
Many films have been impacted due to the pandemic. How would you say that it impacted Revealer?
We were entirely a pandemic movie. The movie was written around May 2020, when we were still in quarantine. While that was happening, our producers started working on a large document about COVID safety and how we could manage a production during COVID. A lot of things just started to happen for us because of the nature of the business at that time. We were essentially given an entire warehouse/retail space where we could create a production homebase up front where each crew member could have their designated area far apart from others; the cast could have private rooms, and makeup/hair could have private spaces, etc.
Meanwhile, all you had to do was walk a few yards back into what used to be a large shipping warehouse, and that's where we built our sets. A complete store and tunnels in which we could film everything in this production bubble, which we began shooting in early August 2020. And there was a hotel about a 5 min walk away that gave us an entire floor to ourselves so we could be bubbled there. So cast/crew remained only in the hotel and the set for the whole production. Food was delivered to us daily, and we tested multiple times a week, wore masks, face shields, etc. Everything was strict to ensure that our actors, who couldn't wear masks on set, were protected, and it worked. We got through the production without any issues. At the time, we weren't aware of many other shoots happening. And most of the tv and film in the Chicago area where we are located had shut down completely.
Why were Caito Aase and Shaina Schrooten perfect for the roles of Angie and Sally, and can you talk about your on-set experience with them?
Honestly, the movie doesn't work at all if Angie and Sally aren't extremely compelling. The entire thing rests on their shoulders, and I believe it's the process of watching them and being invested in them as characters that make or break the whole thing. So we knew that casting was of absolute importance here. We worked with Sarah Cayce of Compass Casting, who provided us with an amazing array of Chicago talent, but Caito and Shaina immediately impressed me. Both of them brought extra stuff to their auditions. They added things to the roles that made me realize that these two insanely talented actors wanted to collaborate and dig into who these people were. It was funny because I had NO idea that they knew each other well before coming onto the set, so when they came on, and we started to get to work, it was an immediate jolt of energy and electricity. They had this rapport that was just incredible, and the entire production was an absolute blast because every day, they were just SO happy to be there and to be working together and with all of us on such a fun project. So the experience was honestly incredible with both of them. We all remain very close friends to this day, and I think their performances in the film are just otherworldly great. I think they're a miracle, and I love them so much.
What were your biggest challenges making the movie? Any fun or unexpected on-set stories that you can share?
I'd say the biggest challenge was just all of the unexpected difficulties that COVID brought. Honestly, testing wasn't a big deal. There were easy options there, and nobody had any issues. All of the COVID compliance stuff was fine, but we suddenly realized in pre-production that COVID would make getting things very difficult. Supply-chain issues meant we couldn't rely on shipments coming in when needed. And many stores were still closed. Believe it or not, we struggled to get the adult product for the adult bookstore. A lot of stores weren't opened yet. At one point, we talked to somebody who had been running adult stores since the '80s and had a warehouse full of old products, tapes, posters, etc. they were going to bring in, but the day before filming was supposed to start, they just ghosted us, and we couldn't get ahold of them. That was an incredibly stressful day trying to get the set dressed, scrounging wherever we could to find dildos and any manner of adult toys and books. The other challenge we had was just time. Even though the entire thing was shot on a set, we still only had 12 days to shoot the whole thing, but COVID compliance required us to keep days to 10 hours so working through that schedule was incredibly stressful. Thankfully we were all so happy and excited to be working on such a unique and fun project that it didn't matter much. The entire crew became very close, and I think we all miss the amazing experience we had shooting this film.
As the world begins to open and festivals are back, Revealer had its US premiere at Panic Fest. So how was it to have the film screening in front of a packed theater?
It was pretty amazing. The post-process on the film took quite a bit longer than we had anticipated, mainly because we had to add some post-VFX stuff we hadn't planned for, so we had been sitting on the film for a while. But, honestly, after seeing it for the 100th time, you've lost all objectivity in terms of its quality so getting to sit in a theater with a group of people who have no real idea what to expect was both incredibly nerve-wracking and exciting. But people seemed to love it—a lot of laughing, clapping, etc. The engagement was terrific and was quite emotional, having waited so long to get it out to the public. And the response so far to the film has just been amazing.
I'm a big fan of the Revival comic book series and understand you're attached to direct it. Can you provide a status update on the project? Any other upcoming projects that you can share with our readers?
Revival has been a passion project of mine for a bit now. It's had some ups and downs, and the project was finally set to move forward at the beginning of 2020, but COVID pretty much knocked it out. However, since then, some pretty amazing stuff has been happening with it that I can't quite talk about just yet. But hopefully, very soon, and I think people will be thrilled. I'm very excited about it. I also have a couple of other projects we're hoping to film soon, but we are still in the planning stages. And Michael Moreci, Tim Seeley, and I have been working on a secret comic book project that we hope to be able to talk about soon as well. Everything is, unfortunately, under wraps at the moment, but we have a lot of pretty amazing surprises in store for people. I absolutely can't wait to start talking about it all.
---
Revealer be available exclusively on Shudder in the US, Canada, the United Kingdom, Ireland, Australia and New Zealand on Thursday, June 23.