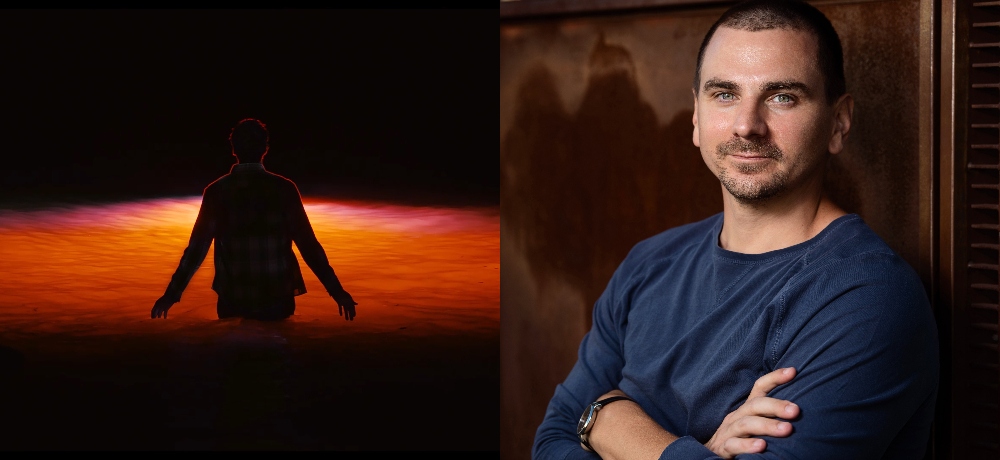 A teenager returns home to find that her mother is dating a man who is charming, handsome... and potentially not of this world in the new movie What Lies Below. With the familial sci-fi horror film now on VOD and Digital from Vertical Entertainment, we caught up with writer/Braden R. Duemmler to discuss the extensive research he did prior to writing the script for What Lies Below, filming in Upstate New York, and working with a talented cast that includes Mena Suvari, Ema Horvath, and Trey Tucker.
Thanks for taking the time to catch up with us, Braden, and congratulations on your new movie, What Lies Below! How and when did you first come up with the idea for this film?
Braden R. Duemmler: Thank you, Derek. I'm so excited for the opportunity. Like you, I grew up on Goosebumps and Are You Afraid of the Dark? in addition to German fairy tales that were a bit more… uh… dark. So, Daily Dead feels like the perfect landing spot for one of my first-ever interviews!
What Lies Below is the synthesis of two ideas.
The first was an image in my head of a beam of light coming down from the sky and blasting into a person's chest. That led me to ask: what is the light? Where does it come from? How does it change them?
The second idea was inspired by my own childhood. When I was five years old, I experienced my first-ever crush when I met my future stepmother, Sandy, for the first time! Looking back on my misguided childhood affection and my innocent flirtations, as Sandy teasingly played along, feels nostalgic now, but might skew inappropriate if the roles were reversed: in other words, if I was a little girl and Sandy was a man. That dynamic, as well as the light (which eventually evolved into the light in the lake), are the foundation of the story and the inspiration that led me down the rabbit hole of awkwardness and horror.
How long did it take you to write the first draft of the screenplay, and how many drafts did you go through before it was time to film?
Braden R. Duemmler: My writing process involves a lot of research and outlining. For most of my scripts, I spend more time reading reference material and watching reference films than I do actually writing the screenplay.
For What Lies Below, I read a great deal of literature on the psychological development of young women as well as the sociological changes affecting teens that have occurred since I was in high school. Mix that material with about 15 reference films and once I sit down to write, I feel pretty confident in my outline and can allow the characters to lead the way through the story I've tediously plotted. In short, for What Lies Below, I spent around three months researching, six weeks writing, and only did one additional draft after the rough. I suspect the reason my rough drafts tend to be pretty polished is because I make most of my story mistakes on the front end when they are easier to identify and fix.
Where did filming take place, and how many days did you have in your shooting schedule?
Braden R. Duemmler: We shot in Upstate New York near Lake George thanks to the Adirondack Film Commission, led by Andrew Meader. I grew up going to Lake George for summer vacations with my mom, and shooting up there made me fall in love with the area all over again.
Our shoot was scheduled for 20 days, but we only shot 19, plus one pickup day, back in Los Angeles. Like all films, filming was a battle, but we got through it and we're all very proud of what we accomplished.
What was it like working with Ema Horvath, Trey Tucker, and Mena Suvari to bring your story to life?
Braden R. Duemmler: I cannot say enough good things about the cast of this film, which also includes up-and-comer Haskiri Velazquez. We were so blessed to have our casting director, Katrina Wandel George, find Ema and Trey after bringing Mena and her team to our project.
Personally, I very much relied on Mena's wealth of experience and knowledge. She is such a powerhouse and consummate professional, and her faith in me pacified my own insecurities, instilling in me even more confidence in the material. I still remember shooting the living room scene (where Michelle slaps Libby) and due to our schedule, we had to shoot Mena last, even though it was a very emotionally and physically draining scene for her and her character. When our assistant director asked if it was okay to shoot her coverage at the end, I knew without a doubt, it would be fine. And sure enough, as Mena had proven time and time again throughout the shoot, it didn't matter if it was the first take or the last, she was going to bring all the energy, emotion, and depth needed for every moment and beat. I'll always be amazed by that ability.
Another benefit to Mena's faith in the project was the incredible response to our subsequent casting call. Over the course of that process, Trey and Ema really stood out. I remember Trey's audition so clearly because he had this incredible penchant for expanding the depth of the material. He made lines intended to be benign, completely sinister and actions that were rudimentary became dynamic. Trey's creativity continued on set and although we maintained our game plan, we always afforded ourselves extra takes for any and all ideas. In addition to that boldness, Trey maintained the control we needed as well. When first sharing the script, I realized how varying the reaction was to subtle scenes like the shoulder rub in the dining room/first night dinner. Since we could never be sure how an audience would react to an edit, we decided to give ourselves plenty of options and so, in moments like that, we created a "creep barometer" (if you will), and Trey would literally dial the creepiness up or down depending on the take. In many cases, with our limited time, we would just run a series where Trey would perform the action and I would simply say 1, 3, 6, or 10 to give us the different degrees of John Smith's creepiness. Having those options in the edit was an unsung hero of the film.
Finally, I have to speak at length about Ema. Ms. Horvath was another standout during the audition process and I still remember being so intrigued by her tape that I had to share it with a friend. The friend said, "She has a real Jack Nicholson quality to her," to which I replied, "Ahhh… what?" That's when he explained, "She's either completely crazy or a genius." It didn't take long on set for me to realize the latter was true. Ema is incredibly cerebral and calm on set. I'm usually pacing in the hall, staring at the ground, while she's swaying in her makeup chair with a similarly fixated gaze. Between every setup she is in her head, thinking about the moment, the scene, the beat. We would talk and prepare, and she would internalize every note and then, once I said "action," it would explode in front of my eyes in the most mesmerizing ways. Her presence is so strong and captivating that she can make the subtlest shift in her look or her eyes or her smile and it will feel like something completely fresh and raw. It was incredible to watch her command, and her ability to ground Libby very much anchored the film through what is a very turbulent and twisting plot. I'm so thankful for her and her talent. She is the star of our story.
You've directed short films before, but What Lies Below marks your feature-length directorial debut. What did you learn while making What Lies Below that you'll bring to future projects?
Braden R. Duemmler: I believe the reason filmmakers love film is that it is impossible to master. I hope to have a long career (like many before me) where I can continue to learn and constantly strive for the ever-elusive "perfect film." As my first feature as writer/director, What Lies Below was a major step along that journey. I learned the value of cast and that great performances trump everything else, so I'll be sure to be even more meticulous about all future casting choices. I also learned how to work with a team of VFX artists, which was such a fun and interesting experience that I hope I'll get to do again. But mostly I learned that films can only go as far as the people who make them. We worked hard to find a team, including a mostly female crew, that believed in the story. And when obstacles arose, that faith in the story was what kept us all in it, together.
Were you influenced or inspired by any movies, TV shows, video games, or books while making What Lies Below?
Braden R. Duemmler: Yes! So Many! I loved watching/re-watching Tomas Alfredson's Let the Right One In, Jonathan Glazer's Under the Skin, and Andrea Arnold's Fish Tank. I also loved reading Age of Miracles by Karen Thompson Walker and learned so much from Dr. Lisa Damour's Untangled: Guiding Teenage Girls Through the Seven Transitions into Adulthood—mind blown from that one!
Looking back at your time on set, is there a favorite or memorable moment that stands out?
Braden R. Duemmler: Far too many! Being on set is like chasing a carrot on a stick: constantly chasing that one moment where it just… works. I think we "caught the carrot" when we were shooting the living room scene where Michelle essentially chooses John Smith over Libby, her own daughter. It was the end of an 11-page day; we were tired, stressed, and just trying to make it through. But, once I said "action," the entire crew, every single one, was locked in. It was electric. Everyone felt it—it was working, and it was worth it.
Ultimately, what do you hope viewers take away from What Lies Below?
Braden R. Duemmler: I hope they want to watch it again to put all the pieces together. Very early on in the process my good friend and collaborator, Jimmy Jung Lu (our cinematographer), asked me, what kind of film is this? Is it horror? Thriller? Drama? I thought for a bit and realized, What Lies Below is all of those, but, at its core, it is a mystery. The clues are hidden throughout the film: small pieces here and there, some subtle, some not so much. So, I think the best compliment I could receive as the writer/director is to watch fans go back, re-watch it, and start talking about it, dissecting it, and arguing over it!
What has it been like to partner with Vertical Entertainment to release What Lies Below?
Braden R. Duemmler: I cannot say enough about Vertical Entertainment and the team there. They believed in the film and us as filmmakers. Throughout the process they constantly ask for our input and love hearing our ideas. It's been a great partnership and I hope to work with them again in the future.
With What Lies Below now on digital and VOD, what other projects do you have coming up that you're excited about, and where can our readers follow your work online?
Braden R. Duemmler: I'm always writing, so I have a lot of other scripts I'm hoping to push once What Lies Below releases, including a horror/thriller film titled MOLD, a historical horror titled Náströnd, and an action-thriller titled The Close and Holy Darkness. In fact, as I type this, I'm outlining my next horror script which I'm equally excited and intimidated by. Anyone who is interested can find my work at www.RangerFilms.com (I'm a huge hockey fan!) or my Instagram @Director_BRD.
Thanks for your time, Braden!
Braden R. Duemmler: Thank you, sir! And thank you to everyone at Daily Dead for amplifying our film!
[Photo Credit: Above photos courtesy of Vertical Entertainment.]