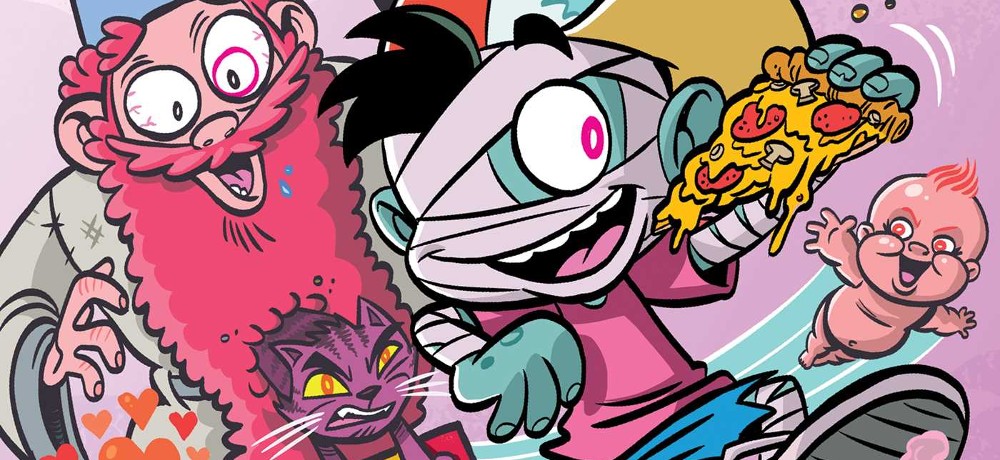 Wrapped Up: The Complete Collection compiles every adventure of Milo Mummy and friends in one book and is now available from Oni Press! In our latest Q&A, I caught up with Wrapped Up creators Dave Scheidt and Scoot McMahon, who reflected on the origins of the story, creating Wrapped Up's eclectic mix of characters, and what's next for the two of them:
For those who may be unfamiliar with Wrapped Up, can you tell our readers how you two first came together and started working on this comic book?
Scoot: Dave and I had worked on a short story for Art Baltazar and Franco's Aw Yeah Comics and wanted to work with each other again on something original.
Dave: Yeah, I really just admired Scoot's work from a distance and we eventually became friendly and ended up working on a short story and now he's stuck with me. We talk pretty much every single day. It's usually just us talking about Ninja Turtles or Wrestling. We are grown men. 
What are some genre influences that inspired you to create Wrapped Up?
Scoot: For me, drawing the book, Halloween in general was a big influence as well as gross cartoons and comics from the early 90's like Ren & Stimpy.
Dave: Yeah, exactly what Scoot said, but also we kind of just threw in everything we wanted to see in a story and tell jokes that made us laugh. It's really just all the stuff we like and things that make us laugh. Obviously 90s Nickelodeon is a huge influence. Horror, Mad Magazine, Space Ghost Coast to Coast. 
There's such an eclectic mix of characters across genres, including horror and fantasy. Can you talk about your creative process when it came to developing the characters and story?
Scoot: Dave would have suggestions for characters or monsters in the script and I'd sketch up ideas and show him and we'd work back and forth like that.
Dave: I'm lucky enough to find a friend and collaborator like Scoot who really just understands what I'm trying to do. We have a really great wavelength creatively where we can improve or tweak ideas one of us has and there's never any sort of toe-stepping or ego. We just want to make funny and weird comics and kind of inspire each other to keep that going and develop an idea in the best way we can. So we're just constantly throwing ideas back and forth. Scoot knows the things that make me laugh and vice versa so it's really important for us to make comics that we'd read ourselves and jokes that we genuinely find funny. So this book is just really all the stuff we love thrown into one, giant, cosmic gumbo. Monsters, goofs, depressed dads, fast paced storytelling. All that good stuff. 
This is a great book and source of inspiration for comic book readers of all ages. Do you have a memorable or favorite interaction with readers online or at a convention?
Scoot: We did a signing at C2E2 in Chicago where I drew pictures of the characters for fans, while Dave sat there and ate cookies.
Dave: Yeah, I really just try and maintain my vibe at all times even if it just means snackin' it up while Scoot does actual work. But seriously it's hard to pick a favorite but Scoot and I are lucky enough to have been making comics for kids for a while now and we almost always have a great story to share after every convention. Just to be a small part of a kid's life is an honor to us. 
Growing up is hard and even a simple thing like making a kid laugh with one of our books makes it all worth it because life can be hard when you're younger. Comics brought me lots of comfort in a scary time growing up. These things make a difference. My favorite stories are hearing about parents catching their kid staying up late reading our books or getting in trouble at school for reading when they should have been doing schoolwork because, full disclosure, I was absolutely that kid growing up. 
Oni Press is collecting all stories into a single book, due out in September. Even though it's referred to as the "Complete" collection, do the two of you have interest in working together on more Wrapped Up stories?
Scoot: The characters are really fun to draw. If the stars align, I'd love to do more!
Dave: Scoot and I are always working on something (when I'm not eating pizza and watching horror movies when I should be writing) so keep an eye out!
You two also worked together on Agents of SLAM. Do you two have any upcoming projects you're working on together or separately that you'd like to share with our readers?
Scoot: We're always chatting and working on ideas together but we can't reveal anything just yet! Follow us on social media and you'll be first to know! (@scootcomics)
Dave: I do a series called MAYOR GOOD BOY over at Random House with my friend and co-creator Miranda Harmon and the third book MAYOR GOOD BOY TURNS BAD is coming out December 6th. I don't want to toot my own horn but there's a direct reference to The Lost Boys in the new one so I'm stoked for that. You can follow me at @davescheidt on twitter and Instagram. Thanks so much for doing this! I'm a lifelong monster kid so this is so cool to be featured on a horror site. 
---
Wrapped Up: The Complete Collection
(ISBN: 9781637152324)
Dave Scheidt, Sean Dove, Scoot McMahon
Oni Press 9/5/23
"Find every laugh-out-loud adventure of Milo Mummy and friends now collected in one book. Milo is just your average twelve-year-old boy. His loving parents are mummies, his best friend is an old wizard, and his babysitters are witches. When Milo isn't busy at school or visiting the comic book store, he loves to hang out with cool teen vampires, play with magical kitties, feed a hungry kaiju, and avoid a love-crazed gorilla at all costs. You know, typical kid stuff."