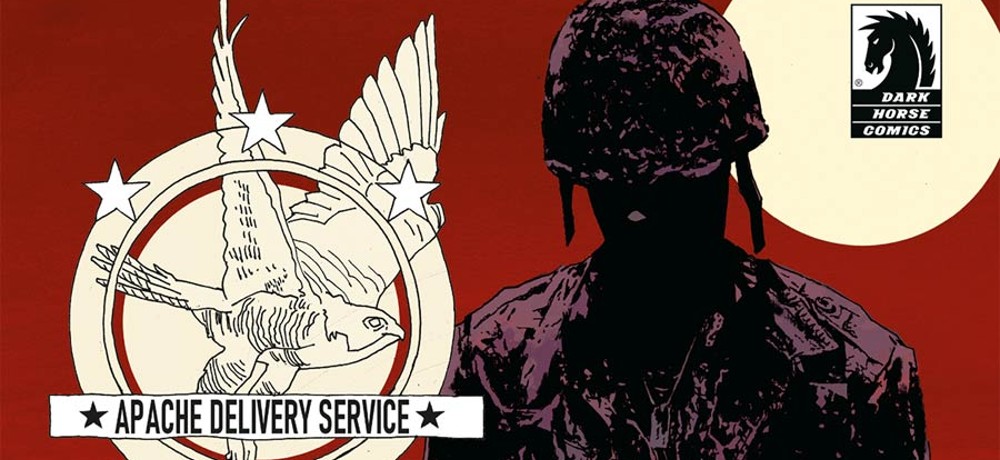 Horrors from the jungles of Vietnam await Daily Dead readers when Apache Delivery Service #1 is released on January 5th, 2022 by Dark Horse Comics! The new 4-issue mini series comes from the creative team of Matt Kindt, Tyler Jenkins, and Hilary Jenkins, and Matt Kindt shared details on the series' origins, the research that went into the story, and teased future projects:
What were the origins of Apache Delivery Service and why was this a story that you really wanted to tell?
Matt Kindt: I can give you a fancy literary answer – or I can tell you where the idea really came from – and like ALL ideas – they always pop in a different and random way. My head is like a magnet for ideas – it just pulls in bits and pieces of inspiration from everywhere until they start to clump together into something interesting. For this particular idea – Tyler, Hilary and I were at a convention sitting at our tables and talking about what we wanted to work on next. Tyler was telling me he really wanted to draw jungle, and 60s stuff, Vietnam war era kinds of guns and clothes and helicopters. As we're talking – Hilary is commenting on the way the food was being delivered to us sort of haphazardly for lunch and she said, regarding the food delivery, that it was a kind of patchy delivery service. We're at the con – and it's loud so I mis-heard her while we were talking and I heard "Apache Delivery Service" – and the idea pretty much popped into my head fully formed. I typed it up back at the hotel room that night and pitched them the idea the next day – and that is how a book can sometimes be born. That was the easy part – then it involved a deep dive into culture and history of course…but that's the fun of writing. I just follow where it leads and use writing as an excuse to learn and study and research. It's like school – but I make up all the assignments.
What kind of research was involved to tell an authentic-feeling story set during the Vietnam War?
Matt Kindt: I read a LOT of history – not just of the Vietnam war – which is the setting of the story – but it's not really what the story is about. It's really about our protagonist and his upbringing – and then being put into a life/death situation and figuring out how to handle it all. I did a lot of reading about the First Nation experience in Vietnam but also did a VERY deep dive into Vietnamese folklore. Without spoiling the series – we start in Vietnam – that's the set-up and then we go to a very strange and unique place. This isn't a war comic – but it is a bit of a serial killer/war/horror folk tail.
Can you give our readers a little tease of the story and the horrors that await? 
Matt Kindt: Witches (kind of), serial killer (definitely), and Nazi gold (maybe/maybe not). And the most amazing work of Tyler and Hilary's career. The paint and the ink on these pages – it's my favorite thing they've done yet.
You've teamed up again with Tyler Jenkins and Hilary Jenkins for this miniseries. Can you talk about the creative process working with them? Are there any specific examples of where they helped elevate or change what you may have originally planned?
Matt Kindt: Tyler and I talk story all the time – and Hilary is bringing in visual reference and creative as well – it's definitely a collaboration in all the best ways. I pitched the story to Tyler early on and then wrote it all at once – and then as Tyler is drawing it – we ended up polishing and shading the story as we went. When I'm doing the writing and not the art – I feel like I'm just wasting a resource if I'm not bouncing ideas back and forth. I know, when I'm drawing a book – that I spend even more time thinking about the story – those extra hours of thinking are something I miss when I'm not drawing – so I love tapping into those extra thoughts/ideas when we collaborate.
Aside from Apache Delivery Service, what else do you have in the works? Anything you can share with our readers?
Matt Kindt: Tyler and I are planning on doing a "genre cycle" of books – where we touch on every genre – including ones we haven't gotten to yet – romance, western, horror (again), and sci-fi. The idea is that all of the books would be connected in some way – not a "shared universe" in the traditional sense – but really – every book I've written, I consider to be part of the same "universe." We've had characters overlap before – and we will again. 
---
To learn more about Apache Delivery Service, visit: https://www.darkhorse.com/Comics/3009-569/Apache-Delivery-Service-1-Laurence-Campbell-Dave-Stewart-Variant-Cover
"A jungle horror story by Matt Kindt (Ether, Mind MGMT) and Tyler Jenkins (Fear Case)!
Two haunted men are on a hunt in the jungles of Vietnam, searching for clues to a missing treasure trove of gold that was stolen from all over Asia by a Japanese general during World War II. Eventually they find a series of hidden caves in the mountains near the coast. Bodies start showing up--murder victims and mutilated corpses. There is a rumor that the caves and gold are protected by terrifying witches that have been living in the cave system for thousands of years. As our warriors travel deeper into the mystery, they learn more disturbing facts about each other and become paranoid of one another as they get closer and closer to the gold, while, at the same time, a bizarre serial killer is hunting them down."
CREATORS
Writer: Matt Kindt
Artist: Tyler Jenkins
Colorist: Hilary Jenkins
Cover Artist: Laurence Campbell, Dave Stewart
Publication Date:
January 05, 2022
Format:
FC, 32 pages; Miniseries
Price:
$3.99
UPC:
7 61568 00905 7 00121