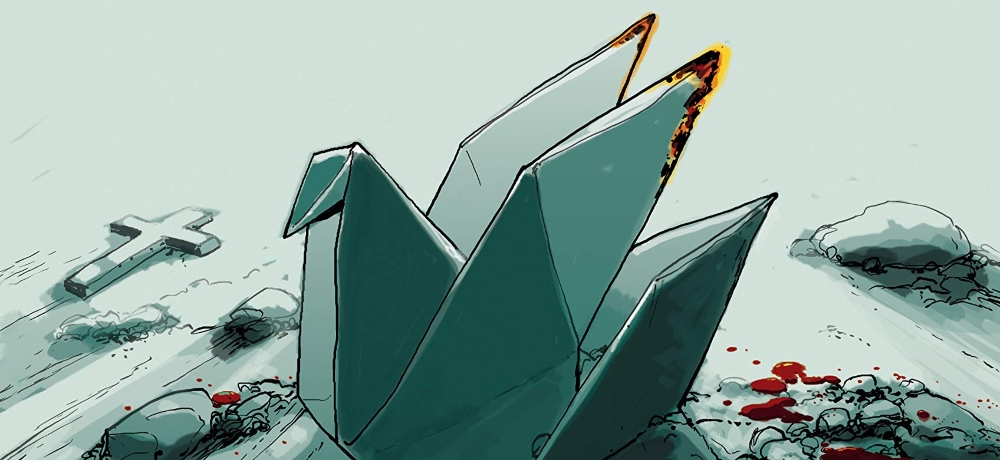 On the brink of the afterlife, a deceased trio consisting of a priest, a rabbi, and a minister must work together to figure out why they're still on Earth and what they need to accomplish before the next phase in their spiritual journeys can begin in the new graphic novel Unfinished Business.
Written by Paul Levitz with artwork by Simon Fraser, Unfinished Business is now available in hardcover in comic book shops before coming to bookstores on April 20th from Dark Horse Comics, and we caught up with Levitz in a new Q&A feature to discuss collaborating with Fraser, reteaming with Dark Horse, taking a unique approach to religion, and more!
Thanks for taking the time to answer questions for us, Paul, and congratulations on your new graphic novel, Unfinished Business! How and when did you initially come up with the idea for this graphic novel?
Paul Levitz: Several years ago I was given the opportunity to do another project for Dark Horse, and wanted to do something very different from most of my work, which has been doing super heroes. Not sure how I came up with the idea of playing with the old joke opening line.
How long did it take to complete the first draft of Unfinished Business, and how many drafts did you go through before it was ready for publication?
Paul Levitz: We originally developed the project as a multi-issue series, and as the market shifted, it morphed into a graphic novel. I don't really keep track of drafts as I work.
I really enjoy how Unfinished Business explores religion and the afterlife from the perspectives of a priest, a minister, and a rabbi. How important was it for you to give readers a multifaceted look into religion and the afterlife through these intriguing characters?
Paul Levitz: I think a lot of us today aren't affiliated enough with a religion to get to know the people who choose to devote their lives to work focused through their religion. I've been lucky enough to have a couple of friends whose callings have taken them that way, and that certainly influenced me. Not sure if the "look" I'm giving represents the views of any group accurately, but it was interesting to think about.
Is there a particular scene in Unfinished Business that you're looking forward to readers experiencing?
Paul Levitz: That would be telling.
What has it been like collaborating with artist Simon Fraser and colorist Gary Caldwell to bring your story to life?
Paul Levitz: I had great fun working with Si, including walking around the streets of New York picking out locations. He's a thoughtful and interesting artist, and it was worth waiting for him to be able to do this. I didn't have any real contact with Gary, leaving that up to Si.
You have extensive experience working in the comic book industry as an editor, executive, and publisher at DC Comics. Has working in multiple roles in this industry enhanced your storytelling as a writer in this medium?
Paul Levitz: I sure hope so. I keep learning, even as a teacher in the field. I had Brian K. Vaughn guest lecturing in one of my classes a few weeks ago, and he offered up an approach I had never articulated that I'm certainly stealing. I've gotten to work with an astounding group of talented people in my life, and I've tried to learn from them.
What has it been like to team up with Dark Horse Comics to release Unfinished Business to readers?
Paul Levitz: Dark Horse is a supportive publisher that allows a lot of creative independence. This has been a uniquely difficult time for everyone, so we had to deal with postponing release, but I hope the amazing growing energy of the graphic novel field has a good group of readers ready for it.
Ultimately, what do you hope readers take away from Unfinished Business?
Paul Levitz: A good day's reading, maybe their own ending to an old joke, and a look at a world they may not know well.
Do you have any advice for aspiring comic book creators looking to break into the industry?
Paul Levitz: If you want to be a writer, read as much as you can, write as close to every day, and don't think of yourself specifically as a comics writer… the goal is to be a writer who writes as many types of work as possible.
With Unfinished Business out now in hardcover from Dark Horse, what other projects do you have coming up that you're excited about, and where can our readers go online to keep up with your work?
Paul Levitz: You can find my website at paullevitz.com. The last couple of issues of The Visitor from Valiant are coming out in June, and I have another significant project that I expect to be announced shortly and released in the fall.
And if you're a student thinking of a college, I teach courses at Pace University every term, both undergrad and in their MS in Publishing program.  I teach at Columbia every couple of years.
---------
To learn more about Unfinished Business, visit:
Preview pages: