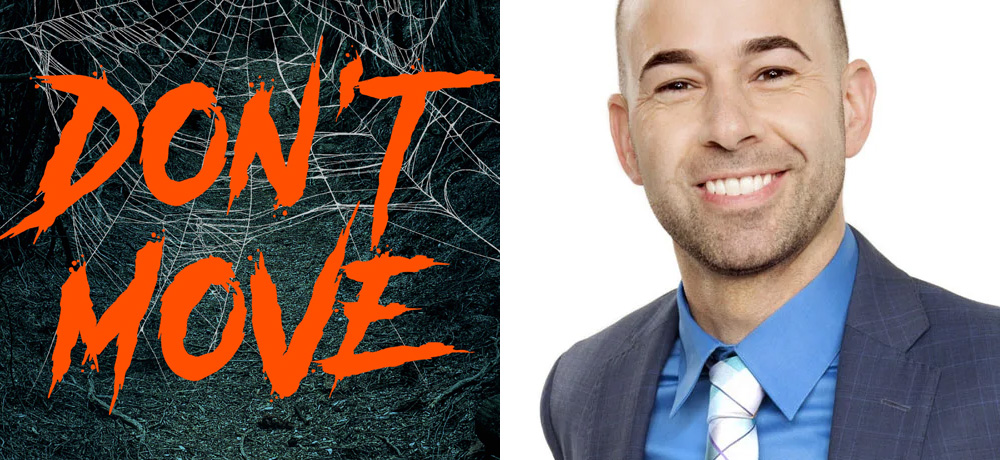 While he might be best known as "Murr" from Impractical Jokers, James S. Murray is also an acclaimed author who recently teamed up with fellow writer Darren Wearmouth for the Awakened horror sci-fi trilogy (in case you missed it, check out our previous interview with Murray).
Following the June release of the final novel in the Awakened series, Murray and Wearmouth have teamed up to write a new thriller, Don't Move, and ahead of its October 20th release from Blackstone Publishing, we've been provided with an exclusive excerpt to share with Daily Dead readers!
To learn more about Don't Move, visit:
To read the first chapter of Don't Move (in which a carnival ride transforms into a horrifying death trap), click the cover below or the following link: Don't Move excerpt.
"From the authors of the bestselling Awakened trilogy.

Megan Forrester has barely survived the unthinkable. Six months ago, she witnessed a horrific accident that killed her husband and son, and lives with the guilt of knowing she could have done more to save them. Now, Megan hopes to mend the pieces of her broken spirit by attending a local church group's annual camping trip. But the church group members—riddled with dark secrets of their own—make a catastrophic navigational mistake, leaving them stranded in an untouched canyon in the West Virginian national forest.

Isolated from any chance of help or rescue, Megan and the others quickly realize why this side of the canyon has never been surveyed by mankind: it's home to a terrifying prehistoric arachnid that patiently stalks its prey through even the slightest movement or vibration in the forest. And it's desperate for a meal.

Grief-stricken and haunted by her tragic loss, Megan now faces her ultimate test of endurance. Can she outwit a bloodthirsty creature hellbent on ensuring that no one gets out of alive? When a single wrong turn can mean death, she only has one option: DON'T MOVE.

JAMES S. MURRAY is a writer, executive producer, and actor, best known as "Murr" on the hit television show Impractical Jokers along with his comedy troupe, The Tenderloins. He has worked as the Senior Vice President of Development for NorthSouth Productions for over a decade and is the owner of Impractical Productions, LLC. He recently starred in Impractical Jokers: The Movie, and also appears alongside the rest of The Tenderloins, and Jameela Jamil, in the television series The Misery Index on TBS.

DARREN WEARMOUTH spent six years in the British Army before pursuing a career in corporate technology. After fifteen years working for multinational firms and a start-up, he decided to follow his passion for writing. He is the author of numerous internationally bestselling novels, including Awakened, The Brink, First Activation, and Critical Dawn. He lives in Hamilton, Ontario."