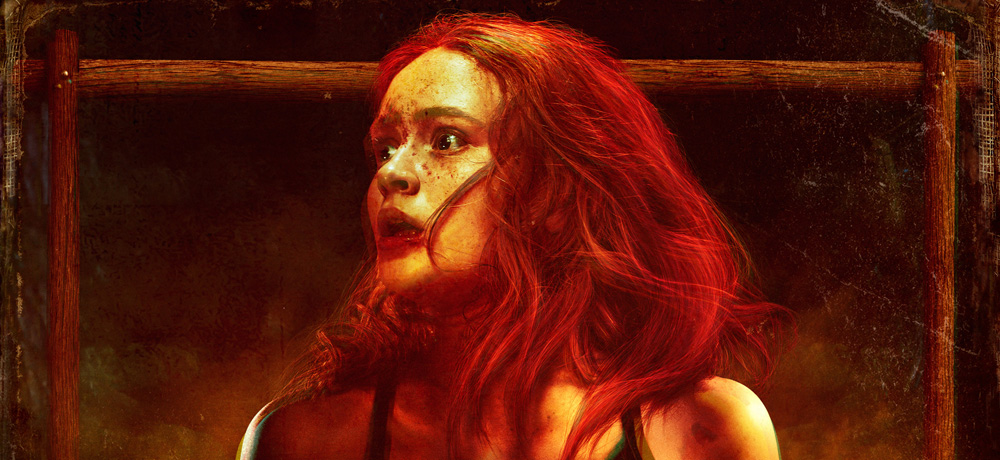 Last week, horror fans everywhere got their first taste of the horrors of Sarah Fier in Leigh Janiak's Fear Street: 1994, the first part of Netflix's new R.L. Stine trilogy adaptation. And now, Janiak is taking us even further back in time as we head back to the "Me Decade" and spend some time at Shadyside's Camp Nightwing during the summer of 1978. If you've seen the first Fear Street, you know that there was a total bloodbath at the camp, all due to the murderous rampage of a masked, axe-wielding psychopath, but the question here is: just how exactly did this murder spree unfold in the first place? And how is Sarah Fier tied to all of it?
Of course, I won't spoil all those fun reveals, but just be forewarned—I will be discussing some of the events of Fear Street: 1994 because they tie directly into this story, so if you haven't seen the first part of the Fear Street trilogy yet, you may want to return to this review after you've caught up with it (and it is well worth your time).
Fear Street: 1978 picks up directly where 1994 left off, with Deena (Kiana Madeira) and Josh (Benjamin Flores Jr.) trying to figure out a way to save Deena's girlfriend, Sam (Olivia Scott Welch), who is now being possessed by the legendary witch Sarah Fier, who has been cursing the residents of Shadyside for centuries. Desperate with nowhere else to turn, the siblings track down the mysterious C. Berman (Gillian Jacobs), who managed to survive the Camp Nightwing Massacre and can possibly help them defeat the evil that has tormented so many of their residents of their town for so long. Ms. Berman then tells her story to Deena and Josh, which makes up the majority of the narrative for this sequel.
It was in July 1978 when everything went south at Camp Nightwing, and at the heart of this tale are sisters Ziggy (Sadie Sink) and Cindy Berman (Emily Rudd), who don't exactly get along. Cindy is the well-meaning prim and proper "good girl" counselor who wants nothing more than to escape Shadyside with her boyfriend, Tommy (McCabe Slye), after she graduates. Ziggy, realizing that living in her town is essentially a one-way trip to Deadendsville, is a bit of a troublemaker, as she continues to lash out while at Camp Nightwing, and she ends up in the crosshairs of a bunch of Sunnyvale bullies led by Sheila (Chiara Aurelia, who is absolutely phenomenal in Cruel Summer, too), whose nasty-tempered character feels like an ode to Judy from Sleepaway Camp. But a few mean girls are the least of Ziggy's problems, as a killer is on the loose, and before the night is over, all hell is going to break loose at this summer camp, and no one is safe.
There's so much more to Fear Street: 1978, but again, I want to preserve that experience for fans, because I know how much of a blast I had with this brutally fun thrill ride concocted by Janiak and her co-writer Zak Olkewicz that does a great job of not only pulling together elements that we saw in the first film, but also manages to move the narrative forward as well, all via a flashback story, which seems like an impossible feat, but they do a brilliant job here. The pacing is fantastic, as there is not a dull moment to be found in Fear Street: 1978, and I can't help but applaud for how hard Janiak goes here in terms of the violence, because when I said no one was safe, I really meant that NO ONE was safe. Lots of blood gets spilled before Fear Street: 1978 wraps up, which is interesting since the entry in the series pays homage to all those summer slashers we love, but its content is often far more violent and grisly than most of them could ever get away with, so that's kinda cool. It's also worth noting that Janiak shows a lot of restraint in 1978, too, where she never plays up the murders gratuitously, either; she finds a good balance in this sequel, and it all works well.
It's also worth noting that Fear Street: 1978 does include a ton of summer slasher homages, and while there are a few music cues that feel plucked right out of the world of Friday the 13th, I'd say that the sequel feels more in line with the aforementioned Sleepaway Camp, The Burning, or even Madman. And where 1994's story zipped along almost breathlessly at times, 1978's pacing is a bit more even, and because of how we know how this story plays out (lots of dead kids, with C. Berman's sister among the victims), there's a hint of melancholy to the narrative. But to me, it just gave the story even more of an emotional gut punch once we get to the finale.
Fear Street: 1978 also has a killer soundtrack that features a ton of classic tracks, but this time nearly all of the tracks come from the '70s (so they are like "classic" classics). Songs that make an appearance include "Love Will Keep Us Together" from Captain and Tennille, "Cherry Bomb" by The Runaways, "(Don't Fear) The Reaper" by Blue Oyster Cult (I don't think you can make a throwback slasher without this one, though), "Carry On Wayward Son" from Kansas, "Slow Ride" by Foghat, and many more. My favorite song tie-ins from the sequel were the usage of "The Man Who Stole the World" by David Bowie (fitting, since this story is centered around a character named Ziggy) and then the version from Nirvana that was released in 1994. Both iterations of the song work so well in 1978, and I love how they really pull everything else going on in the film together.
Much like its predecessor, Fear Street: 1978 successfully dives into the world of R.L. Stine confidently, delivering up a thrilling and entertaining excursion in horror that doesn't waste a single moment and wholly immerses audiences in the twisted world of Shadyside with maniacal glee. I really loved Fear Street: 1994 for how well it established these characters and their stories, but I think 1978 does an excellent job of taking the narrative to new heights and furthering this mystery as well. And I totally am all in to see how everything wraps up next week with Fear Street: 1666.
Movie Score: 4/5