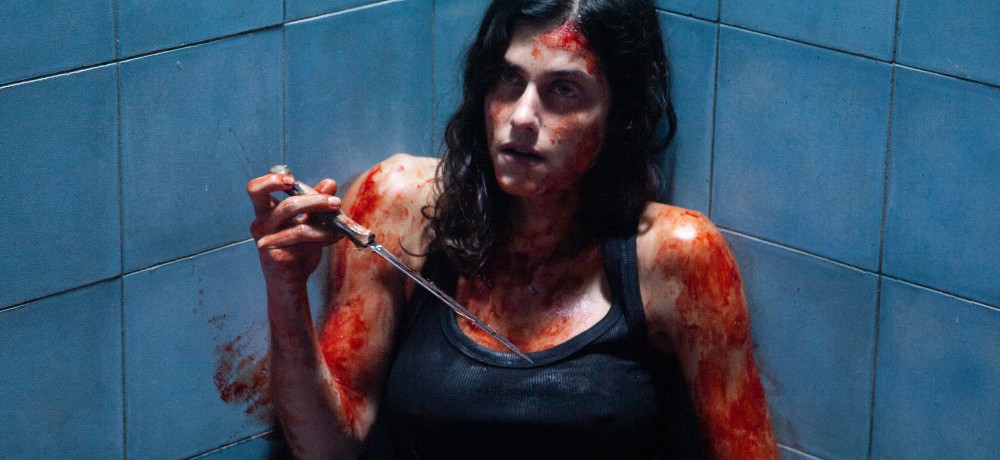 Filmmakers are slowly beginning to realize the importance of disability representation in film. Disability has long been portrayed as a source of fear and movies like A Quiet Place (2018), which cast a deaf actor as a deaf character, are finally starting to accurately depict disability and show that disabled folks are not monsters. This is too often the situation in horror movies centering around disabled characters. Unfortunately, sometimes the physical demands of a particular role make it impossible to cast a disabled actor. This is the case with The Advent Calendar, which had its World Premiere earlier this year at Frightfest and is coming to AMC Networks' premium streaming service Shudder just in time for the holidays.
Written and directed by Belgian actor and filmmaker Patrick Ridremont (Dead Man Talking), The Advent Calendar follows Eva, played by Eugénie Derouand, a former dancer who is forced to use a wheelchair after a tragic accident. Since her accident, Eva has been living a life of solitude, and other than going to the pool to swim, she doesn't allow herself the opportunity for social interactions. To make matters worse, Eva's father is suffering from Alzheimer's and her stepmother makes it very difficult for her to spend time with him, using the excuse that he probably won't recognize her anyway. Just before Christmas, for her birthday, her best friend Sophie (Honorine Magnier) gives Eva an odd antique advent calendar she found in Germany. Eva soon realizes that each window in the calendar contains not just a piece of candy, but also the mysterious ability to cause increasingly alarming events that could potentially change her life forever. The calendar contains a set of rules, including one which states that if she throws the calendar away, she will die. 
Knowing that Eva hasn't had a social life since her accident, Sophie invites her to go out to dinner with the intention of setting Eva up on a blind date. When Sophie decides to go for a drink with the man her date brought to meet Eva, Sophie's obnoxious date doesn't seem too thrilled to be stuck giving Eva a ride home. Things go from bad to worse when the man pulls over and sexually assaults Eva. When she attempts to fight him off, he dumps her on the side of the road, throwing her wheelchair out behind her. At home angry and humiliated, Eva opens the next window on the advent calendar and finds a toy car, which she tosses aside. Maybe it's just a coincidence her dog finds the tiny car and chews it into pieces just as the man who tried to rape her is involved in an unusual accident, or maybe it's something else.
Derouand gives an emotionally compelling performance as Eva, who is still struggling to come to terms with her disability while also trying to comprehend the strange events she's been experiencing since Sophie gave her the advent calendar. The Advent Calendar does an excellent job of using imagery to draw from folklore, including doors, which represent a choice, either to stay or to go or the choice of one pathway over another. Sometimes, the result of opening a new window on the calendar produces a positive result and sometimes a negative result, usually someone's death. In addition to folklore, the film boldly attempts to showcase so many intriguing themes, that at times it feels like some of these become muddled when the story doesn't devote enough time to explore each theme in the detail it deserves. 
Eva discovers that opening a particular window on the calendar allows her to not only spend time with her ailing father, but also, if only for a short time, he will once again recognize her. When she finds a painting hidden within the calendar and manages to locate the artist, who is blind, he reluctantly tells her the calendar required him to give up much more than his eyesight. 
It isn't until a window on the calendar offers Eva the opportunity to walk again that she fully comprehends the gravity of her situation and the realization that every choice she has made up until now, as well as future choices, are part of a pact she has entered into with the creator of the calendar. Ultimately, Eva must decide how much she is willing to sacrifice, and how her choices will affect the lives of those closest to her, to avoid spending the rest of her life in a wheelchair.
The Advent Calendar benefits from a standout performance from Derouand as Eva, an enthralling story which utilizes Faustian themes, and horrific creature effects. I can't help but wonder how much more effective the story would be if a disabled actor were cast in the role of Eva. Luckily, this question doesn't make this anxiety-inducing, dark, devilish tale any less enjoyable. The Advent Calendar premieres on Shudder on December 2, 2021.
Movie Score: 3.5/5