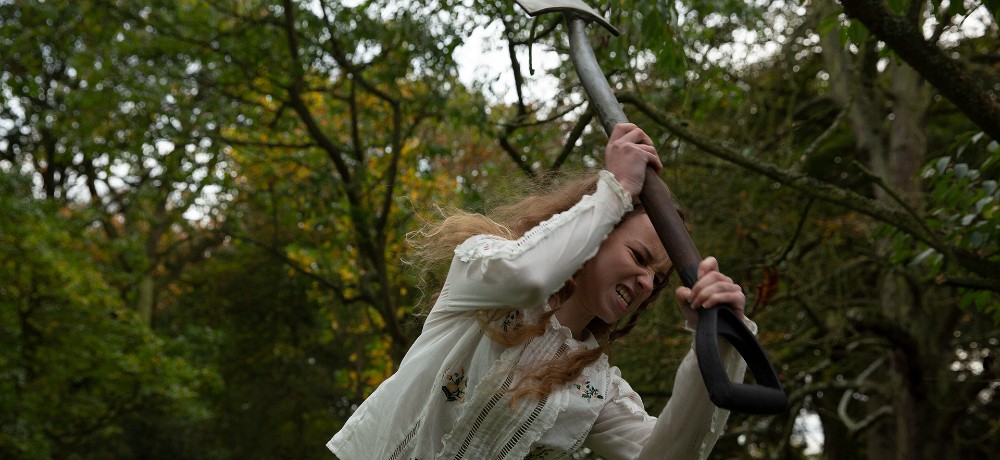 Movies don't need to contain oozing blood and gore to be considered horror fare. Psychological horror is a subgenre which can be quite effective at causing terror. Writer/director Sebastian Godwin's first feature film Homebound is a good example of psychological horror that mostly relies on actors' reactions to events, which take place off-screen, to scare the audience.
Homebound follows Holly, played by Aisling Loftus (A Discovery of Witches), and Richard, played by Tom Goodman-Hill (Rebecca, The Imitation Game), newlyweds traveling to the country to meet Richard's family for the first time. Holly is concerned when they arrive to an empty house, but Richard shrugs it off. Apparently, it's normal for his ex-wife Nina to refuse to talk to him, but at least she sent him a text apologizing for not being there. Eventually, Richard's children show up one by one and none of them seem particularly happy to see their father. The youngest daughter Anna, played by Raffiella Chapman (Miss Peregrine's Home for Peculiar Children), is the only child who is even remotely pleasant to Holly. The older children, Ralph (Lukas Rolfe) and Lucia (Hattie Gotobed), wander in and barely even greet their father and his new bride. 
The uncomfortable family reunion moves outside, where Richard and the children encourage Holly to join in playing with what she assumes is a pet goose. Holly is horrified when the children slaughter the goose right in front of her without any warning. Richard seems amused at Holly's reaction as he nonchalantly tells her they're having the goose for dinner. When Richard pours alcohol for each of the children at dinner, he explains that it's young Anna's birthday, so they're having a celebration. If Holly hasn't noticed all the red flags before dinner time, she definitely realizes something doesn't seem right when Ralph and Lucia begin drinking heavily. After a night of eating, drinking, and dancing, Richard and Holly are too distracted to notice the older children listening outside their bedroom door.
As the film progresses, one has to wonder why in the world Holly married Richard in the first place. It's not just his children who are unpleasant, Richard is a jerk. Tom Goodman-Hill's portrayal of Richard as a flippant, self-centered asshole is great. As good as Goodman-Hill is at showing Richard's true colors and making the audience hate him, the real standout performance in Homebound comes from Aisling Loftus and her facial expressions, as she reacts to the horror around her while the story unfolds. The other star of the film is the score, which along with the cinematography, gives Homebound an old school, almost gothic feeling similar to movies like The Changeling. The main difference here is that where The Changeling is a haunted house movie, Homebound is about a house of horrors and the family who inhabit it.
Once Holly convinces the children to tell her where Richard's ex-wife has been hiding, it's clear things probably aren't going to end well for her, which causes the final act of the film to be a bit predictable. Again, one has to wonder how Holly ended up with a loser like Richard, who deserves every awful thing that happens to him, in the first place. 
Ultimately, Homebound treads familiar territory and is highly reminiscent of movies about evil children like Children of the Corn and The Good Son, but it boasts an outstanding lead performance. Loftus' wild-eyed portrayal of Holly, and her reactions to the horror she witnesses off-screen, make Homebound an entertaining, popcorn movie and an engaging psychological thriller.
Movie Score: 3/5
Brainstorm Media will release Homebound in select theaters and on demand May 13th.