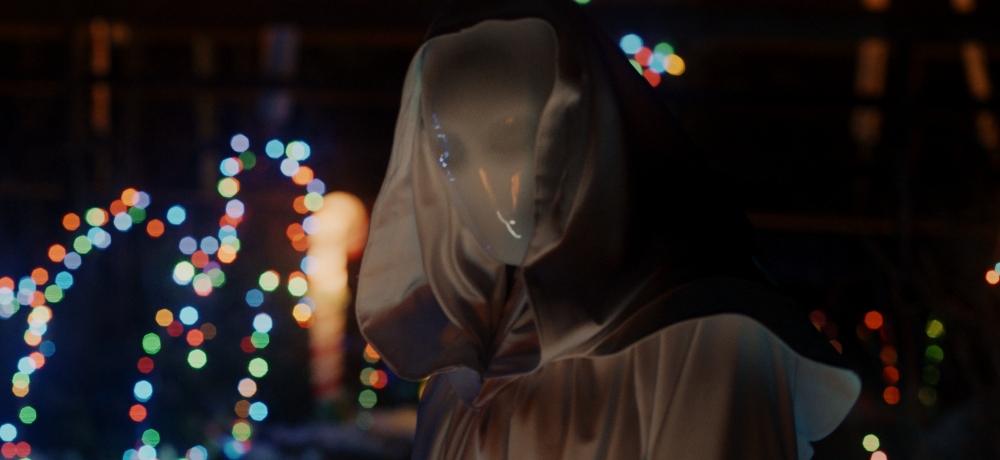 It's good to see a steady stream of festive horror films being released year-on-year. Recently we've had everything from musicals such as Anna and the Apocalypse, to comedy action such as Violent Night. We've even been allowed to get a sneak peak of next year's bloody Christmas as Art the Clown will seemingly take on the role of Santa Claus in Terrifier 3. However, this year we are gifted with a small present that has been placed delicately towards the back of the tree. That present is It's a Wonderful Knife, and you should unwrap it as soon as you can.
It's the most wonderful time of the year according to Andy Williams, but that's not the case for Winnie Carruthers (Jane Widdop). As others around her, including all of her immediate family, are thriving, Winnie is still traumatised by events of the previous year when she managed to stop the Angel Falls killer murdering her brother and countless others. From that moment the town was released from the clutches of tyrannical Mayor and Angel Falls killer, Henry Waters (think of Henry Potter from It's a Wonderful Life's good-looking grandson. He's also portrayed by Justin Long). Despondent with her current life situation and grieving the loss of her best friend, Winnie angrily wishes to have never been born. Well, miracles do happen at Christmas, but this miracle isn't one that brings joy to the world.
Winnie now finds herself in a world that she knows, but that doesn't know her. The Angel Falls killer is still on the loose and she has to convince the town she is one of them, stop the killer and try and get back to her own reality. All on Christmas Eve. No pressure.
It's a Wonderful Knife is like a snow globe. On the surface everything looks clear, pristine and ornate, but one big shake and the carnage soon begins, which eventually culminates in a whirlwind of a spectacle. As the movie pays homage to one of the classic Christmas movies of all time it was never trying to reinvent the wheel. It merely wanted to inject as much eggnog into proceedings, and it does so with its tongue firmly in its cheek.
A part of the chaos is that It's a Wonderful Knife presents itself as so many things at once. The opening 15 minutes plays out like the latest festive Hallmark made-for TV movie, with over-the-top festive cheer and sentimentality. But the tone soon changes when the blood starts to spill, and it spills by the bucketload. This carries on throughout the story – the constant flip flopping from sentimental to comedic to horrific - and it works so well.
Let's take a moment to bask in the wonder that is Justin Long. It would be easy to assume that Long would continue to play the perpetual nice guy after great performances in TV's Ed and Dodgeball. However, he has shown a sublime nasty streak in his recent roles. Superb in Barbarian; Enigmatic in It's a Wonderful Knife. His turn as Henry Waters seems to channel every sickly and insincere US President and TV Evangelist you can envision. 
The story does somewhat overcomplicate itself towards the end. Discussions about the aurora borealis (the northern lights) and its part in Winnie being transported to an alternate Angel Falls go on a little too long and Henry Waters' control over the community reaching dictator-level at the town Christmas celebrations either needed a little more time to air or to be removed – it simply reiterates what has already been established when Winnie finds herself in the alternate Angel Falls. And, dare it be said, but the story could have done with being 10 – 15 minutes longer, especially during the climatic ending. However, the tale manages to wrap itself up neatly with a nice little bow to give everyone a warm fuzzy feeling.
It's a Wonderful Knife isn't looking to break the mould - on the contrary – it goes out of its way to use a well-established one, but it does look to create a fun sleigh ride of mayhem and carnage whilst sprinkling a dusting of humour throughout. This is the perfect movie to wrap Christmas gifts to in the run up to the big day.
Movie Score: 4/5