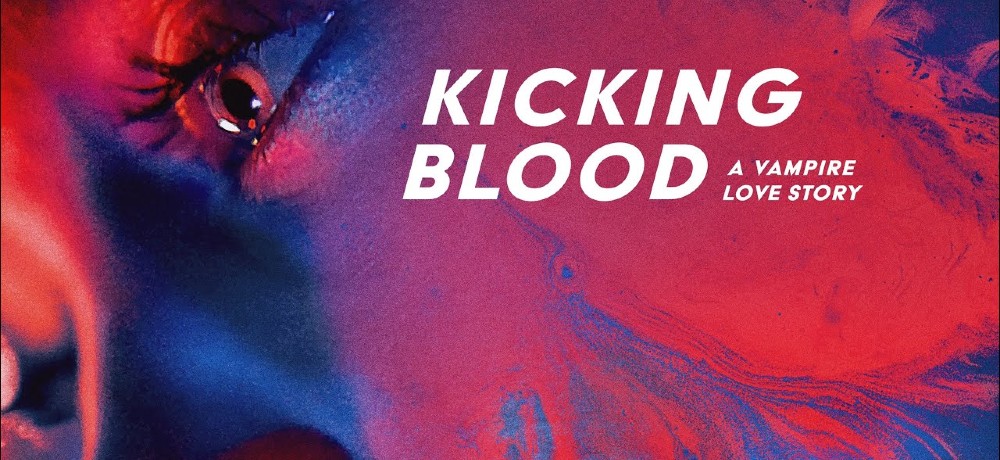 Vampirism has been used as a metaphor for various kinds of addiction in several films over the years, like The Addiction (1995) and Larry Fessenden's Habit (1995). There are just so many ways to compare creatures of the night who need to drink blood to survive to humans' many unhealthy addictions. What would happen if a vampire decided to try and kick their habit of drinking blood? Filmmaker Blaine Thurier (Teen Lust) poses this question in his new film Kicking Blood and the answer is captivating.
Written by Thurier and Leonard Farlinger, and directed by Thurier, Kicking Blood premiered at Toronto International Film Festival in 2021. The film stars Alanna Bale (Stickman, Enhanced) as Anna, a vampire who likes to read books and works the overnight shift in a library, and Luke Bilyk (Adams Testament) as Robbie, a messy alcoholic whose life is falling apart. 
Kicking Blood introduces the mysterious Anna, working her late-night shift in the library with her co-workers, elderly, ailing Bernice (Rosemary Dunsmore) and Gerry (Shaun Austin-Olsen), an older man who invites Anna to his house after work for a drink. Anna accepts Gerry's invitation and when he attempts to impress her with his record collection and 80-year-old Scotch, she matter-of-factly attacks him and drains his blood. 
While walking home, Anna encounters a disheveled man sitting on the sidewalk with his belongings. He introduces himself as Robbie and tells Anna he's given up on life and wants to die. Robbie is an alcoholic, who was kicked out of his sister's house because he was unable to stop drinking and wouldn't go to rehab. He's lost his job and is now homeless, so he decides he has no reason to live. Anna coldly tells him there is nothing after death and he shouldn't kill himself. She has no interest in social interaction and continues on her way home in the snowy night, but Robbie decides to tag along. When they get to Anna's house, Robbie shyly asks if he can come inside to warm up and maybe have a drink. Anna reluctantly allows him inside the darkened house and gives him a drink.
Kicking Blood is not cinematographer Jonathon Cliff's first horror movie, and it shows. The tenebrous, red and blue-lit scenes give the film a gothic feel and create an elegant, but gloomy, vampire aesthetic. We don't know Anna's backstory or how long she's been a vampire, and the dimly lit atmosphere, along with her reserved demeanor, make her mesmerizing and otherworldly.
When Robbie tells Anna he is determined to end his life, she tells him she is a vampire, and she is going to kill him and drink his blood to get high. Anna is accustomed to people screaming in terror when they realize what she is, and the fact that Robbie isn't afraid of death fascinates her so much that she decides not to kill him. She lets him sleep on her couch and goes to the library for her nightly shift. Bale's exceptional portrayal of Anna as a solitary, emotionless creature who doesn't appear to get any enjoyment from her life as a vampire, is compelling. The closest thing Anna has to a friend is her co-worker Bernice, who is very sick and on a lot of medication. Displaying a flicker of humanity, Anna genuinely seems to care about Bernice. When Anna goes home, she expects Robbie to be gone, but instead she finds him in her bed, wrapped in a blanket, going through withdrawals and hallucinating. 
Next, we meet an attractive pair of young vampires, Nina (Ella Jonas Farlinger) and Boris (Benjamin Sutherland), hanging out in a murkily lit bar trying to seduce a man named Ben (Josh Bainbridge). He agrees to take them home with him thinking they are going to party, but Nina and Boris just want to drink his blood. Anna arrives and it is implied that the three of them regularly hunt together. Nina and Boris are coldblooded and get a thrill from killing humans. Anna sits alone like she doesn't want to be there. Nina jumps on Ben and viciously tears at his neck as Boris joins in the bloodletting. After reluctantly feeding, Anna tells them she has to go to work.
Anna returns home from work to find Robbie, who has been staying there while trying to get sober, unresponsive. Anna panics, thinking he is dead, and puts him the bathtub to try and revive him. When Robbie finally wakes up, he tells Anna she saved his life, and he is grateful. Observing Robbie's recovery and finding his will to live again, while also watching her friend Bernice die alone in a hospital bed, sparks something in Anna, and she decides she is going to kick her blood habit. She wants to be human again.
As Anna gets weaker from not feeding, she begins to hallucinate about her own funeral and Anna and Robbie's relationship comes full circle. Robbie is now caring for Anna as she embarks on her own journey of healing and recovery. Anna's chance encounter with Robbie when he was at his lowest point has such a profound effect on her that she realizes how empty her life as vampire has become and causes her to want to kick her habit and become human.
Despite the fact that Anna and Robbie have both potentially overcome their addictions, the final act of Kicking Blood leaves some questions unanswered. Bale's remarkable performance is the highlight of the film as we watch Anna transform from an unfeeling creature of the night into something almost human, who experiences heartbreak watching Bernice die alone and has genuine concern for Robbie. Ultimately, Kicking Blood is a thought-provoking, compassionate examination of addiction and imaginative exploration of the human condition.
Movie Score: 3.5/5
XYZ Films Releasing will release Kicking Blood in theaters and on digital on March 31st.