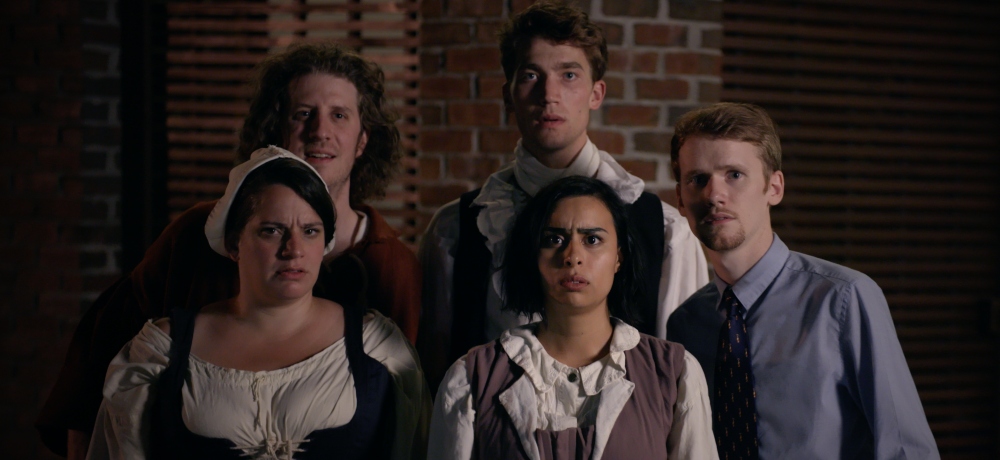 For most horror lovers, Salem is a must-see pilgrimage site during the Halloween season due to its crisp autumn feel, picturesque New England architecture, and of course a history of alleged witchcraft and pacts with the devil that has permeated the town's culture. Alas, while in these uncertain times a trip to Salem may be unwise, Salem Horror Fest is hosting a virtual premiere on April 1st for Mass Hysteria, a fun little indie film that brings Salem to us while reminding us of the darker threads that run through the town's past.
Directed by local filmmakers Arielle Cimino and Jeff Ryan, Mass Hysteria follows Paige (Geena Santiago), the star of a local troupe of Salem Witch Trial reenactors. Paige is giving her final Halloween performance before heading up to New York for an acting gig, but things go awry when one of the obnoxious tourists in the audience drops dead during her big monologue. The growing mob, driven by a mysterious delirium and an opportunistic religious zealot named Samuel Hale (Matt Perusse, who also produced the film) condemns Paige as a which. She, along with fellow troupe members Turner (Jeff Ryan), Devin (Scott Swayze), Margie (Alexandra Dietrich), and Charlie (Luke Deardorff) have to figure out what's causing this collective madness before they're all put to death.
As actor/producer Perusse points out, "The majority of tourists come to Salem in October with little idea of what actually happened in 1692." And I think there's certainly some truth to that, as the town's kitschy atmosphere can sometimes distract from the reality that over a dozen people were wrongfully executed for witchcraft in late 17th-century Salem. What makes Mass Hysteria interesting is that Cimino and Ryan have crafted a story that reminds of that reality while maintaining a quirky sense of humor.
While first and foremost a horror comedy, the film is really a hodgepodge of other fun horror tropes and subgenres. What starts as a zombie/infection story with a splash of the supernatural evolves into something more resembling a slasher film. At times it may seem like there are too many nutty elements jammed into the narrative, but I think that's also kind of the point. This is a smaller production made by a group of friends on a shoestring budget, and their collective enthusiasm invites us to just say "screw it" and go along for the ride.
The cast, in particular, seem to be having a ball, with Santiago providing a solid anchor as the film's lead to ground the antics of her supporting cast, both in terms of her fellow reenactors as well as the disparate gaggle of tourists hunting them down that has German punks banding with alpha frat bros. These performances are complemented by Shaun Clarke's cinematography, his camerawork fitting well with the film's go-for-broke style, as his shots aren't afraid to move with the action and leverage some funky zooms and quick cuts. And don't worry, we also get a healthy dose of blood with oozing infections, stabbings, and even a nice decapitation for good measure.
Ultimately, Mass Hysteria is a fun way to get a tour of Salem without having to buy a plane ticket or navigate the sea of humanity that takes over in October (that said, if you get a chance to do so, it's totally worth it). Plus, you get a creepy tale that stays true to the town's darker roots while managing to keep a twinkle in its eye. If you're interested in checking it out, be sure to RSVP for the Facebook Live event scheduled for Wednesday, April 1st at 8:00pm EST.
Movie Score: 3/5