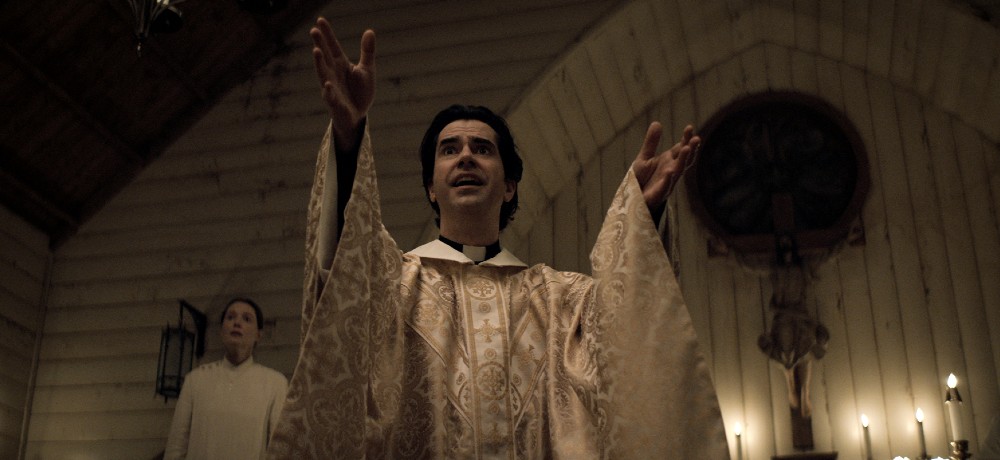 As someone who has been covering Mike Flanagan's career for over a decade now, it's been impressive to watch his constant progression towards becoming one of the very best visual storytellers working in the realm of horror. It all began with Absentia in 2011, which led to films like Oculus, Hush, Ouija: Origin of Evil, Before I Wake and his double dose of King adaptations with Gerald's Game and Doctor Sleep, and then he became one of the genre's go-to talents for longer-form storytelling with both The Haunting of Hill House and The Haunting of Bly Manor. 
All of those credits alone would make for an impressive resume, but we've got new Flanagan on tap this week, and I say the following with zero hyperbole: Midnight Mass is hands down my favorite thing I've seen from Flanagan, and I believe that somehow, against all odds, this multi-hyphenate talent has found a way to top himself by creating one of the most profoundly emotional horror tales in years (and yes, I wept my way through many of Mike's projects over the years, but Midnight Mass hits different - but more on that soon). 
At its core, Midnight Mass is a story about redemption, rebirth, forgiveness, and the dangers of religious fanaticism. The series is centered around the sleepy island town of Crockett Island, a locale that feels like it's been left behind by the rest of the world. With a population of 127, Crockett Island is the type of community where everyone knows everyone (and everyone's business), which is why it's so difficult for Riley Flynn (Zach Gilford) to return back home after a devastating fall from grace, one so horrendous he still hasn't been able to forgive himself after several years.
When Riley returns, things seem to be somewhat business as usual on the "Crock Pot" (the nickname the locals have given Crockett Island), where residents are facing their own personal struggles to survive, and others are doing their best to fit in amongst their tight-knit community. Coinciding with Riley's return is the arrival of a new religious figure named Father Paul (Hamish Linklater), which has many of the residents excited since they rarely get newcomers to the isolated island. But Father Paul's presence seems to collide with a series of strange occurrences on Crockett Island that feel miraculous in nature, but ultimately signal that something more sinister is happening within the unsuspecting community that could potentially threaten the islanders' way of life. 
As you may have suspected, I'm being vague about just what exactly Midnight Mass is all about, but that's for good reason. There's a very specific point in an early episode where the central mystery that Flanagan has woven into his his intricate narrative is revealed, and that's when everything happening on Crockett Island really begins to click into place, taking Midnight Mass' story in an incredibly thought-provoking and wholly enthralling direction. And there's no way I'm going to ruin that experience for fans, so that's all I'm going to say about that.
But what I can say in the meantime is that one of my favorite aspects of Midnight Mass was Flanagan's approach to the intersection of horror and religion. For some, these two concepts might feel like strange bedfellows, but to someone who grew up in a Pentecostal family, there's a lot of weirdly violent and unnatural stuff going on in The Bible, and even if I'm not someone who really buys into the whole church thing these days, I think having a narrative connection between these two "worlds" (for lack of a better term) can yield fascinating results. And Midnight Mass proves my theory true, and then some. Another aspect to Midnight Mass that's worth noting here is that even though the series explores the concept of religious fanaticism and how dangerous that can be, the story really doesn't vilify anyone's actual beliefs here. That doesn't happen very often (we've seen religious "crazies" used countless times in cinema), so it was just nice to see a different and much more nuanced approach to what faith can mean for people of all different beliefs instead of Flanagan just twisting the entire concept of religion into something overtly insidious.
Beyond religion, Flanagan's story in Midnight Mass feels deeply personal as it tackles other weighty issues like addiction, death, the afterlife, the politics of small town communities, and the trauma many of us carry with us from our childhoods throughout our adult years as well. It sounds like a whole lot of heaviness to contend with, and make no mistake, the emotional stakes here are high. But I think there's some levity that comes through in many of the characters and the performances from the actors who are tasked with bringing them to life for Midnight Mass, where there's a general sense of unease on Crockett Island, but these are people who are making the best of it despite the not-so-great circumstances.
And before I go any further, even though Midnight Mass is Flanagan's own long-gestating story, I'd be remiss if I didn't mention the series writing team that features Dani Parker, Elan Gale, Jeff Howard, and James Flanagan, because they deserve their due, too.
Now, usually in a review, I'd highlight a few key performances from that project in particular, but honestly, every single actor involved with Midnight Mass is absolutely phenomenal and I could write another two thousand words alone just singing their praises. Seriously. With that in mind, what I will say is that Hamish Linklater is one of Midnight Mass' secret weapons because there's such a quiet deliberation to how he has to play his character that I'm excited to dig in just to pull back the layers again with what he does on the screen here. And yeah, I absolutely adored everything from this top notch ensemble which includes the likes of Kate Siegel, Samantha Sloyan, Annabeth Gish, Kristen Lehman, Henry Thomas, Annarah Cymone, Rahul Kohli, Robert Longstreet, Alex Essoe, as well as the aforementioned Zach Gilford. If there's any justice in this world, these actors get every award possible thrown at them for the magic they've been able to create with their performances in Midnight Mass. 
In terms of the filmmaking craft that went into bringing Midnight Mass to life, there's a whole crew of talented folks who also deserve to be showered in endless accolades for their contributions to Flanagan's latest. One of Midnight Mass' biggest assets is how authentic it feels, where you are immediately immersed in this small community that feels purposefully sequestered away from the rest of the world. Steve Arnold's production design alone in Midnight Mass tells you a story before you even get to start to know the players in this story, and Michael Fimognari's cinematography is appropriately moody and atmospheric, but in a way that feels wholly natural (he's also lensed quite a few of Flanagan's other projects, so whatever shorthand that they have developed together over the years served this series well). Also, I absolutely adored The Newton Brothers' score for Midnight Mass (not that I've ever really disliked any of their musical endeavors before this, but their work creates an incredible audio tone that perfectly complements the visuals), and the special makeup effects work is pretty fantastic as well. There is one specific scene in Midnight Mass that is an absolute FX bonanza (and is truly remarkable for a myriad of other reasons, too) and I'm still marveling over how this team was able to pull off everything that they created for this wholly ambitious set piece that left my jaw agape for nearly 20 whole minutes.
I'm sure there are horror fans out there who may not be into the deliberate pacing that Flanagan utilizes in his long-form storytelling, but your patience gets rewarded in some very big ways by episode three, and for the rest of the series, I was left beyond riveted by everything that unfolds throughout Midnight Mass. Honestly, because the series is only seven episodes long, I could have watched another seven episodes and still been keen for even more from this world. Not since Stephen King has anyone been able to capture the pulse of authentic small town storytelling like Mike Flanagan manages to achieve, and I am so excited to head back to Crockett Island in the future, because this series has so many different layers to it. Even though Flanagan has hit multiple creative highs in his career already, Midnight Mass is undoubtedly his crowning achievement as a visual storyteller.
Series Score: 5/5