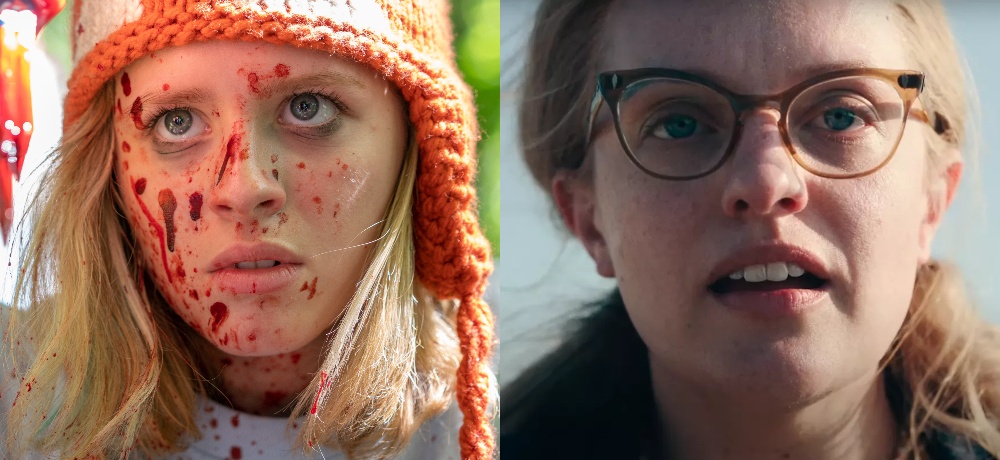 For this review round-up installment, this writer is diving into a pair of films that celebrate two fearsome females in very unique ways: Becky from directing duo Cary Murnion and Jonathan Milott, and Josephine Decker's Shirley, which pulls back the curtain on the life of acclaimed writer Shirley Jackson. These films couldn't be any more different from each other, and I highly recommend seeking out both of them just as soon as you can.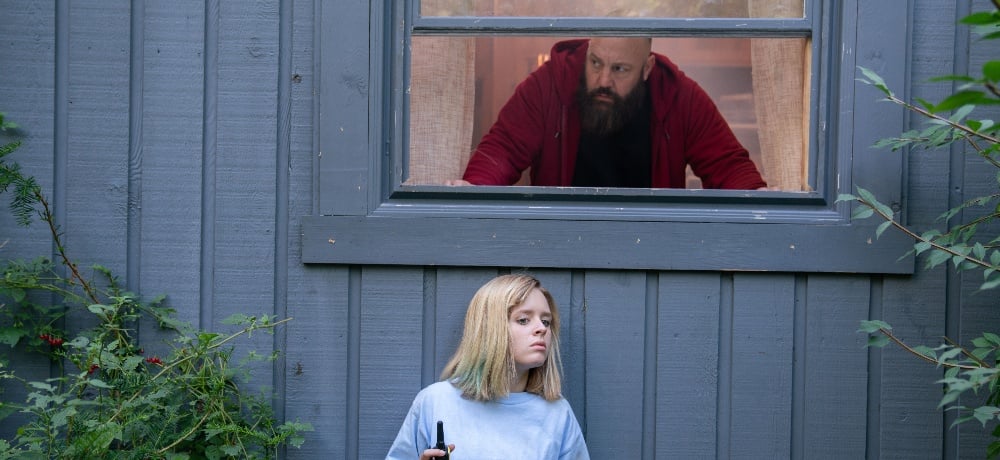 Becky: 13-year-old Becky (Lulu Wilson) is having a rough time lately. Her mom has passed away recently after battling a terminal illness, and her dad, Jeff (Joel McHale), has seemingly moved on with the well-meaning Kayla (Amanda Brugel), who is anxious to connect with the troubled teen, along with her adorably precocious son Ty (Isaiah Rockcliffe). Everyone heads out to the family lake house for a relaxing getaway, but a group of neo-Nazis (led by Kevin James) who recently escaped from prison have different plans, and soon enough a dangerous game of cat and mouse is afoot. The only difference here is that it's the tenacious Becky that has the group of aggressors on the run, proving nothing is more dangerous than a pissed-off teenager with nothing left to lose.
As someone who enjoyed both Bushwick and Cooties, Milott and Murnion's previous directorial efforts, I had a sense that Becky was going to be right up my proverbial alley, and I was totally right. The film has a bit of a grindhouse sensibility coursing just right below it's surface, but nothing ever feels wholly exploitative in Becky (which is something that could have easily happened, considering some of the material at play in the film's narrative), and I really enjoyed the fact that for as brutal as things get, there's so much more going on here than just some mindless and gory violence looking to only titillate viewers. And don't get me wrong—sometimes I enjoy that kind of stuff, but I think the fact that Becky ends up being a bit more of a thoughtful exercise than I had expected going into it made for a pleasant surprise.
Two of Becky's biggest assets are without a doubt Wilson and James, who make for a compelling pair of leads, both delivering performances that were equally surprising and introspective in their own ways. In regards to Lulu, I've been a huge fan of hers for years now, and she's consistently delivered stellar work, with Becky being yet another highlight in her already impressive career. The angry teenage archetype in cinema isn't anything necessarily new, but there's a quiet contemplation to how Wilson approaches her character here, making her someone you can empathize with, but also cheer on her total badassery all the same.
And with James, who has made a career out of being the journeyman funny guy in both film and television, he's an absolute revelation in Becky as Dominick, an enigmatic neo-Nazi leader who is in pursuit of a token that seems to mean a lot to both him and his merry band of maniacs who have broken out of prison alongside him. Physically, James makes for a menacing figure that looms over any potential victims he crosses paths with, but there's also this magnetism to Dominick that makes it easy to see why anyone would even listen to him in the first place, let alone follow him on this felonious path.
Also, I have to tip my hat to Robert Maillet's performance as Apex in Becky, too. For years now, he's never quite had the opportunity to shine as a character actor, but he really gets to step out of his own shadow here and I really enjoyed his work in this film. I hope we see more roles like this for Maillet in the future.
While Becky's hook might be getting to watch Lulu Wilson give a group of bad guys the Kevin McAllister treatment, only amped up to 11 (without a doubt, the amount of bodily harm that her character inflicts on others here is wildly impressive), there's a lot more going on here that I found endlessly watchable and made me want to see more from Wilson's titular character. Once again, Murnion and Milott deliver up something that's uniquely unpredictable at times, and I'd definitely recommend genre fans giving this one a chance (Becky is currently playing drive-in theaters around the US, which is too perfect, and on various digital platforms as well).
Movie Score: 4/5
---------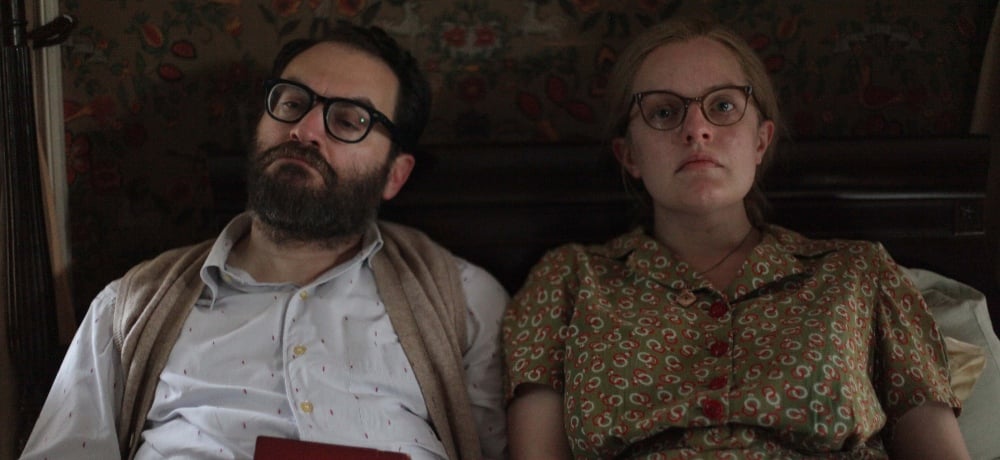 Shirley: I was absolutely bummed to have missed Josephine Decker's Shirley at Sundance earlier this year, so I'm thankful that I didn't have to wait too long for this intoxicating, unsettling, and slightly fictionalized memoir that peels back the layers on the life of writer Shirley Jackson, played by the always exceptional Elisabeth Moss.
Based on Susan Scarf Merrell's novel of the same name, Shirley initially follows newlywed Rose (Odessa Young) and her aspiring professor of a husband, Fred (Logan Lerman), as they arrive in Vermont to move in with Shirley and her spouse, Stanley Hyman (Michael Stuhlbarg), so that Fred and his burgeoning career can benefit from Stanley's tutelage. Upon their arrival, Rose is a bit put off by Shirley's prickly and confrontational nature, as the acclaimed writer is struggling to get a start on her latest project and takes it out on everyone around her.
But as the two women spend more time together, their relationship metamorphosizes into something much deeper, making for a gripping examination of the complicated nature of female relationships and the all-consuming nature of the creative process to boot.
Anchored by spellbinding performances from its entire core cast, Shirley is a dreamy and unconventional exploration of a creative force whose life and work was anything but conventional, and the approach Decker and screenwriter Sarah Gubbins take to both the material and to Jackson as the centralized figure of this story feels absolutely befitting of the legendary writer and her legacy. Chock-full of subtext and a hazy visual palette befitting of Rose's immersion in Shirley's world, courtesy of DP Sturla Brandth Grøvlen, Moss gives yet another powerhouse performance as a woman teetering on the edge. I must also give props to Young, who's equally enthralling in Shirley, as her journey from a compartmentalized housewife looking for some autonomy in her marriage and in the world at large draws some frustrating parallels to Moss' character, who is constantly smarter than everyone around her, but is still treated as something of a lessor because of her mental health issues. Shirley may be set in the 1950s, but there's something very contemporary about the themes the film explores, which is both maddening and sad in a variety of ways.
As someone who was completely drawn in by her work on Madeline's Madeline, I think Decker's continuing exploration of the thin line between creativity and madness in Shirley feels like a natural progression of a filmmaker who is, in some ways, working through her own artistic inclinations through the lens of these women who make for intriguing cinematic vessels for (quite possibly) her own processes. This may be a stretch, or just me connecting some dots that may not be here, but Decker's intimately crafted approach on display in both films is what led me to this summation, and I find Decker to be one of the most uniquely fascinating filmmakers working today.
Movie Score: 4.5/5