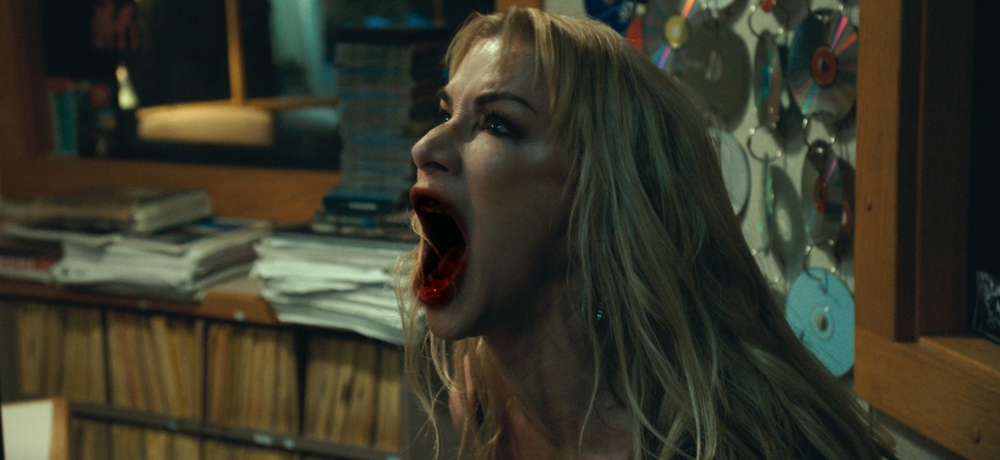 "Hired to be fired." That's what radio DJ Amy Marlowe (Caroline Williams) tells her boss (William Youmans) one rainy night before her show… her final show at WLST Radio, to be exact, as she's getting the proverbial boot to make room for young up-and-comer Sienna (Nicole Kang). Amy knows that 30 years at one radio station is a damn good run for any DJ, but that doesn't make leaving any easier. There's the lack of respect (and sexual harassment) from her superior, the audacity to be asked to have Sienna shadow her on her last day, the fear of a forced major life change, and then there's that pesky bite on Amy's neck that isn't helping matters, either, especially since it may have come from a bat with rabies… or something much, much worse.

Such is the setup for Erik Bloomquist's Ten Minutes to Midnight, which recently had its world premiere at the final Popcorn Frights Drive-In Horrorshow of the summer, and I can't think of a more fitting platform for it to be seen by the public for the first time. Its "one rainy night" story, heavy metal soundtrack, and horror royalty star power just scream for a bloody good time on the silver screen. But Ten Minutes to Midnight also has a secret weapon: it's not at all what you expect. What at first seems like a vampiric creature feature transforms into a poignant meditation on the inevitability of death, the fragility of life, and what we do with what precious little time we have on this planet.
If (like me) you go in expecting a straightforward bloodsucker tale, the story's tonal shift is a welcome surprise rather than a distractor. Screenwriters Erik and Carson Bloomquist cleverly transition from moments of painful body horror to searing psychological torment, and just when you think you know where Ten Minutes to Midnight is going, they flip the table (or in this case, the DJ microphone) on you, blurring the lines of reality and making you wonder just how far Amy has taken us into her living nightmare… if what she's experiencing is really happening at all.
The twisty story of Ten Minutes to Midnight may have gotten lost down the rabbit hole in less capable hands, but Caroline Williams makes it easy to buy into the film's increasingly surreal proceedings with an admirable performance. This marks Williams' return to the radio booth following her memorable turn as Vanita "Stretch" Brock in Tobe Hooper's The Texas Chainsaw Massacre Part 2, and like her iconic role opposite Leatherface, Williams is fearless as Amy Marlowe, a character who faces sexual harassment in the workplace, her own impending mortality, and a potentially newfound thirst for blood, which places her abusive boss, disrespectful replacement, and quirky co-workers on the menu. Deep neck puncture wounds aside, Marlowe is a person already on the edge at the beginning of Ten Minutes to Midnight, and every bit of her anger is justifiable, making her descent into paranoia and peril that much more intriguing.
Like a bloody fever dream version of the time-bending trips in A Christmas Carol, Marlowe is forced to face the traumas of her past, the grim reality of her present, and the uncertainty of the road ahead throughout Ten Minutes to Midnight. And as unnerving as some of the film's body horror moments are (brought to life by great makeup effects work from Amanda Pepin and her team), it's Marlowe's growing realization of the finiteness (and often abrupt endings) of life that hits the hardest. Time often flies whether you're having fun or not, and Williams heartbreakingly portrays that sometimes we can't control how our story ends, and that's a horror that's universal to all of us, whether we've been bitten by a bat or not. Williams bravely goes into some dark psychological territory here, and her performance pays off big time, bolstered by a game supporting cast that includes the late and immensely talented Nicholas Tucci. Williams doesn't make us just care, she makes us angry for Marlowe, a woman who is being pushed out of the picture simply because other people think that she is done. But she's not done. She has more to say. And she's going to go down screaming into the shadows if that's what it takes to be heard. Ultimately, that righteous rage is as infectious as the bite on her neck.
Ten Minutes to Midnight is more Carnival of Souls and The Twilight Zone than Near Dark and From Dusk Till Dawn, and that might throw you off if you're expecting something along the lines of fellow radio station horror film Pontypool. But if you're able to tune into its psychological signal, the latest film from Erik Bloomquist is a scary good contemplation of life, death, and the gray area in between… an area that can quickly become bloody on a dark and stormy night…
Movie Score: 3.5/5
Trailer via Brad Miska: