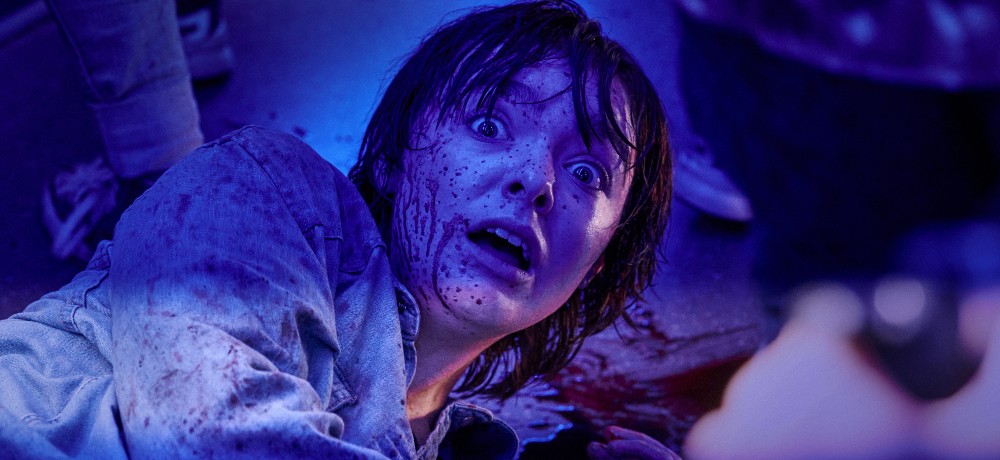 For nearly 50 years, Tobe Hooper's masterpiece of independent filmmaking, The Texas Chain Saw Massacre, has populated every list detailing the most influential, greatest, scariest horror films of all time. And it justifiably deserves every single accolade in some way. 
The gruesome masked killer, Leatherface, has continued his rampage as any good scary movie villain should, with sequels, remakes, origin stories, and now, with David Blue Garcia's Texas Chainsaw Massacre, a chance to communicate the massacre again in modern times. The result is an uneven mix of modernistic sentiments and simplified social commentary combined with the visceral driving force of a buzzing chainsaw, brutal gore, and unabashed violence for the sake of violence. 
A group of idealistic young people escapes the city for a new beginning in the rural town of Harlow. Melody (Sarah Yarkin) and her teenage sister Lila (Elsie Fisher) have short-lived peace as they disrupt the residence of deranged serial killer Leatherface, whose legacy of bloodshed continues to haunt the residents of the abandoned town. But a survivor from the 1973 massacre, Sally Hardesty (Olwen Fouéré), has been waiting for the opportunity to have her revenge.
The return to the saga started in 1973 brings an aged Leatherface, with shaggy grey hair, a noticeable limp, but still faster and more robust than any twenty-something young person in the film, face to face with modern times. Gen Z'ers are gentrifying a rundown town, driving electric cars, and all of them eager to live stream every aspect of their lives. As one social media-minded man brutally finds out, Leatherface doesn't have time for views and likes.
Director David Blue Garcia wastes zero time with Texas Chainsaw Massacre, it's a quick trip down a familiar dusty road. Each iteration of the Texas Chainsaw killer gets progressively more violent and gory throughout the franchise history. Tobe Hooper's original film was relatively bloodless, with violence implied with camera framing and positioning. Garcia's vision doubles down on the gory carnage and sadistic mayhem, leaving nothing to the imagination. 
At a sweet-spot running time of 83 minutes, Garcia treats this film primarily as a buffet of bloodshed. It is an uncomplicated story that tries to flex a deeper underlying agenda about trauma and empowerment but never takes the time to explore it. It's the film's major fault and what ultimately makes it unmemorable after it's over. 
Survivor Sally Hardesty, played with ferocity by Olwen Fouéré, returns to exact some justice after all these years. The past torments Sally's character; she carries a picture of her friends and displays a demeanor of a hunter waiting for their prey. This character examination arrives with thought-provoking potential but is completely underutilized. Instead of creating a dynamic between Sally and the monster who ruined her life, the narrative build-up for Sally's character only supports Leatherface's one-note backstory. Texas Chainsaw Massacre is seldom committed to anything more than the surface level carnage and gore. 
Ricardo Diaz's cinematography heightens the looming threat of Leatherface's return. The appearance of the chainsaw-wielding killer in a field of sunflowers followed by a wide shot of him lumbering towards his hometown with an on-coming storm in the distance is striking. The highlight, however, is seeing the iconic monster highlighted with blue lights on a party bus, which is just the beginning of a fun scene for the franchise character. 
Texas Chainsaw Massacre delivers on everything its title could promise; director David Blue Garcia takes you to Texas for a brutal, gory chainsaw massacre. Everything left on the ground after the chainsaw stops turning composes the remainder of this film.
Movie Score: 2.5 / 5