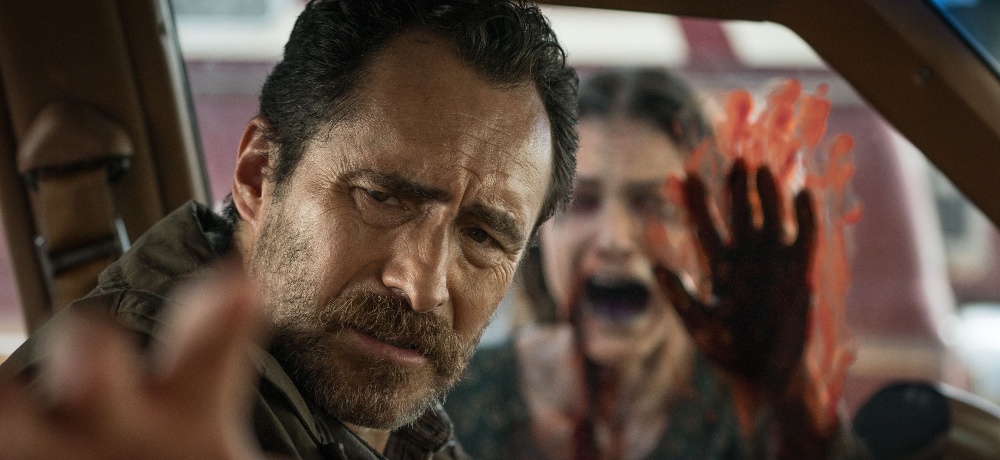 If I'm being totally honest, the only reasons that I was excited about having a new Grudge film was because of the involvement of director Nicolas Pesce and the stellar group of actors involved with his latest cinematic endeavor. The Grudge films, both the Japanese originals and their US counterparts, are movies that I do have a great deal of respect for, but ultimately, they're not really films I have strong feelings about one way or another (I have made peace with how terrible I am, so hopefully you will be able to forgive me). So, I have to admit that I was rather surprised by not only how much I enjoyed The Grudge (2020), but how much it affected me on a personal level. That was something I was not expecting, and I give Pesce and his wonderful cast all the credit for coming together to create a film that provides fans with a stellar start to a new year of horror.
Chances are, if you're reading this, then you already know what to expect from a Grudge film: angry ghosts, people in peril, and a house you don't dare enter unless you want a world of trouble. And sure, as a storyteller, Pesce gives us everything by way of standard Grudge fare, but he also sidesteps genre fans' expectations by digging even deeper here with this latest Grudge project (which is NOT a remake, by the way), tapping into themes like the harrowing toll that problematic pregnancies can take on expecting parents, the despair one feels as they watch their loved one slip away—both physically and mentally—as they get older, and the guilt that comes with being an absentee parent, giving The Grudge (2020) a sense of emotional centeredness for the various characters who have made the unfortunate decision of entering the haunted domicile at the center of the film.
And even though the circumstances they find themselves in are exaggerated (unless you believe in malevolent spirits), it's those character-driven moments in between all the appearances of creepy caterwauling apparitions that made the latest Grudge feel extremely "human" to this viewer.
As far as ensembles go, Pesce has brought together an exceptional cast for The Grudge (2020), and the talent involved here is an embarrassment of riches. From Mandy's Andrea Riseborough to veteran actress Lin Shaye (who gets a really interesting part here) to the brilliant Jacki Weaver (Widows, The Voices) and even a personal favorite of mine—William Sadler—each performance in the film heightens the gravity and terror lurking right around the corner at every turn. Admittedly, I could have used a bit more Demián Bichir and Betty Gilpin, but those are minor quibbles overall.
On a technical level, The Grudge (2020) is a marvel, with Pesce utilizing his central locale as a mechanism to bring about a palpable sense of doom and fear that ripples throughout the film and looms large over its characters. Much of that is due to the incredible work of production designer Jean-Andre Carriere (who has also worked on movies like Riddick, Enter the Void, and the original Martyrs), but coupled with Zack Galler's cinematography (who Pesce previously teamed up with on Piercing), the visual style of this new Grudge is haunting, gorgeous, and wholly effective as a spooky slice of preternatural horror. It's also worth noting that both the score and the sound design for The Grudge (2020) are equally fantastic as well.
As a whole, this new Grudge quite surprised me, as I wasn't expecting it to linger with me the way that it has over the last few weeks. A chilling and often poignant tale of terror that has an air of familiarity to it, it's all the layers that Pesce weaves into the narrative that makes for an outstanding beginning to 2020's horror offerings.
Movie Score: 3.5/5