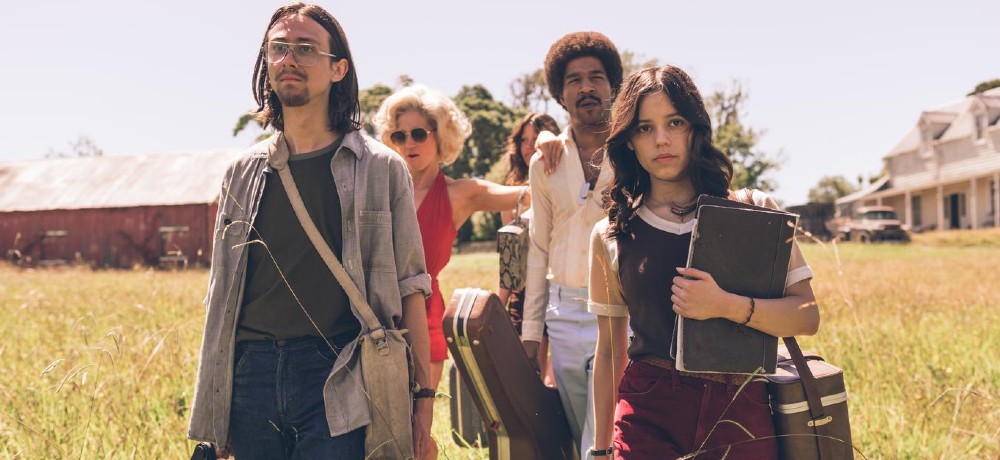 As far as Ti West's directorial output goes, I've been a big fan of his work ever since he first unleashed House of the Devil in 2009, and he's never really let me down as a storyteller either over the course of nearly 13 years now (he also helmed one of my favorite episodes from the Scream TV series as well). That being said, I was absolutely thrilled by his efforts on X, his return to horror after a nearly six years absence, as it easily became my favorite project from the indie filmmaker (which is saying a lot) and X also currently sits at the top of my list for my favorite 2022 horror movies, and I don't really anticipate that changing anytime in the next 8-plus months. 
Being someone who unabashedly loves pretty much every kind of slasher movie imaginable, what West manages to create in X feels so incredibly unexpected at times, extremely visceral and off-putting at other times (in a good way) and also showcases an array of talent that truly bring so much to the table here and made me fall in love with so many of these performers all over again. Beyond that, the fact that X is centered around an elderly female villain just seems so damn cool because it's not something we see very often as genre fans, and while the film's titillating story elements (you can never go wrong with sex and violence) may be the hook for many viewers, my favorite thing about the movie was how I ended up falling in love with the quieter moments of humanity that unfold between our core characters at the center of X's story in ways I was wholly surprised by. 
In terms of X's story, West transports us back to the year 1979 when a ragtag group of aspiring filmmakers set out to make their own adult film that they hope will launch them all into super-stardom, following in the sexy footsteps of the recently released Debbie Does Dallas. Led by producer, writer and beacon of pornographic positivity Wayne (Martin Henderson), the group ends up renting a house from an elderly couple on a remote property located in Texas so that they can shoot Wayne's latest script, The Farmer's Daughters, which features performances from aspiring stars Maxine (Mia Goth), Bobby-Lynne (Brittany Snow), and Jackson (Scott Mescudi, aka Kid Cudi). At the helm of the project is up-and-coming director RJ (Owen Campbell) and his girlfriend Lorraine (Jenna Ortega) who helps out with sound and other aspects of filming. Everything starts off fine, but as night falls, the group suddenly find themselves in the crosshairs of their older hosts and it's a fight for survival as they try to figure out just how on earth they're going to make it through the night and stay alive.
After seeing X now twice, there is so much that I want to discuss about the themes and all the little details that West expertly works into this film but that would venture into spoiler territory, which is something I want to avoid, especially since there are some genuinely great shocks and reveals in this story. But suffice to say that if you think, based on the trailer, that you have an idea of what X is about, I can pretty much guarantee that you're definitely wrong in that regard. Which again, is all due to West's efforts to subvert genre fans expectations with X, which he does here masterfully. I know a lot of folks have mentioned getting some Texas Chain Saw vibes from what they've seen about the film thus far, but I have to say that, for me, X felt like it would have been right at home hanging out with some of Wes Craven's output during the 1970s, and that's one of the reasons I fell so hard for West's latest.
Beyond that, the cast in X are absolutely phenomenal from top to bottom. I've been a big fan of Goth's for years now, so getting to see her take lead in this film delivering up two completely unique and compelling characters is just fantastic. Snow is someone who I've been a big fan of for well over a decade now (thank you, Hairspray!) and I think her performance as Bobby-Lynne in X is totally revelatory in so many ways, and we even get Snow doing a gorgeous vocal performance of Fleetwood Mac's "Landslide" in here that made me extremely emotional (the editing over that sequence is impeccable, too). I selfishly hope that we get Snow's version of the song properly released soon, because it's that great. I also think Mescudi is pretty damn excellent here as he feels like a natural in this role (he felt slightly aloof to me in the third Bill & Ted so it was great to see him totally shine in X) and both Campbell and Ortega deliver top-notch performances as well. 
The biggest surprise to me was Henderson, who I wasn't all that familiar with coming into X, but his performance as Wayne is so unpredictably wonderful that I think I came away with the greatest amount of affection for his character for reasons I can't really get into here (again: spoilers). But honestly, everyone in X is so damn good that I could easily sit through a hundred more movies featuring this cast and I'd never get bored.
Other highlights of X include some gorgeous cinematography from DP Eliot Rocket whose abilities with a camera make nearly every shot of the film feel like it is a work of true art as well as the brilliant special effects work from Jason Docherty and the team at WETA who have their work cut out for them here but deliver some truly impressive gags and transformative prosthetics work that I could not help but be impressed by. I also think X's sound design is killer (there's a lot that really stood out to me with the second viewing) and the film's score from Tyler Bates and Chelsea Wolfe also adds a lot to the project. 
Without a doubt, West's return to horror with X is a triumph in every possible way: it defies expectations, it's both thoughtful and thought-provoking in equal measure, and the way that West is able to effortlessly build tension and terror throughout the project is downright transcendent at times. I've seen some great horror movies already this year, and I'm sure I'll see more in the coming months as well, but for me, I feel confident in stating that by the time 2022 wraps up, X is still going to be primed to be the best horror movie of the year. I am so excited to dig into again for a third time, and I imagine there will be many subsequent rewatches for me well into the future as well. With X, Ti West has come home to horror, and our genre is better for it - no doubt.
Movie Score: 5/5