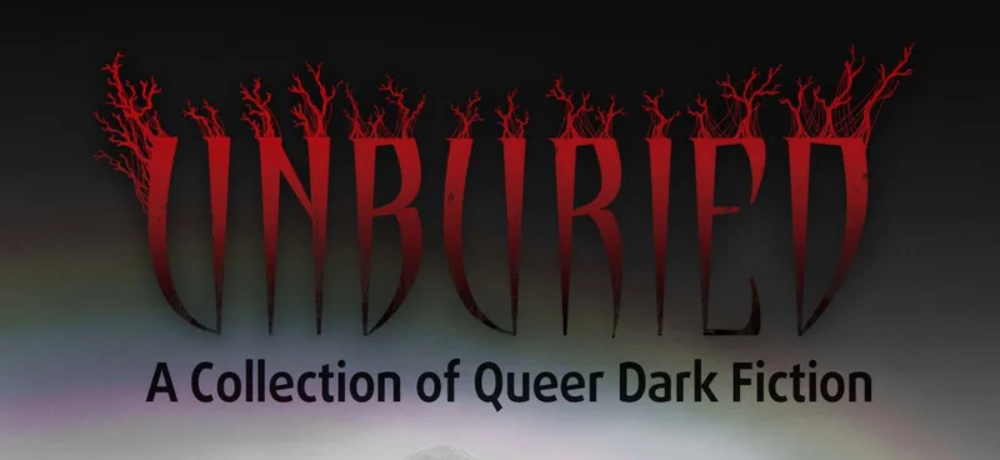 Happy Pride Month! Dark Ink Publishing is unleashing a volume of horror stories from 16 genre fiction writers from around the world, and it is something that horror fiction lovers are definitely going to want to sink their teeth into.
Unburied is an anthology collection of horror stories from a variety of subgenres. The tales run the gamut, from psychological horror to full-on supernatural ghost stories to the grimier, more unsettling regions of the netherrealm. And they all embrace their beautiful LGBTQ characters, provide elegant analogies for the many trials that the community has faced, or simply provide a way to connect through representation. And above all, they are guaranteed to get under the skin of just about any reader who is willing to curl up with a scary book late at night.
The great thing about this anthology is that there is a little something for everyone. If you lean more in one direction than another when it comes to horror subgenres, you're guaranteed to find a story that speaks to you. And if you're good with just about anything the writers want to throw at you, there is a lot of variety here. Below are just a few of my favorites.
"Moi Aussi" by Christina Delia is a hauntingly beautiful ghost story about two silent film actresses who were abused and degraded by the early Hollywood system. They had dreams of stardom that were crushed by powerful men with unending appetites. The two women eventually died by suicide together. They now haunt their former home in the Hollywood hills, seeking ghostly revenge on those that cross their path. The story is beautifully haunting, both on and beneath the surface. Delia's words and characters flow easily into something both tragic and ethereal.
Louis Stephenson's "The Red Candle" focuses on the horrifying and beautiful transition of a trans woman into her true self. It is a tale of body horror in the vein of Clive Barker that elegantly marries the bloody and the beautiful, entrancing the audience in a way that frightens, yet commanding us not to look away. It is visceral and magical, violent and true.
"Razor, Knife," written by Elin Olausson, is a beautiful tale, as haunting as it is tragic. It tells the story of a pair of cousins, often mistaken for twins. Two halves of a broken, poisonous whole. They can't exist separately, but are doomed to damn each other. When a handsome boy arrives in town, the pair find themselves at odds with one another, which ultimately ends in a bloodbath. Olausson's story has an airiness to it that lets it just flow like water, and is one not to be missed.
Other stories come from Felice Picano, Greg Herren, Daniel M, Jaffe, J. Askew, Laramie Dean, Laura DeHaan, Sarah Lyn Eaton, Thomas Kearnes, Veronica Kirin, George Daniel Lea, Azzurra Nox, Robert P. Ottone, and M.C. St. John, and the anthology was edited by Rebecca Rowland.
Unburied is a very effective collection that finds new ways to explore queer themes and bring them into horror. Some of the stories are symbolic, others simply choose to embrace the gayness of their characters, but however the writers choose to reflect the culture, the commonality at the heart of all these stories is inclusion and representation of the Queer community. The ways we see ourselves are boundless, and the ways we are reflected in art should be equally untethered.
----------
To learn more about Unburied, visit: