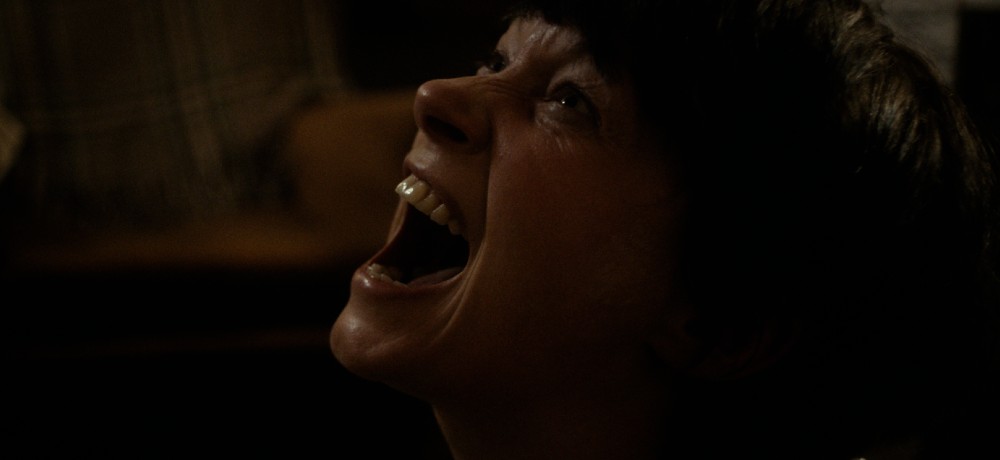 Irish folklore is made up of things like music, folktales, and dance, and includes all of folk culture. Storytelling has always been an Irish tradition and embraces tales of fairies, mermaids, leprechauns, and other mythical creatures. Dublin-based filmmaker Kate Dolan has successfully created a chilling coming-of-age story, which relies on the dark folk history of Ireland, with her debut feature film You Are Not My Mother. Written and directed by Dolan, the film follows a teenager whose mother goes missing and when she returns a few days later, she is horrifyingly different. You Are Not My Mother premiered at the 2021 Toronto International Film Festival and received the Runner Up People's Choice Award in the Midnight Madness section.
Set in Ireland, You Are Not My Mother opens with a woman taking a baby into the woods late at night and building a fire around the crying baby, while reading from what appears to be some kind of spell book. The story then introduces Char, played by Hazel Doupe, a teenager who lives with her troubled mother, Angela (Carolyn Bracken), and her grandmother Rita (Ingrid Craigie). Angela has periodic bouts of depression when she can't get out of bed and Rita holds onto unusual traditions as well as the family secrets. Because she is often left on her own due to Rita's struggle with mental illness, Char is repeatedly bullied by a group of girls from school, who also enjoy teasing her about the scar on her face. 
It's the week before Halloween, known in Ireland as Samhain or Hallowe'en, and Angela has been in what Rita calls "one of her down moods," which has left her unable to get out of bed. Char finds it odd when Angela offers to get out of bed and take her to school, but she needs a ride, so she agrees. On the way to school, Angela is distant when Char tries to talk to her about needing groceries in the house. When they encounter a horse standing in the middle of the road, it seems to affect Angela in a strange way and when she drops Char off at school, she unexpectedly tells Char she "can't do this anymore." Her mother's words haunt Char during the school day and despite the fact that she worries about her mother's mental illness, she is also angry that her mother hasn't been there for her as she awkwardly attempts to deal with growing up. Walking home from school that afternoon, Char notices her mother's car in a field on the side of the road. The car door is open, but her mother is nowhere to be found. Char and her uncle Aaron, played by Paul Reid, are left to organize a search for Angela themselves when the police say they can't help them. 
One of the most compelling things about You Are Not My Mother is Hazel Doupe's authentic portrayal of Char as she grapples with the emotionally difficult transition from teenager to adult, her mother's absence due to mental illness, and the darkness that seems to surround her family. Doupe's performance, along with Dolan's story, make it extremely easy for the audience to empathize with Char and her family situation. The film's other standout performance is from Carolyn Bracken as Angela, who epitomizes a woman combatting mental illness and who desperately wants to be present for her daughter but is not able to cope with being a mother.
Char is experiencing nightmares of her mother tied to a bed screaming with her eyes sewn shut and when she wakes up, she finds the front door wide open. Her mother has been missing for a few days, so Char is shocked to find Angela sitting in the darkened kitchen. After Angela inexplicably returns home, Char and Aaron take her to see a doctor who prescribes several psychiatric medications, including Lithium, which make it even more difficult for Angela to get out of bed. In an attempt to help Char, Aaron worriedly tries to make an unusually defiant Angela rest and take her medication, but she refuses to stay in bed. When Angela exhibits bizarre behavior, like playing loud music and dancing so violently she breaks her ankle, Char becomes afraid of her and begins to believe the woman who returned is not her mother. Her grandmother Rita is now forced to finally share their dark family secrets and Char will have to accept the truth about her mother as well as perform an ancient ritual that might be the only way to get her back.
Dolan is an excellent storyteller and along with the gloomy cinematography and fantastic performances from Doupe and Bracken, she creates the perfect atmosphere for a folk horror film that is rich in actual Irish folklore. You Are Not My Mother effectively uses Irish mythology, an accurate, honest depiction of mental illness, a genuine portrayal of a teenager trying to cope with growing up, and three generations of strong women to weave together a bewitching story.
Magnet Releasing will release You Are Not My Mother in theaters and on VOD on March 25th. 
Movie Score: 3.5/5