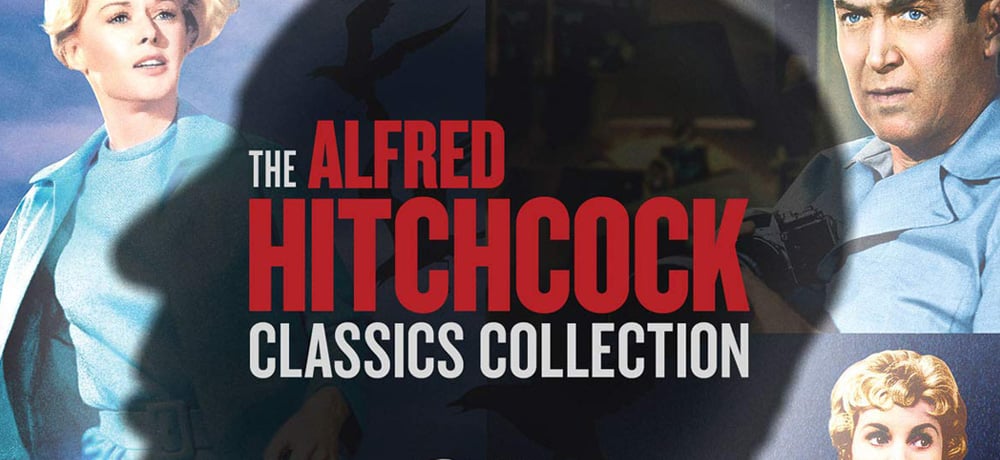 For the second week of September, we don't have a ton of horror and sci-fi headed home on Blu-ray and DVD, but there are a few releases genre fans are definitely going to want to pick up. This Tuesday's biggest release is the new Alfred Hitchcock Classics Collection in 4K from Universal Pictures Home Entertainment, which includes the uncut version of Psycho, and Psycho is also getting its own stand alone release for its 60th anniversary as well. 
Arrow Video has put together a Limited Edition set for Graveyards of Honor which features both filmic versions, and both Saw and Candyman are getting a re-release too. Other titles arriving on September 8th include A Deadly Legend and Evil Boy.
The Alfred Hitchcock Classics Collection (Universal Pictures Home Entertainment, 4K Ultra HD/ Blu Combo)
Universally recognized as the Master of Suspense, the legendary Alfred Hitchcock directed some of cinema's most thrilling and unforgettable classics. The Alfred Hitchcock Classics Collection features four iconic films from the acclaimed director's illustrious career including Rear Window, Vertigo, Psycho and The Birds in stunning 4K resolution. Starring Hollywood favorites such as James Stewart, Grace Kelly, Anthony Perkins, Janet Leigh, Tippi Hedren, Kim Novak and Rod Taylor, this essential collection features hours of bonus features as well as the original uncut version of Psycho for the first time ever.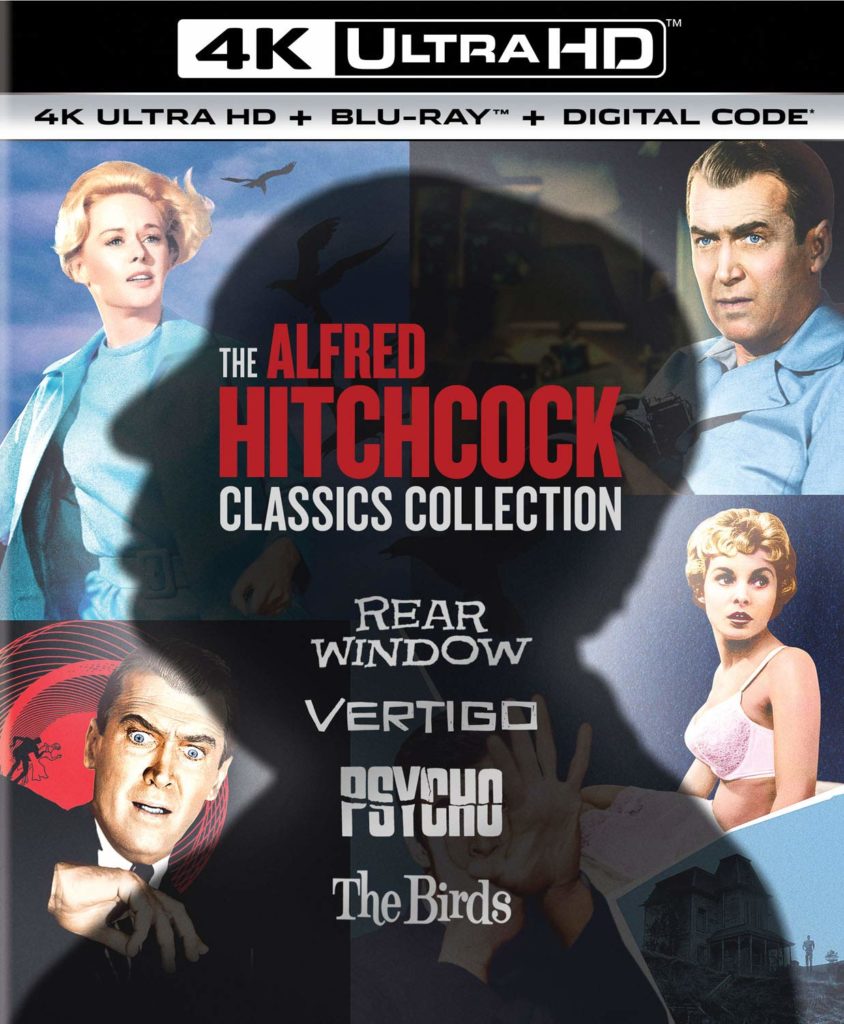 A Deadly Legend (Gravitas Ventures, Blu-ray & DVD)
A construction crew fights to survive after unearthing the mythical "Stonehenge of America", awakening deadly spirits. Joan Huntar (Kristen Anne Ferraro), a real estate developer, buys an old summer camp to build new homes. However, the property has a dark history that ties to a legend of supernatural worship and human sacrifice. A celebration weekend turns deadly when construction disturbs forbidden ground. Uncovering the mythical megalith, spirits who have battled each other for centuries are awakened, killing or possessing others to gain control of this supernatural gateway. Unable to escape, Joan, with her family and friends, must fight for survival and destroy the megalith, closing the gateway to the Dark Dimension and defeating the spirits from beyond.
Evil Boy (Well Go USA, DVD)
Several years after their son s disappearance, a grieving couple adopts a feral boy, who begins to eerily resemble their child more with each passing day. While the mother believes they have found their son, her husband is certain he died. As strange accidents begin happening around the boy, the pair soon wonders whether they've adopted something not entirely...human.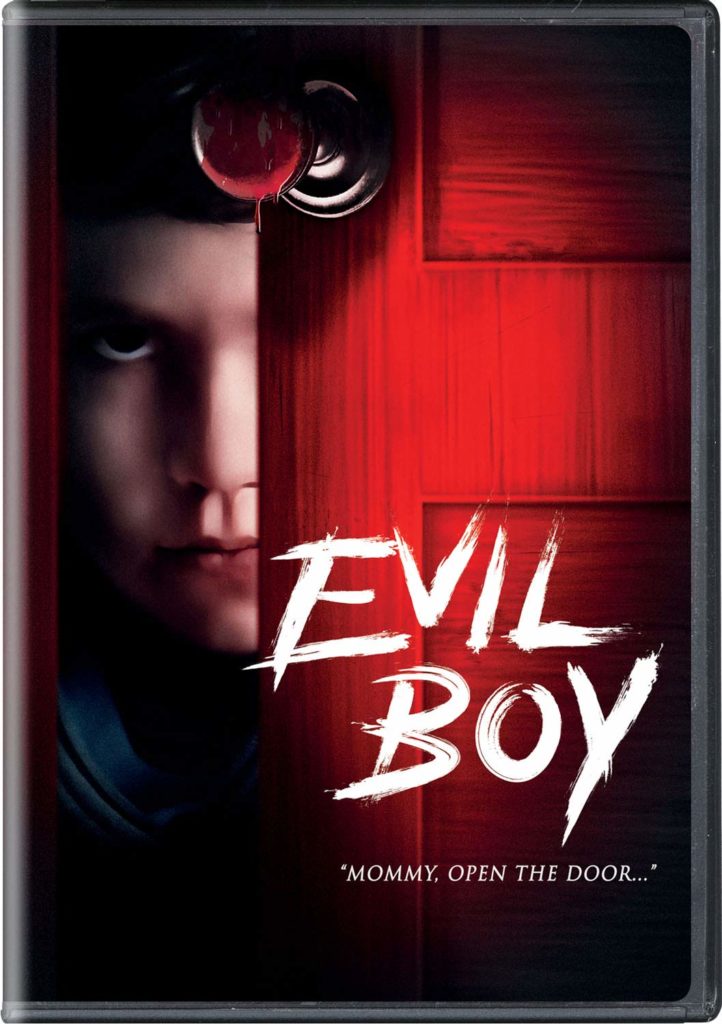 Graveyards of Honor: Limited Edition (Arrow Video, Blu-ray)
Two peerless masters of Japanese cinema Kinji Fukasaku (Battles without Honor and Humanity, Battle Royale) and Takashi Miike (Dead or Alive, Audition) present their own distinctive adaptations of yakuza expert Goro Fujita's gangster novel Graveyard of Honor, each tapping into the zeitgeist of a distinct period of Japanese history.
Set during the turbulent post-war years, Fukasaku's original 1975 film charts the rise and fall of real-life gangster Rikio Ishikawa (Tetsuya Watari, Outlaw Gangster VIP). Shot through with the same stark realism and quasi-documentarian approach as Fukasaku s earlier Battles Without Honor and Humanity, Fukasaku nonetheless breaks new ground through his portrayal of a gangster utterly without honor or ethics, surviving by any means necessary in a world of brutal criminality.
Meanwhile, Miike's 2002 retelling transplants the story to Tokyo at the turn of the millennium. Less a direct remake of Fukasku's film than a radical reimagining of the same overarching premise, Miike's film captures both the hedonism and nihilism of the modern Japanese crime scene in deliriously stylish fashion, resulting in a fascinating companion piece to the original that nonetheless stands as its own entity.
With both films making their High Definition debut in a sumptuous limited edition packed with new and archival bonus content, Arrow Video is proud to present these two intertwined but unique crime thrillers from two celebrated filmmakers at the peak of their creative powers.
LIMITED EDITION CONTENTS:
Exclusive two-disc set featuring two different versions of Graveyard of Honor: the 1975 film by Kinji Fukasaku and the 2002 film by Takashi Miike

Limited edition packaging featuring newly commissioned artwork by Ian MacEwan
Illustrated collector's booklet featuring new writing on both films by Jasper Sharp
DISC ONE GRAVEYARD OF HONOR (1975):
High Definition Blu-ray (1080p) presentation

Original lossless Japanese PCM 1.0 mono soundtrack
Optional English subtitles
New audio commentary by author and critic Mark Schilling
Like a Balloon: The Life of a Yakuza, a new visual essay by critic and Projection Booth podcast host Mike White
A Portrait of Rage, an archival appreciation of Fukasaku and his films, featuring interviews with filmmakers, scholars, and friends of the director
On the Set with Fukasaku, an archival interview with assistant director Kenichi Oguri
Theatrical trailer
Imagery gallery
Reversible sleeve featuring original and newly commissioned artwork by Ian MacEwan
DISC TWO GRAVEYARD OF HONOR (2002):
High Definition Blu-ray (1080p) presentation

Original lossless Japanese PCM 2.0 stereo soundtrack

Optional English subtitles
New audio commentary by Miike biographer Tom Mes
New visual essay by author and critic Kat Ellinger
Archival interview special featuring Miike and cast members Goro Kishitani and Narimi Arimori
Archival making-of featurette
Archival making-of teaser
Archival press release interviews featuring Miike, Kishitani and Arimori
Archival premiere special featuring Miike, Kishitani and Arimori
Theatrical trailer
Imagery gallery
Reversible sleeve featuring original and newly commissioned artwork by Ian MacEwan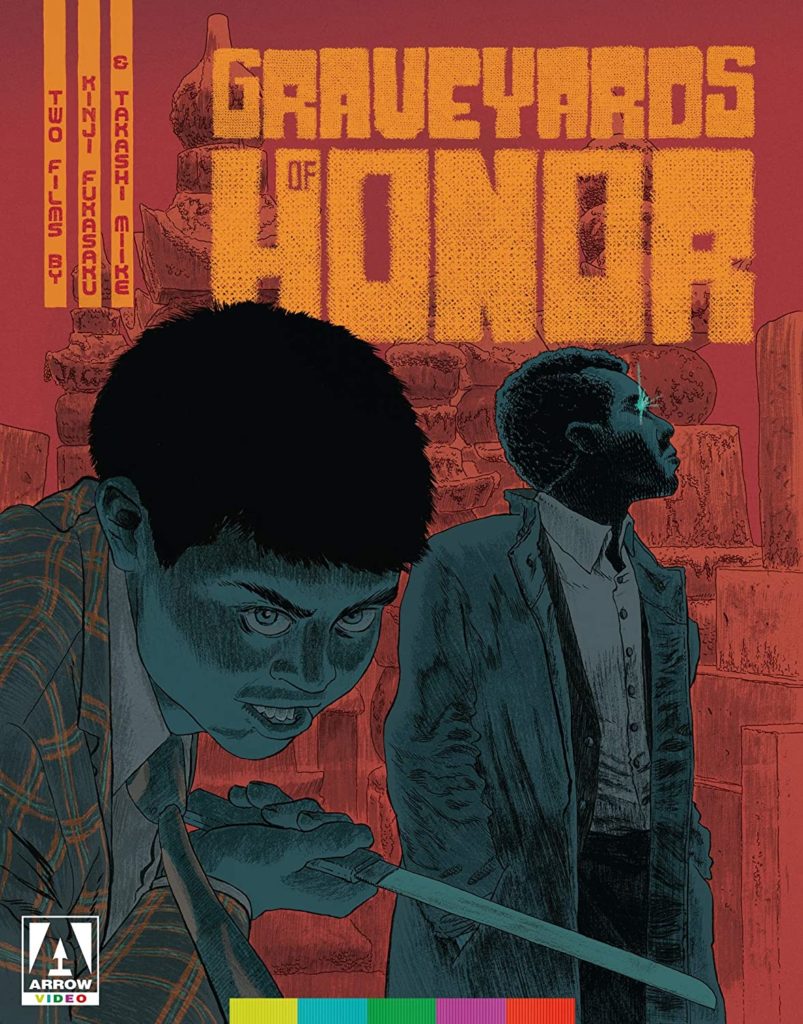 ALSO AVAILABLE THIS WEEK: 
Candyman (Universal Pictures Home Entertainment, DVD)
Psycho (1960): 60th Anniversary Edition (Universal Pictures Home Entertainment, Blu/Digital)
Saw (Lionsgate, Blu/Digital)