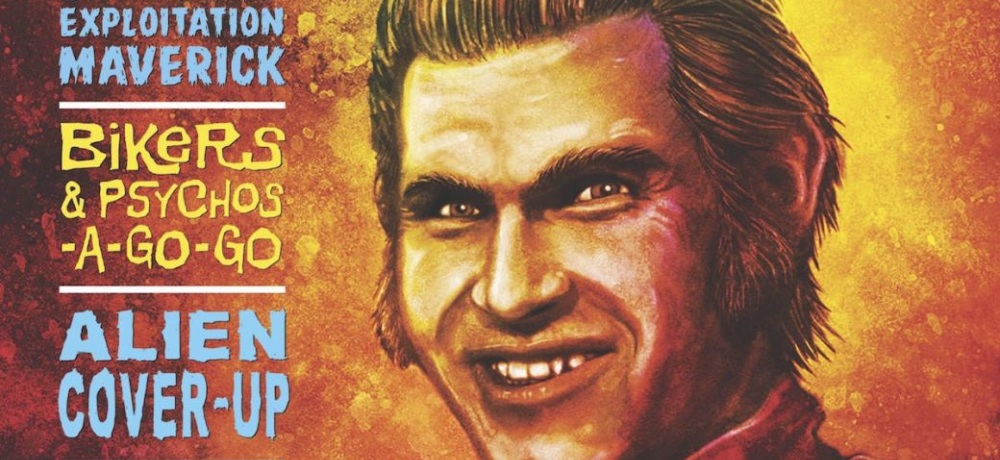 Through their past box set releases, the team at Severin Films has done a stellar job of preserving horror cinema history from obscure corners of the genre for future generations to enjoy, and their latest announcement is certainly no exception, as they've revealed Al Adamson: The Masterpiece Collection, a massive 14-disc Blu-ray set featuring 31 remastered movies from prolific filmmaker Al Adamson.
Al Adamson: The Masterpiece Collection is slated for an April 21st release, although Severin will ship orders from their site beginning April 7th.
We have the release details, trailers, and a look at the cover art below, and be sure to visit Severin Films' website for additional details.
"Severin Films is proud to present the most comprehensive Blu-ray box set ever dedicated to the works of a single genre filmmaker with Al Adamson: The Masterpiece Collection, featuring 31 remastered Adamson films on 14 discs, plus trailers, audio commentaries, a 126-page book, the 2019 documentary feature BLOOD & FLESH: THE REEL LIFE & GHASTLY DEATH OF AL ADAMSON and more. Exhaustively compiled for the first time ever, Adamson's ouvre spans a wild beyond belief world of bloody brains, vicious cowboys, naughty nurses, decrepit actors, sexy stewardesses, mad scientists, brutal bikers, Blaxploitation mayhem, kung fu killers and "scenes so SICK the Movies could never show them before!"

The life and career of B-movie maverick Adamson – known for such low budget classics as SATAN'S SADISTS, DRACULA VS. FRANKENSTEIN and THE NAUGHTY STEWARDESSES (as well as his own grisly 1995 murder) – reveals perhaps the most bizarre career in Hollywood history. "Al Adamson worked best on the fringes of Hollywood," says Severin president/BLOOD & FLESH director David Gregory. "When considering the golden age of drive-in and grindhouse films, he's truly in a category all his own. It's an unprecedented legacy that lends itself to what we believe to be the most absurdly compendious box set not only in genre history and – other than Criterion's Ingmar Bergman Collection – quite possibly the annals of home video itself."

Al Adamson: The Masterpiece Collection is limited to only 2000 units. Exclusive Ghastly Bundles purchased from www.Severin-Films.com will include signed posters, CARNIVAL MAGIC t-shirts, reproduction DRACULA VS. FRANKENSTEIN fangs, SATAN'S SADISTS patches, an authentic repressing of the 7-inch 45rpm single from the theatrical release of THE FEMALE BUNCH and more.

Films included in the Al Adamson:
The Masterpiece Collection
ANGELS' WILD WOMEN
BLACK HEAT
BLACK SAMURAI
BLAZING STEWARDESSES
BLOOD & FLESH: THE REEL LIFE & GHASTLY DEATH OF AL ADAMSON
BLOOD OF DRACULA'S CASTLE
BLOOD OF GHASTLY HORROR
BRAIN OF BLOOD
CARNIVAL MAGIC
CINDERELLA 2000
DEATH DIMENSION
DRACULA VS. FRANKENSTEIN
DRACULA'S CASTLE
FIVE BLOODY GRAVES
GIRLS FOR RENT
HALF WAY TO HELL
HELL'S BLOODY DEVILS
HORROR OF THE BLOOD MONSTERS
JESSI'S GIRLS
LOST
MEAN MOTHER
NURSE SHERRI
NURSES FOR SALE
PSYCHO A-GO-GO
SATAN'S SADISTS
SUNSET COVE
THE DYNAMITE BROTHERS
THE FAKERS
THE FEMALE BUNCH
THE FIEND WITH THE ELECTRIC BRAIN
THE NAUGHTY STEWARDESSES
UNCLE TOM'S CABIN

PLEASE NOTE: This box set is Region A except discs 1, 12, and 14, which are Region Free.

*This item is a PRE-ORDER with a street date of April 21, 2020, however our site will EXCLUSIVELY ship this item EARLY, beginning on April 7, 2020. Any additional items purchased alongside this one will NOT ship until all items are in hand at our warehouse."