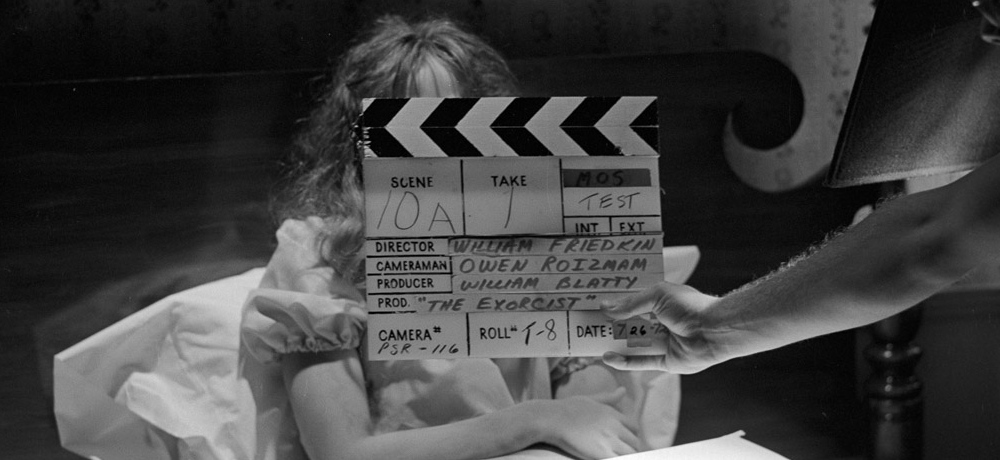 As someone who loves to dig into The Exorcist multiple times a year, when Alexandre O. Philippe mentioned to me during a 2019 interview that he was collaborating with the legendary William Friedkin for a deep dive into the maestro's landmark cinematic achievement, I knew it was going to be right up my proverbial alley. And I'm pleased to report that Leap of Faith: William Friedkin on The Exorcist absolutely delivers an endlessly compelling examination of not only Friedkin's process in making one of the most seminal (and arguably, singular) feats of cinematic greatness ever, but also explores many of Friedkin's own artistic influences and shares some intriguing anecdotes about The Exorcist that I had not heard before (and there is one tidbit that the doc's central figure admits is something he's never discussed before).
In a day and age when it feels like all stones have been turned in terms of genre documentaries, Leap of Faith: William Friedkin on The Exorcist serves as a great reminder that there are still a great deal of cinematic treasures to be unearthed, and a lot of that credit is due to Philippe, who has found intriguing ways to re-examine the classics with his most recent docs 78/52 (which did a deep dive into Hitchcock's shower scene in Psycho) and MEMORY (which explored the mythologies of Alien and focused more on Dan O'Bannon's contributions to that film). His mastery of non-fiction filmmaking is exemplary, and Leap of Faith: William Friedkin on The Exorcist is yet another crowning achievement by Philippe, who offers up not only a fascinating look at how The Exorcist came together, but also, by way of Friedkin's own vast knowledge, serves as a fascinating examination of cinematic history to boot.
For Leap of Faith: William Friedkin on The Exorcist, Philippe isn't interested in giving audiences another behind-the-scenes celebration of arguably the greatest horror film of all time, so don't go into this expecting to hear Friedkin dish on the usual topics. Instead, he discusses Carl Theodor Dreyer's Ordet and how that influenced him as a filmmaker, and reflects on his early life that spawned his love of the moving picture. In the doc, Friedkin posits about the mysteries of faith and fate, and concludes that The Exorcist was a mission of faith for him (at one point, he discusses the relevance of the first words in the film being, "God is good. God is great."). He also discusses how necessary the book's prologue was for his vision for the film adaptation of The Exorcist, and how William Peter Blatty's original screenplay for the project not only omitted it, but also didn't really capture the spirit of his novel in Friedkin's eyes.
The maestro also discusses some topics that some fans might already have some familiarity with in Leap of Faith: William Friedkin on The Exorcist: his struggles with Max von Sydow during the penultimate moment in the film when Father Merrin is supposed to go hard against Pazuzu, but just couldn't get there; how Stacey Keach was originally intended to play Father Karras; and his experiences working with William O'Malley, who was a real-life priest. Friedkin also discusses how The Exorcist was essentially him following his gut most of the time, and how he enjoys the way film fans have re-interpreted the film for more than 40 years now. Oh, and he also goes into the problems he had with scoring The Exorcist and how Tubular Bells came about rather unexpectedly, and what I thought was really interesting is that Friedkin himself still has issues with The Exorcist's final moments with Karras and Regan, as he doesn't believe they quite make sense in comparison to how the rest of the film deals with the act of possession.
Oh, and one of the earliest fun facts that Friedkin drops on us? "The word 'possesses' possesses more s's than any other word in the English language." (Sorry, I'm a nerd and I thought that was a fun tidbit).
Insightful, thought-provoking, and candid in a matter that's befitting of Friedkin's own no-nonsense bravado, Leap of Faith: William Friedkin on The Exorcist is a must-see for anyone who loves The Exorcist, but also is a fan of listening to filmmaking greats wax poetic on the art of cinema in general (I learned so much from listening to Friedkin here). Without a doubt, Alexandre O. Philippe has raised the bar for genre docs once again with his stellar efforts on Leap of Faith: William Friedkin on The Exorcist.
Movie Score: 4/5
---------
In case you missed it, visit our online hub for more live coverage of the 2020 Sundance Film Festival!