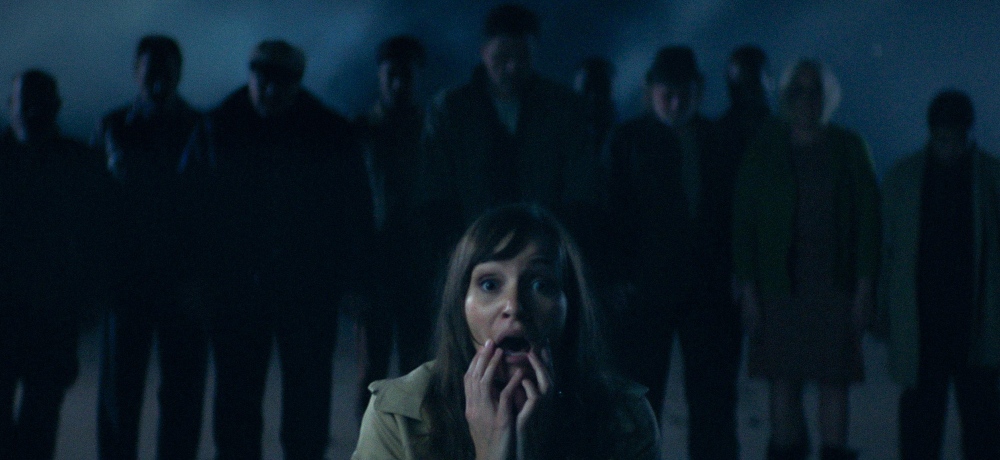 If you're a genre fan, chances are you're pretty familiar with the array of work from Mickey Keating, Jocelin Donahue, and Joe Swanberg that runs the gamut of horror from the last decade. The trio recently collaborated together on Keating's latest film project, Offseason, which is set to debut later today at the 2021 SXSW Film Festival. Written by Keating and featuring a handful of other notable performers including Melora Walters, Richard Brake, and Jeremy Gardner, Offseason is centered around a young woman who must travel to a mysterious Florida town to try and settle some family business, but finds herself caught in a living nightmare and desperate to escape the clutches of the sea-faring community.
Daily Dead recently had the opportunity to speak with Keating, Donahue, and Swanberg about their experiences working together on Offseason, and they discussed the inspirations behind the project, the film's unusual locale, and more.
So Mickey, I think what's really fantastic about your career is that you don't retread any territory in terms of the films that you make. And this feels so much like you, but yet so different than anything else we've seen from you before. I was wondering, could you talk about this story and what inspired you to make Offseason?
Mickey Keating: That's cool. Thank you. This one, I definitely wanted to do a movie that was about dark family secrets that come to life after it's too late. And then, in terms of a jumping off point in terms of inspiration, the two stories that I was really wild about were Faulkner's A Rose for Emily and Shirley Jackson's The Summer People. I read The Summer People and I was captivated and was like, "What happens after the summer?" So, I really wanted to make something atmospheric and dreamy and this descent into this very strange nightmare of this one person basically digging up their family's past. That was really the jumping off point for me.
For Jocelin and Joe, your characters are the ones that get caught up in the middle of all this madness in Offseason. Was there something in particular about your characters and this world that spoke to you both as performers?
Jocelin Donahue: Well, like Mickey said, the setting and this weird atmosphere and the mythology of this place, that was what originally just really jumped out at me from the script. It was so unique and unusual. And then hearing Mickey talk about going there during summers growing up, knowing how much he knew about the place and how strong this primordial, swampy, Florida vibe was going to come through. But then also that we had this cool town that was deserted and we had the jungles around us, so just visually and the imagery that was already in the script, that was really interesting to me right away. And then just being around Mickey is so inspiring because he's such a cinephile; he just loves what he's doing so much. It's exhilarating to be around him. On set, it was just a great environment and I had the opportunity to work with some great actors. So it checked a lot of boxes. It was a really cool creative project for me.
Joe Swanberg: Yeah, well I did the project for money [laughs]. Someone held cue cards for me off camera and I spent as little time on set as possible and essentially barely even know Mickey and Jocelin. In fact, I'm learning more about them from this interview than I did the entire time we were together on set [laughs). But really, Jocelin and I have known each other for a long time. We come from the same indie horror circles and have a ton of mutual friends and bump into each other every once in a while. Mickey, I had almost worked with years before on a different project and just wasn't able to do it and was so happy when he called me. When I was saying yes to the project, I think it was Jocelin and Mickey that were a hundred percent locked into it, which was already plenty for me. I was really thrilled to get to work with both of them and also really drawn to the project, drawn to the location, and I was excited to go exist in this world in Florida.
Mickey also talked a lot about the script, but the ability to improvise and bring a lot to the character was great. And Jocelin and I were able to meet up ahead of time, to talk about a lot of things. Then, I feel like on set it was a really fun, collaborative experience of building the backstory, figuring out who these characters were. And also my wardrobe fitting, which happened maybe a day or two before we started shooting was really thrilling. I think it's the coolest outfit I've ever worn in a film.
You've mentioned how Florida is the backdrop to this and what's interesting to me about Florida is that a lot of people think of Orlando or they think of Miami when you say Florida, but there are places in Florida that just have these weird vibes to them. Mickey, beyond your own experiences, was there just something in particular about Florida that made it the perfect backdrop for this story? 
Mickey Keating: I think I've been calling this movie a Neo-Southern Gothic. But I grew up in Florida and in the back of my mind, it has always given off a very creepy, weird vibe. Where we shot, especially, it's like you feel the history and the spirits all around there. I love the hanging Spanish moss everywhere and just the real strangeness of it all. And from the get-go, I was like, this movie has to be filmed in Florida. We can't shoot in some California beach town because that's going to be boring. Let's drag the whole crew down there and see what's what. And it was a very strange experience. It was freezing one day with 30 mile an hour winds. Then we were eaten alive by bugs. This place that we had filmed in had never had a movie shoot there before, so no one really understood the elements of what went into shooting a movie. I think when the locals of this town see it, I think they'll be really thrilled because they'll look at it and be like, "Wow, that's our town. Who would have ever thought?" But it definitely is a strange place. And I am happy to not be there right now [laughs].
I know the clock is already ticking down on us, but Jocelin, I wanted to ask, because you've been a favorite of mine pretty much ever since The House of the Devil. But you get to share the screen with another favorite of mine in this—Melora Walters. Just watching your characters just go back and forth in the scenes you two shared together was really fantastic to watch.
Jocelin Donahue: Oh, wow. Heather, that is so sweet. That means so much to me. Thank you for that compliment. Melora is just such a force. She's in those scenes and working on them with her, she was just so present and so generous and she's such a pro and I've been a huge fan of hers and Mickey really has been as well. I know it was really sweet to watch him with her, because I know how much he loves her work. He really gave us the space to find our relationship and to make something special out of the few days that we had on set together, because it is so important to who Maria is and why she's doing what she's doing. So it was really helpful to have those flashback scenes, to know Maria's life before she gets dropped into this nightmare scenario.
I'm a big believer whenever you do something creative, obviously you put something of yourself into it. But I also feel like you take a part of it away with you. And I'm curious for all three of you looking at this experience of making Offseason, what was your biggest takeaway from working on this project?
Mickey Keating: For me personally, using fog and fog machines is the biggest nightmare you are ever going to encounter on a film set, so that's what I learned [laughs].
Jocelin Donahue: I was just going to say, for me, just watching Mickey's sense of play. While we were on set, it was so inspiring and made me so happy and just really made me feel creative and free. So that's the biggest takeaway that I have—just the ecosystem and the environment that he created on set was just so perfect and such a dream to be a part of.
Joe Swanberg: Yeah, I agree. It was really super fun to be back on set and I love watching people solve problems. It's my favorite thing about being on film sets. Everyone encounters different obstacles, and it was a particularly great, energetic crew. I love switching roles from director to actor and not being the one who has to solve the problems. I feel like it was really super fun to just sit there and be like, "I can't wait to see how you guys overcome this obstacle. Totally not my problem. I'm just going to go where I'm told and do what I'm told [laughs)." But it was really great, and I was constantly impressed by the team that worked on this movie. I think it looks amazing and I was thrilled to be back in that kind of an environment.
Offseason is celebrating its world premiere at the 2021 SXSW Film Festival later today at 8pm CT. To find out more information on its SXSW screening, click HERE.
---------
Check back right HERE on Daily Dead for all of our coverage of the 2021 SXSW Film Festival!