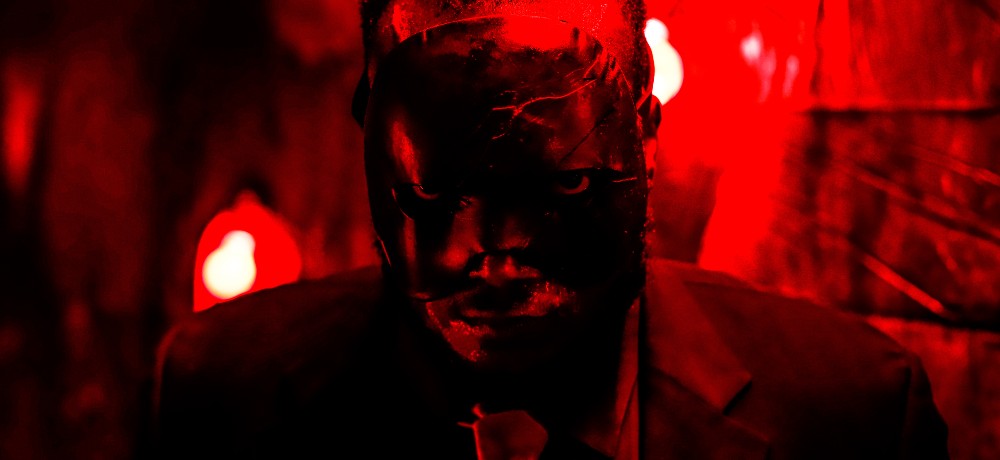 Move over Freddy Krueger and Jason Voorhees, a new horror villain has been born and we now have the first Black masked serial killer. The film Bitch Ass just had its World Premiere at this year's SXSW Film Festival and director Bill Posley and writer Jonathan Colomb couldn't be any happier about their incredibly creative and bloody addition to the slasher subgenre premiering at the festival.
Bitch Ass tells the story of a kid named Cecil, who is brutally bullied because of his love for board games. When Cecil grows up and takes on the persona created by his awful nickname, Bitch Ass, the real games begin and this time the players are playing for their lives. The film poses the question of whether or not Bitch Ass is an antihero or a monster and allows the audience to play along and decide for themselves. Featuring an extremely talented all Black cast, blood-soaked real-life board games, and a thought-provoking story, Bitch Ass is an impressive and groundbreaking addition to genre film.
During a recent press day ahead of the premiere of Bitch Ass at SXSW, Daily Dead had the opportunity to speak with director Bill Posley and writer Jonathan Colomb about their inspiration for the story, board games as death traps, working with horror icon Tony Todd, and a lot more!
We have Candyman, Blacula, and Bones, but there is still a lack of Black horror villains in genre film. I know you wrote the story together and Bill, you directed this film. What was your inspiration for the story and the character of Cecil, who becomes Bitch Ass, as the first Black masked killer?
Bill Posley: The movie that influenced us really heavily was The People Under the Stairs, as far as the story was concerned. We loved going back to breaking into someone's house and the idea that it was done with a person of color as the lead. That particular movie felt like a hood horror movie because you got to see the neighborhood these people grew up in and Ving Rhames, and of course the young boy who breaks in. We really loved that story. One of the things was, even in that movie, the people are white. It's so crazy to re-watch The People Under the Stairs because it's really a gentrification tale [laughs]. And it's a gentrification tale in the early nineties, so it's really crazy to do that. So, we were just so enamored by that. Also, we really love Saw and really had never seen it done through the lens of a Black killer before. So, it was kind of marrying those two ideas, The People Under the Stairs and Saw, and we wanted to create a masked serial killer, and to go even beyond that, just a Black serial killer, who wasn't just killing white people or had any race attached to it. He just existed in this neighborhood, and these were those people's lives.
The concept of board games is so creative, and it hasn't really been done before. Watching the film is like looking down into a game because of the way the rooms are labeled, similar to the game Clue. How did you come up with the idea to use board games as death traps?
Jonathan Colomb: Bill and I both love board games and really enjoy playing them. But also, the idea of if you were to bully someone for something like this, what's the best form of revenge. It's taking a thing you love and using it to get back at other people. I don't know if it's the best form of revenge [laughs], but it's a form of revenge. We started talking about how you could make something visually interesting, using rough game outlines that we all know and can recognize, and everybody has played, but really amplify the consequences. The idea is no longer just playing for the opportunity to win, or for some respect, you're playing for your life. The best part of this movie was sitting around talking about board games and then figuring out how you could make that deadly. We batted around Hungry, Hungry Hippos [laughs], and Mousetrap, and the Operation type game that became Surgeon. It's visually so incredible to watch and the idea is honestly very simplistic. That was the fun thing because anybody can recognize that board game, anybody can understand the rules, and that makes it a little scarier, we think. 
Bill Posley: We didn't want our killer to talk too much and lose the fun or scare of this person. We wanted him to seem very ominous. So, setting up board games that people already knew spoke a lot of language for us and did a lot of the heavy lifting without us needing to over-explain things, especially once you get the first one out of the way, the rest of them just kind of know what's happening. So, we really wanted that to do a lot of the heavy lifting in the script and then also, the character is arrested in his development. He's stunted. So, stunted at such a young age where his passion was board games and stuff like that. In order to show that they've never really grown up, we wanted to use something childlike like that to show that this person had been arrested in their development and hadn't really matured or gotten past the incident that happened to them. 
The character Bitch Ass has such a cool look. I love the black leather mask and the suit with the red tie. How did the two of you create his style and look?
Bill Posley: I can talk about the mask specifically, and then I'll let Jonathan talk about the suit. For the mask, we wanted this modern-day Phantom of the Opera; this ugly kind of really innocent creature that you learn the backstory of, and you start to empathize with them. So, we thought what better way to do that than with the beloved and well-known Phantom of the Opera mask. So, we used the Phantom of the Opera mask as a guideline and we thought, "Oh, how do we make it different? What if it's like a double Phantom mask, so it has two with the big sweeping cheeks?" And so, we really, really were inspired by that. And that being such a staple thing, we wanted to bring our own twist and tweaks to it. So, that's kind of where that came from. It's like a hidden creature stuck in his house that you think is ugly and terrifying. And they are, but also someone that you end up empathizing with, surprisingly. 
Jonathan Colomb: So, the suit and tie in particular were really focused on color. So, when you play a board game, you choose a piece and in Trouble or a game like that, you pick a color. So, we thought each setting would have its own color palette and the one important color for us, for Bitch Ass, is red. He's a person who was raised religiously and told it's important to dress nice. Because every day you dress nice, in his world, you're giving respect to God. It's a religious thing. And we wanted to give him this bright red, stand out tie, and then when he's hosting a game, he's a bit like a game show host. He's dressed up and this is important to him, and he wants to treat you as though you're his guest. If you win, and you walk away, it's all fair. We wanted him dressed in the black suit and the red tie to be like a game show host and make his guests comfortable. And if they're comfortable, they could possibly win and walk away. 
Bill Posley: We also realized that Black killers like Candyman don't have a costume, but Jason Voorhees does. So, we were thinking, "Oh if this was to ever be successful, what would be a cool costume?" A simple, easy, cool costume to just throw together. If you throw a jumpsuit on, you're Michael Myers immediately and with the hockey mask, you're Jason Voorhees. We would love this to be a Halloween costume and part of the tradition of Halloween because as of right now, we don't have one.
The story really makes you feel for Cecil who later takes on the persona of Bitch Ass. He doesn't just kill random people; he kills those who have bullied him in the past. Do you consider him an antihero?
Jonathan Colomb: I would say antihero is pretty close to what we were going for. Bill and I have similar backgrounds in that we were both sort of heavier, bullied kids. There was this idea that we've talked about even outside the film, and it's that people hurt people. And it's the idea that Cecil was bullied as a child and he's now got the opportunity to break the cycle if he wants to, but he chooses to try and keep going.
Bill Posley: To piggyback off what Jonathan was saying, as far as Bitch Ass being an antihero, I would love for some people to be able to see him as that and for people to be able to relate to him. I think any good storyteller, or any good character has the ability to be loved sometimes and hated sometimes. So, what we wanted to do was set up a character, or at least a story, where you were constantly shifting your loyalties. At first, we don't want any of the kids to die and as you learn more and more about Bitch Ass, you want them to die. As you fall more in love with the mother and the son, you don't want him to kill them and then you realize that the mother is in on it and you're like, "Oh shit, kill her!" [laughs] Bitch Ass just isn't going about things the right way. So, we just wanted him to be an antihero when you meet him and then for him to maybe be more heroic as you start to learn more about what's going on and ultimately, at the end to be an antihero again because he's listening to his grandmother. Our favorite thing was just making sure that there are times when you don't know who to root for, and for us, that's the best type of horror film. 
Jonathan Colomb: The idea that you feel for Cecil, you understand why he's doing what he's doing. You don't agree with it because why would you, but you can go, "Man, I don't like the way you're handling this but, I understand why you're doing it." 
What was it like working with the legendary Tony Todd?
Bill Posley: It was a dream come true. It was literally one of the coolest things. We were kicking around the idea of, with Tales From the Hood being one of the inspirations, we wanted Clarence Williams III, at first to be the person to bring it in and unfortunately, he passed away. We were like, "There's no way we can get Tony Todd!" [laughter] When Clarence Williams III passed away, it came back around and we were like, "We could reach out to Tony Todd and just see what he says." [laughs] So, we reached out and we wrote him a very passionate letter about what big fans were are and we sent him the trailer. His manager said the best he could do was to forward it to him. Then we got an email back that said, Tony's interested, and he wants to talk to you. I was sweating and scared, and Tony answered the phone and I just heard that voice and he said, "Mr. Posley." And I was like, "Oh my God! Oh my God!" [laughs] We started chatting and talking about how there isn't enough people of color in the space, and he wants to support Black films in the genre space, and he said he would do it. We were just blown away and so I'll let Jonathan talk a little bit more about what it was like having him on set, but it was really, really cool to get him.
Jonathan Colomb: The day Tony Todd showed up, he is such an imposing figure. He's got to be 6'6" maybe? He showed up in the suit you see him in, as the class act he is. And Bill and I being huge fans of his work and his power in the horror space, he gets on set and the very first thing he says is, "Good evening," and it's in this low rumbled tone. And as the screenwriter, you just get this chill in your spine. You're like, "This legend is saying some stupid words that we wrote." [laughter] It felt like the greatest thing in the world. We only had an afternoon with him to do all the shooting for his scene, but he took it seriously, he took our feedback, he listened to us, and he was the most gracious with his time and effort. I can't thank him enough because it truly gives our movie a flavor that we love and now can't picture the film without. 
Bill Posley: The whole crew was just on pins and needles. I forgot to yell, "Cut," because I was just so in awe. [laughs] I was like, "Oh shit, cut! I'm sorry, I'm more professional than this, I swear to God." [laughs]
Freddy Krueger, Jason Voorhees, and Ghostface all have successful franchises. Is there a possibility of a Bitch Ass franchise? I would love that.
Bill Posley: [laughs] We'd love to do it too! We're trying to gauge expectations because the premiere is tonight and it's the first time anyone other than a few of our friends and us have seen the film. We hope that the people who find it love it the way that we love it and the audience that it finds loves it the way we love it. We believe that if people do love it, then Bitch Ass has a chance to be something special and be a part of history and make history because it is the first Black masked serial killer. With that opportunity, we would really love for somebody to give us a chance to do a second one. It's something that we joke around about and talk about. It's something we joked around about before we got into SXSW and we were like, "Wouldn't it be crazy if we got into SXSW?" And then we got in and now it's not a joke anymore. [laughs] As far as we're concerned, we would love to continue the Bitch Ass story. We have so many ideas and so it's something that's on our radar as well. 
Congratulations on premiering at SXSW!
Jonathan Colomb: Thank you so much! Bill and I love this movie and love the production and we're so thrilled with what we finished up with, but this massive surprise came when we got selected for SXSW and we couldn't be more appreciative of everybody's love for the movie. 
Bill Posley: Yeah, you submit to all these festivals and then you get some rejections, and you get really disheartened. You have all these people who worked super hard for you and believed in you, and you want to make everything happen for them and then you get rejected by other big festivals and you're like, "Oh man, they don't understand me. They don't understand what my movie is." [laughter] Then you get into SXSW and you're like, "That's a good festival! They get me! They understand me!" [laughs] So, it was really, really special and I think it's easy to say on the other side of it, but we couldn't have been in a better festival. Everything worked out. SXSW is the first festival that's back in-person in a major way. Austin, specifically, is a genre town with Fantastic Fest and SXSW. Their love of horror and genre and they do such a great job with it down here that we couldn't have asked to be in a better space. Being a Midnighter here is such an honor for us, so we couldn't be happier or feel more blessed or more passionate about the fact that this film is exactly where it's supposed to be.