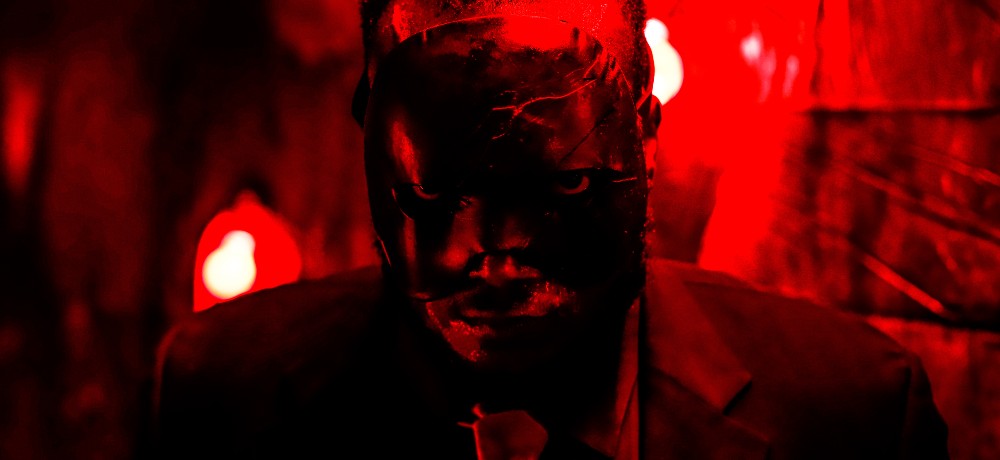 It's 2022 and except for a few films like Candyman, Blacula, Bones, and Us, there is still a frustrating lack of Black horror villains. Jason Voorhees, Freddy Krueger, and Ghostface all have their own successful franchises, but genre film clearly still has a lot of work to do as far as representation and diversity. Filmmaker Bill Posley (Culty) is not only putting in the work, but he also created a unique slasher film with the potential to be the first Black horror franchise. Written by Posley and Jonathan Colomb, and directed by Posley, Bitch Ass, features the first Black masked serial killer, as well as an entirely Black cast, and is having its World Premiere at this year's SXSW Film Festival.
In Bitch Ass, horror legend Tony Todd (Candyman) is the host of a show called Hood Horror Stories, where he introduces the story of a kid named Cecil, who is bullied until he eventually becomes what everyone believes is an urban legend. In the year 1999, we meet Spade, played by Sheaun McKinney, a ruthless gang leader meeting with a group of local teenagers he is recruiting for the gang. The recruits include Quentin or Q, in a standout performance by Teon Kelley, Cricket (Belle Guillory), Moo (A-F-R-O), and Tuck (Kelsey Caesar). Spade tells the teens their initiation will require them to rob the house of a deceased old woman on what the neighborhood calls 666 Night. The recruits are not just nervous about robbing the house, it's rumored the old woman's grandson, Cecil, might still be there.
Flashbacks to 1980 introduce Cecil (Jarvis Denman Jr.), a shy, awkward teenager being raised by his grandmother (Sherri L. Walker) after the death of his parents. His grandmother teaches him to be a good kid and follow strict rules, including forcing him to dress in a suit, but she's also extremely abusive to Cecil. Even worse, Cecil is relentlessly bullied by the neighborhood teens because he's obsessed with board games. Cecil's only friend is a girl named Marsia. Out of jealousy, Marsia's boyfriend and his friends brutally attack Cecil and leave him disfigured and hatefully give him the nickname Bitch Ass.
At midnight on 666 Night in 1999, Q, Cricket, Moo, and Tuck meet at the creepy old house they're supposed to rob. Q wants to be a doctor, and when he fails to receive a much-needed scholarship, he reluctantly agrees to the gang initiation to get the money for college. Bitch Ass is exceptional in the way it uses games for gory kills and parts of the story even feel like the viewer is looking down into a board game, with rooms labeled, similar to the game Clue. Once inside the house, the recruits split up to look for whatever money or expensive items might be hidden in the home. When Q finds an old yearbook, he realizes that his mother, Marsia, played by Me'lisa Sellers, who gives a fantastic performance, went to school with Cecil back in 1980. 
One by one, the recruits are stalked by adult Cecil, now known as Bitch Ass, in a terrifying performance from Tunde Laleye, who dresses in a black suit with a red tie and wears a black leather mask. Bitch Ass forces each teen to play a game with him and if they lose, they die. One of the most inventive games is called Surgeon and is very similar to the game Operation, which I loved playing as a child, except this game involves an actual body. The use of board games in Bitch Ass is especially imaginative and makes the story compelling to watch and the various, unusual ways Bitch Ass kills his victims are frightfully gruesome. The film utilizes some great, bloody practical effects as each recruit loses a game to Bitch Ass. When Marsia realizes her son Q is involved in the gang initiation, she rushes to the house and has a frantic confrontation with Bitch Ass. 
Bitch Ass is an incredibly enjoyable slasher, which not only features the distinctive use of board games as blood-splattered death traps, but it also tells a thought-provoking story. Cecil is the product of the combination of his grandmother's abuse and bullying from the neighborhood teens. The tragic fact that Cecil grows up and assumes the awful nickname Bitch Ass, and only seems to want revenge on those who hurt him in the past is an interesting concept because his choice of victims almost makes him an antihero. He doesn't go around just mindlessly killing people, so the film leaves a lot for the viewer to think about. 
Fans of the slasher subgenre will find a lot to like about Bitch Ass, from the way Bitch Ass dresses and his mask to the incomparable, blood-soaked kills. The cast is remarkable and the way the story is told, almost inviting the viewer to play along, is unbelievably creative. Bitch Ass is one of the most impressive slashers I've seen in a while and a story about an intriguing Black, masked horror villain, which features a strong, Black cast, especially one with potential for a franchise, is long overdue.
Movie Score: 4/5