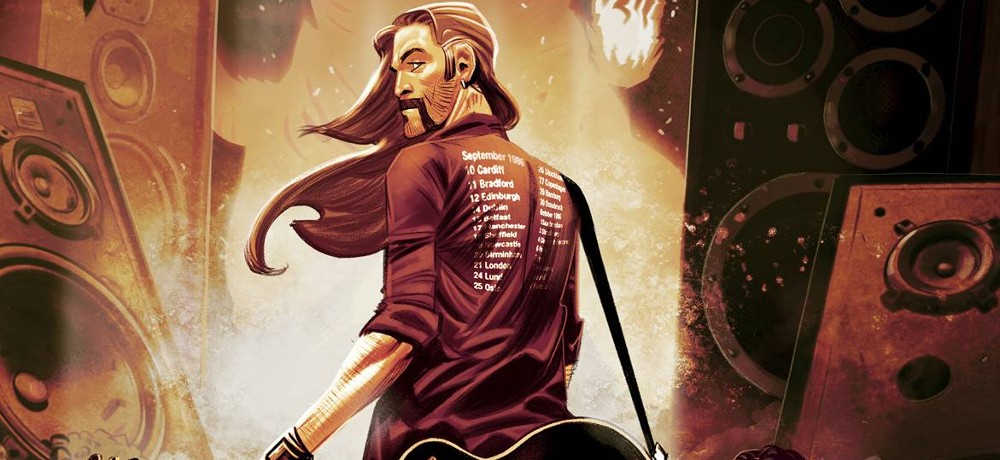 Horror and metal collide in The Roadie, an 80s-inspired comic book series that is sure to pique the interest of any Daily Dead reader. Due out on September 28th from Dark Horse Comics, our Q&A with series writer Tim Seeley tells you all you want to know about his exciting new creation with Fran Galán, including his suggested playlist!
For a fan of 80s horror and 80s metal, The Roadie hits such a sweet spot and feels like it fits right in with some of the classic horror. What led to this being your latest project for Dark Horse?
I've told this story before, but it's the honest truth...I was changing my daughter's pooped up diaper while thinking about Motley Crue, and I had this vision of old rockers dealing with being as uncool as me. And the story kind of came together instantly with the hero who is the seventh son of a seventh son, and would be rock god. I sent it the next morning, and got it approved by the next evening. That has never, ever happened to me before. So, thank you Daniel Chabon, Dark Horse, and my daughter's butt blast.
Can you talk about the creative process between you and Fran Galán? When it came to creating the roadie and some of the demons in the first issue, how did you two work together to bring them to life?
Fran was brought in by Daniel, and I essentially just wrote out some rough ideas, and let him go nuts. I knew I wanted this to feel grounded and human, and Fran is awesome at that kind of art.
Can you give our readers a little tease of the horrors that await "The Roadie" over the course of the series?
I had done a bunch of research for the movie I wrote, REVEALER. I got really interested in the way "Satan" and demons are actually portrayed in the bible. I ended up reading a bunch about the origins of these ideas, specifically that Satan was originally associated with cold and mud, not fire and, well...metal. So, we designed monsters that come from a really gloomy, wet, slippery hell. Our lead demoness in particular is wonderfully icky and scary!
How many issues are planned and do you have future adventures in mind for "The Roadie" past the first series?
This is a four issue series, but this is a BIG world. I always try to start small and intimate, and then build out the potential for massive stories and lots more characters.
What are some of your favorite rock and roll horror movies?
My favorites are Trick or Treat (1986), Black Roses (1988) and Rocktober Blood (1984.) I collect hair metal and glam horror movies, so I'm kind of an expert. ;)
What are some of your favorite metal / rock and roll songs from the 80s that would be on the hypothetical playlist for this series?
I went a bit outside the genre and picked some stuff that fits the vibe and story! Also, this was what I was listening to while writing this comic 1). Motley Crue- Looks that Kill 2).Iron Maiden-The Number of the Beast 3).Fastway- After Midnight 4). Love & Rockets- Haunted when the minutes drag 5). Johnny Cash- Flesh n' Blood 6).Lil Nas X- Montero (Call me by your name)
Aside from "The Roadie," what projects do you have coming up that you'd like to share with our readers? 
You can catch my horror movie REVEALER on Shudder now, as well as West of Sundown, my Western Horror comic from Vault!
----
Dark Horse Comics is proud to present the new dark horror action series The Roadie. From creators Tim Seeley (The Occultist, Hack/Slash, Revival) and Fran Galan (Lucky Devil) comes this horror saga about nostalgia, heavy metal music, hell, and redemption.

More than thirty-five years after his heyday, a former heavy metal roadie must return to the backroads of America to do a job he thought he'd retired from: exorcist. But this time, he's not saving groupies and drunk bassists. He's trying to save his daughter.

"I wanted to tell the story of the 'unsung hero' of the 80s Satanic Panic era…," Tim Seeley says, "the roadies who supported all those metal bands, not only by tuning their guitars, but by casting out the horrific demons they accidentally summoned with backwards lyrics and screaming riffs. Joe D. is the seventh son of a seventh son, and though once he stood next to greatness, he now wallows in obscurity.... until he gets called upon to return to a past he thought he'd left far behind. THE ROADIE is part Hack/Slash, part Revival, and all heart, with Fran Galan doing some absolutely rockin' art."

The Roadie #1 will be in comic shops September 28th, 2022 and is available for pre-order at your local comic shop for $3.99.

CREATORS
Writer: Tim Seeley
Artist: Fran Galán
Colorist: Fran Galán
Cover Artist: Fran Galán
Genre: Horror, Fantasy, Action/Adventure
Publication Date: September 28, 2022
Format: FC, 32 pages; Miniseries
Price: $3.99
UPC: 7 61568 01004 6 00111