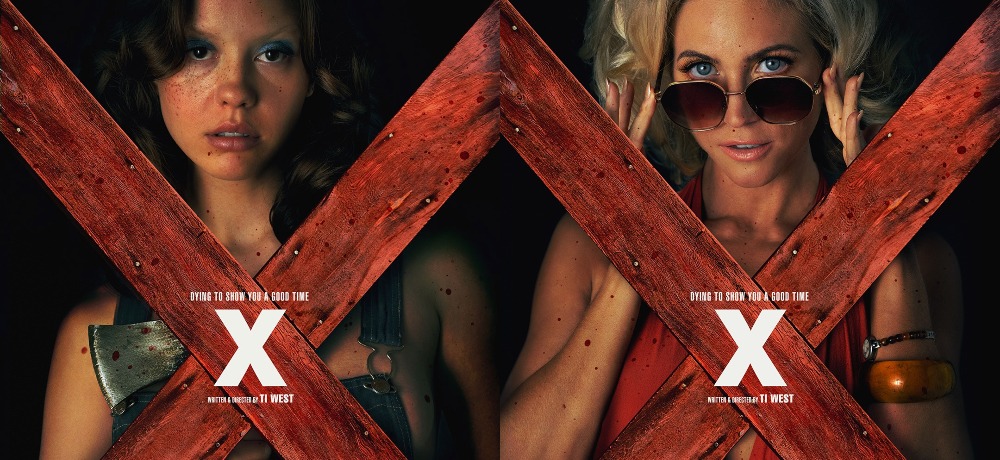 On Friday, March 18th, Ti West's X arrives in theaters everywhere courtesy of A24, and to get you all ready for the cinematic madness, we have a video interview with Mia Goth and Brittany Snow, two of the film's co-stars, on tap today. In the film, the duo play aspiring adult film actresses who set out with a group of other aspiring talents to make a movie together, but they end up in a fight for their lives when the elderly couple they are renting their shooting space from aren't quite as kindly as they seem. Written and directed by West, X also stars Martin Henderson, Jenna Ortega, Scott Mescudi, and Owen Campbell. 
During our conversation with both Goth and Snow, Daily Dead spoke with them about their experiences working with A24 and Ti West, and how they hope that the movie not only defies but will hopefully subvert the audience's expectations as well. For Goth, who pulls double duty in X, she discusses undergoing the prosthetic process alongside the team from WETA, and how it helped inform her performance of Pearl, and Snow chatted about taking on a Fleetwood Mac classic in X that becomes a pivotal moment in the film.
Check out our video interview with both Mia Goth and Brittany Snow below, and look for our interview with Ti West tomorrow in celebration of X's arrival in theaters!