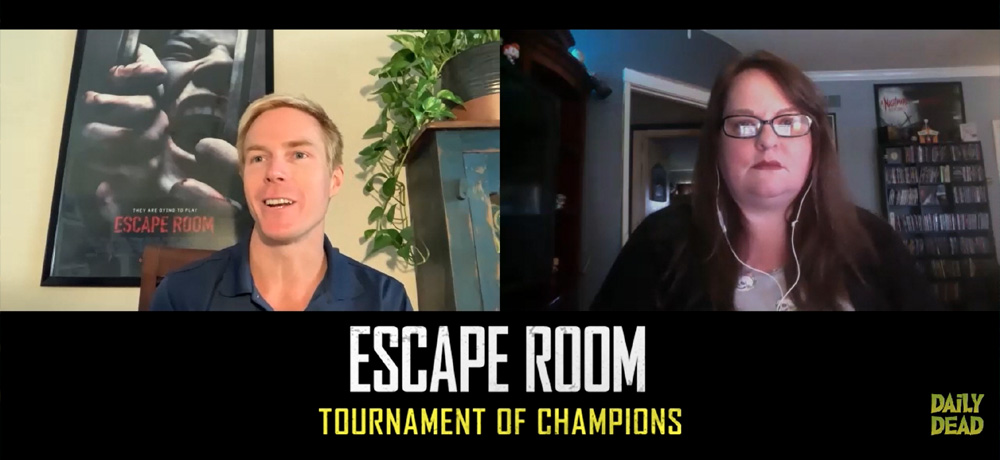 After the breakout success of Escape Room in 2019, the follow-up effort from Adam Robitel—Tournament of Champions—is finally set to be unleashed in theaters beginning this Friday, July 16th, courtesy of Columbia Pictures. Picking up right where the original film left off, the sequel finds survivors Zoey (Taylor Russell) and Ben (Logan Miller) heading off to New York in search for answers as to just who was behind their terrifying experiences inside the series of escape rooms previously, and just why they were hellbent on leaving no survivors of the game in the first place.
During the recent press day for Escape Room: Tournament of Champions, Daily Dead spoke with Robitel about getting to come back for the sequel and the challenges he and his team faced while trying to change things up by creating new escape room spaces and expanding the mythology of Minos, the company behind these excursions in survival. Robitel also discussed how the sequel asks some big questions about free will, his experiences collaborating with both Taylor and Loganwho both have become the heart of the Escape Room film series, and his favorite set piece from both films. 
Check out our video interview with Robitel below, and look for more on Escape Room: Tournament of Champions this week, right here on Daily Dead.