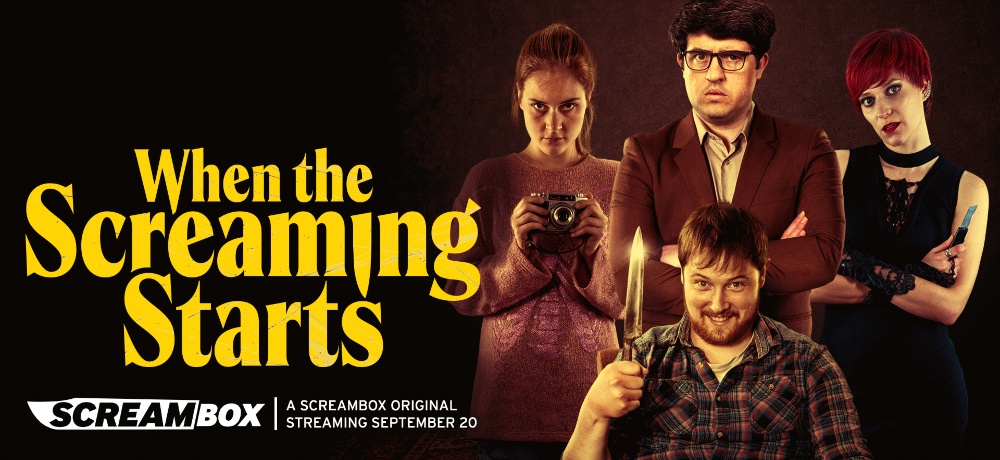 One of my favorite films from this year's Popcorn Frights Film Festival was When the Screaming Starts, which centers on a documentary filmmaker (Jared Rogers) who follows a group of up-and-coming serial killers. With the horror comedy coming exclusively to the Bloody Disgusting-operated streaming service Screambox on September 20th, we've been provided with an exclusive clip to share with Daily Dead readers!
You can check out our exclusive clip from When the Screaming Starts below, and read on for additional details on the film:
Press Release: British mockumentary When the Screaming Starts will stream exclusively on Screambox on September 20. Fangoria Editor-in-Chief Phil Nobile Jr. raved that the film "does for serial killers what What We Do in the Shadows did for vampires."

Aidan Mendle has a dream; he aspires to be an infamous serial killer. When struggling journalist Norman is invited to follow Aidan on his journey, he believes he finally has landed his big break. But as Aidan and his newly recruited murder cult embark on a blood-soaked rampage, will Norman's dream of becoming a renowned filmmaker turn into a nightmare?

Conor Boru makes his feature directorial debut on the Screambox original movie from a script he co-wrote with Ed Hartland. Hartland also stars with Jared Rogers, Kaitlin Reynell, Octavia Gilmore, Ronja Haugholt, Vår Haugholt, Yasen Atour, Kavé Niku, and Rob Tofield.

"Horror and comedy are like two sides of the same coin, which is why fans of both have embraced this sub-genre so readily," explains Bloody Disgusting Managing Director Brad Miska. "When the Screaming Starts is the perfect combination of humor and horror. It's Shaun of the Dead meets Spinal Tap, and we know that fans are going to eat it up."

The Screambox release follows the picture's award-winning festival run, which kicked off with the U.K.'s FrightFest last year and included Popcorn Frights, Panic Fest, Telluride Horror Show, and London Independent Film Festival, where it was named Best Sci-fi/Horror Feature.

When the Screaming Starts joins Screambox's growing library of unique horror content, which also features Pennywise: The Story of IT, Masters of Horror, 13 Nights of Elvira, PussyCake, Toxic Crusaders, and the forthcoming Terrifier 2.

Enjoy all this and more with a 30-day free trial of Screambox, available on iOS, Android, Prime Video, YouTube TV, Comcast, and Screambox.com.
Exclusive Clip:
Official Trailer: