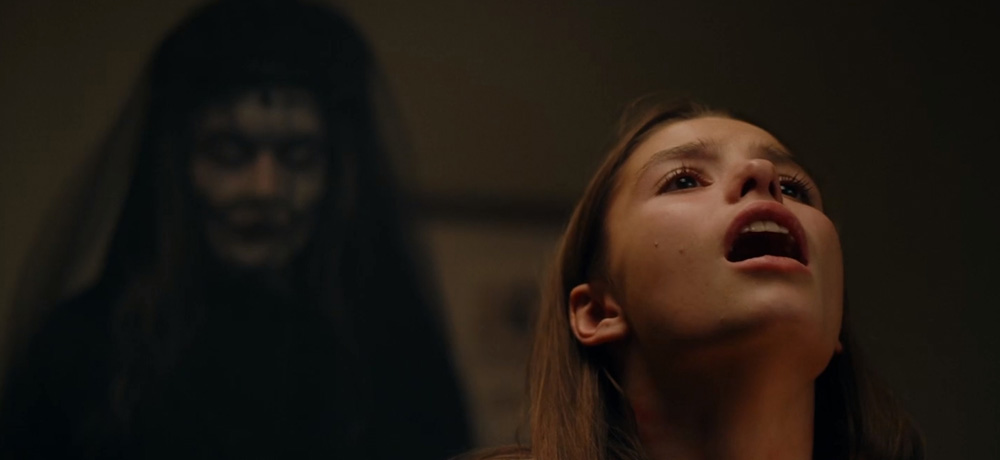 Four teens summon a spirit as a joke that becomes all too real in Queen of Spades. Out now on VOD services (with a Blu-ray release on June 29th), we have an exclusive clip you can watch right now and we have details on a contest for Daily Dead readers!
"According to legend, an ominous entity known as the Queen of Spades can be summoned by performing an ancient ritual. Those brave enough draw a door and a staircase on a mirror, in darkness, and say her name three times. What happens next must be experienced to be believed. Four teenagers decide to summon the Queen of Spades as a joke. But they could never imagine the horrors this innocent prank has condemned them and their loved ones to. The evil entity won't stop until she gets their souls."
Directed by Patrick White, Queen of Spades stars Ava Preston, Daniel Kash, Kaelen Ohm, Eric Osborne, Jamie Bloch, Nabil Rajo, and Krista Marchand.
Along with the exclusive clip, we're also giving Daily Dead readers a chance to win a Queen of Spades prize pack! It includes a Blu-ray copy of the film, playing card, matches, a candle, and lipstick (all the essential items to summon the queen herself)! For a chance to win, follow @DailyDeadNews on Twitter and be on the lookout for our contest Tweet!
In Select Theaters June 11, On Demand June 15 + Blu-ray June 29