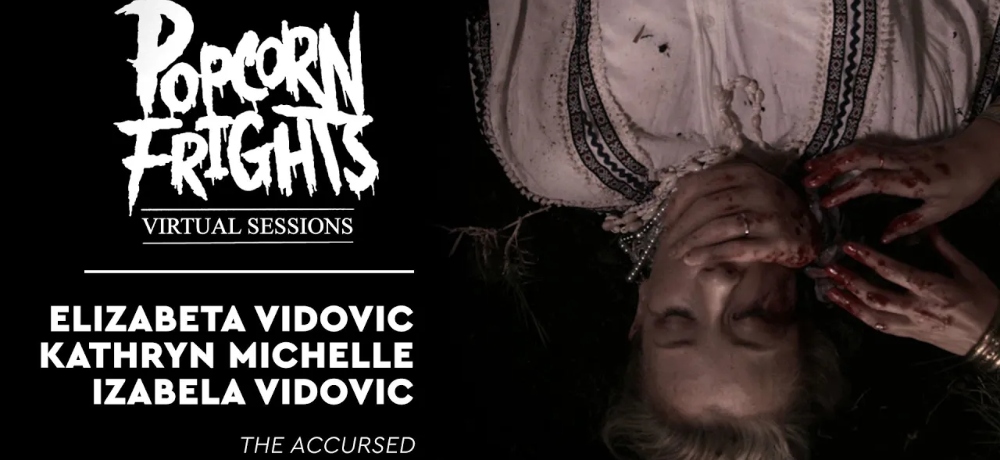 After being one of the jury members for the 2019 Popcorn Frights Film Festival and hosting a virtual conversation with the cast of Smiley Face Killers as part of the festival's 2020 virtual Wicked Weekend Halloween celebration, Daily Dead's Derek Anderson was honored to host a Q&A with the cast and crew of The Accursed, which had its world premiere as part of the virtual edition of the seventh annual Popcorn Frights, and the insightful discussion is now available online for all to enjoy!
Below (via the Popcorn Frights YouTube channel), you can watch Derek talk with The Accursed co-director/co-writer/producer Kathryn Michelle, co-director/co-writer/producer Elizabeta Vidovic, and actor/producer Izabela Vidovic about the making of their ambitious new horror film!
Be sure to visit Almost Normal Productions to keep up to date on The Accursed and their other exciting projects, and go to Popcorn Frights' official website for updates on next year's festival and other events!
The Accursed synopsis (via Almost Normal Productions): "Decades after a betrayal leads to a curse being placed on a family bloodline, a wedding reunites the estranged clan. When a dark force starts to pick them off one by one, the matriarch must protect the family."