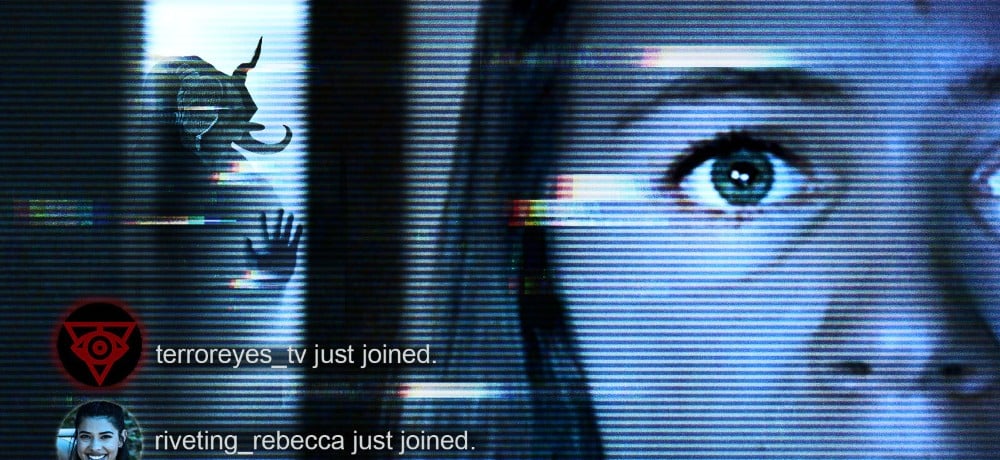 Three friends are forced to fight off sinister users of the dark web in Delaney Bishop's Terror Eyes, and ahead of the new horror film's June 8th release On Demand from Indican Pictures, we've been provided with the exclusive trailer (along with an exclusive clip) to share with Daily Dead readers!
You can check out the exclusive trailer and clip below, and to learn more about Terror Eyes, visit:
Synopsis: Lisa (Ayla Kell, "Make It Or Break It"), Danny (Riker Lynch, "Glee") and Rebecca (Lisseth Chavez, "DC's Legends of Tomorrow") embark on a celebratory road trip to the middle of the desert to attend a music festival. As their journey progresses, they begin to grow uneasy when they realize they're being followed. The trio soon discovers that they are the live subjects of a dark website called "Terror Eyes," an online platform that broadcasts horrifying events including robberies, violent attacks and murders. In order to escape the growing nightmare, the group must determine who is behind the terrorizing website before it's too late.

Written and directed by Delaney Bishop (Journey to Sundance) and produced by Felix Brenner (Kung Fu Man), Clive Jaye and Brad Carpenter (Leisure World), Terror Eyes also stars Jennifer Blanc-Biehn ("Dark Angel"), Robert Romanus (Fast Times at Ridgemont High) and Arlene Santana ("Grey's Anatomy").

On Demand Release

Street Date: June 8, 2021

Run Time: 80 Minutes

Rating: Not Rated

About Indican Pictures

Indican Pictures is a boutique entertainment label and film distributor. The company was founded in 2004 and has released over 300 films worldwide. In our history our company's films have won two (2) Independent Spirit Awards, three (3) FIPRESCI awards, five (5) PRISM awards, two (2) NAACP awards, one (1) ALMA award and 2 (two) HOT DOCS.  Indican is known for releasing challenging material like Boondock Saints (Norman Reedus), Tuvalu (a silent movie), Pure (Keira Knightley), Hybrid (Independent Spirit Award Winner), Only The Brave (internment of Japanese Americans), The Black List V. I-III and Girl Next Door among others. Indican Pictures acquires and distributes a diverse selection of feature films to a broad range of entertainment outlets including theatrical, home entertainment, television, airlines and streaming platforms.