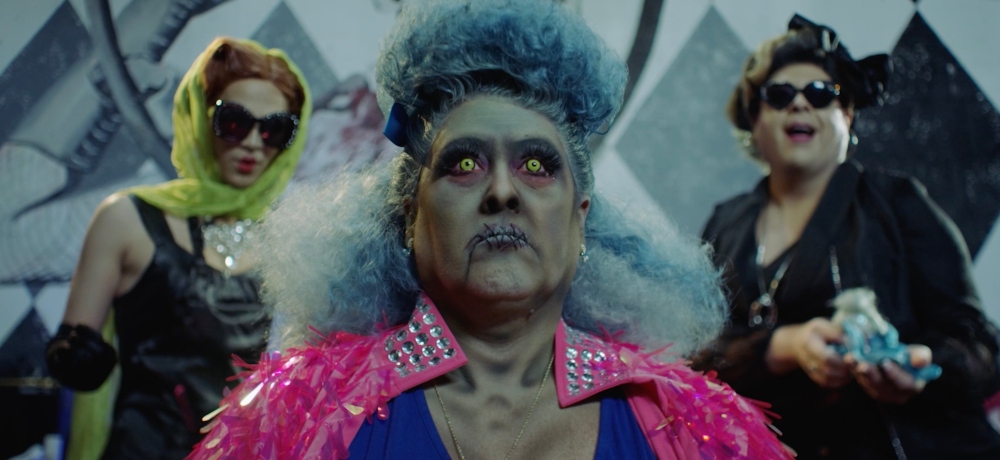 Ahead of its August 11th world premiere at the 2023 Popcorn Frights Film Festival, we have a look at the glamorously gory trailer for Big Easy Queens, the must-see new movie from director Erynn Dalton (The Gravedigger) and writer Robert Leleux!
You can watch Mob Queen of the Quarter Minnie Bouvèé navigate all manner of macabre mayhem and fabulous frights in the eerie underworld of New Orleans in the trailer for Big Easy Queens below!
Featuring a live music performance, the sold-out world premiere of Big Easy Queens will take place at the historic Savor Cinema in Fort Lauderdale on Friday, August 11th, followed by a Q&A with Erynn and cast members from the film! Due to popular demand, a special encore screening has been added for 1:00pm on Saturday, August 12th. Go here to purchase tickets!
In addition to Big Easy Queens, "The Lovers" segment of Erynn Dalton's new horror anthology film Kindling is being shown at this year's Popcorn Frights Film Festival on Friday, August 18th, with Erynn and star Anne Bobby in attendance (followed by a special screening of Clive Barker's Nightbreed)! To learn more, visit Popcorn Frights' official website!
Below, you can check out the trailer and additional details on Big Easy Queens. Be sure to read our previous coverage of this year's Popcorn Frights Film Festival, and you can purchase In-Theater All-Access Badges here and Virtual Passes here!
Press Release: LOS ANGELES, CA – A celebration of queer horror, BIG EASY QUEENS will make its world premiere at Popcorn Frights on August 11th. Full of zombies, gristle, and glitter, BIG EASY QUEENS is "a campy neo-giallo delight soaked in blood."

The horror-comedy feature includes all-new original music from its cast of local drag and cabaret artists Miss Bouvèé, Benjamin Shaevitz, Jennifer McClain, and Matthew Darren. Entirely made in Florida, BIG EASY QUEENS is directed by Erynn Dalton and written by Robert Leleux.

Deep in the steamy underworld of New Orleans, Mob Queen of the Quarter Minnie Bouvèé has arch-nemesis Poodles Makenzie's crew brutally slaughtered. As she braces for the blowback, she begins to notice an unexpected creepy masked figure stalking her, leaving behind bouquets of gardenias and terrifying notes. Is this Poodles' revenge, or the work of Minnie's estranged sister who stole her man years ago and has suddenly reappeared in her life?

BIG EASY QUEENS
POPCORN FRIGHTS SCREENINGS
8/11 [WORLD PREMIERE] - 8:30 pm
Savor Cinema Fort Lauderdale (503 SE 6th St, Fort Lauderdale, FL 33301)

8/12 [SPECIAL ENCORE SCREENING] - 1 pm
Savor Cinema Fort Lauderdale (503 SE 6th St, Fort Lauderdale, FL 33301)