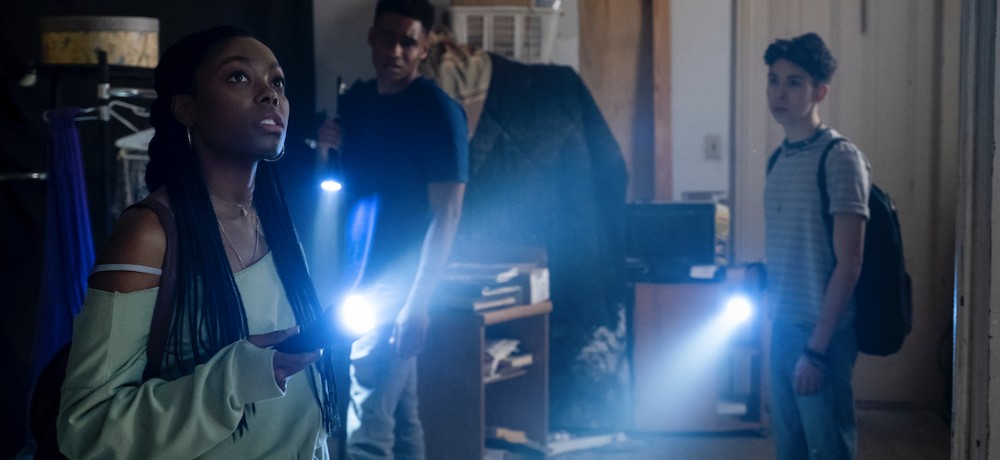 Welcome to the Blumhouse, the thrilling horror film series from Amazon Studios and Blumhouse Television makes its highly anticipated part two debut for the Halloween 2021 season.
In this four-part interview series, we interview the four directors of part two, who put the bloody in bloody good time. They share their passion for filmmaking, along with the gory details of creating horror cinema.
Black as Night, directed by Maritte Lee Go, follows the 15-year-old Shawna (Asjha Cooper), and her best friend Pedro (Fabrizio Guido), as they spend the summer together in New Orleans slaying vampires. The deeper they explore the secret underworld of the vampires of the Big Easy, Shawna also discovers an unlikely path of self-discovery and finds the inner strength to fight back against her biggest fears.
Maritte, who is an assistant director, producer, writer, and actor, makes her directorial feature horror film debut with Black as Night. She has previously directed the short films Illipino and Remittance. In horror, Maritte wrote and directed the "Vehophobia" segment of the 2021 horror anthology film Phobias.
What is your favorite vampire movie?
Maritte Lee Go: 30 Days of Night and Interview with a Vampire. I have watched both of those movies way too much.
Which films and filmmakers influence your directing style?
Maritte Lee Go: Darren Aronofsky and Alejandro Iñárritu. I love everything they do. I watch their movies over and over, like Requiem for a Dream and Black Swan. They're really grounded in movies that explore humanity, the pain of humanity, the obsession with perfection, and just being greater than then who you think you are or where you come from. And I really analyze their work a lot. I take a lot of inspiration from their movies.
What drew you to the script for Black as Night?
Maritte Lee Go: I was immediately drawn to it. I love horror films. I'd never seen a movie like this, with a black female lead. I'd never seen anything tonally like this either. Buffy the Vampire Slayer has a similar tone. The script was also very original.
So it kind of added that other layer, combining so many of my loves. I was able to explore, comedy, drama, horror, and put all these loves together in one script. It's a well-rounded, deep movie that is also super fun.
How did you become a director for part two of Welcome to the Blumhouse?
Maritte Lee Go: I was pitching another film to Amazon that I had been developing. And luckily, the execs really liked how I pitched. They didn't buy the project. But they really liked the way that I thought. So, I was able to pitch this movie. I had previously done another horror anthology, so I was already in the horror space.
When I read the script for Black as Night, fell in love with it, put together a pitch packet, and a pitch reel. I pitched my heart out, telling them my vision of how I saw the movie and they loved it.
What was your favorite scene to shoot?
Maritte Lee Go: My favorite scene to shoot is the death of the mother. We had to do this in several parts because, of course we can't just throw the actress out of a window. But we did throw a stunt woman out the window. We also got to light her on fire.
We had to film it in three different locations. It was the actual apartment, where we did that scene. Then, we had to build a separate stage to lite the stunt woman on fire. Finally, we went to another building that looks like the projects where she's jumping out of the window. It was just so exciting, so scary.
Lighting someone on fire is no joke. There was this thing that ignites so fast, and she's running around screaming in the process. We had to protect her hair and her skin. It takes a long time. So it was a very dangerous act.
And then, jumping out of the window of the building. It was on the fourth floor, and she landed in over 200 boxes. It's crazy because she really jumped out of a window and landed in boxes. It was awesome. It's a huge adrenaline rush. And I just love that it looks so good.
What was the most challenging scene to film?
Maritte Lee Go: The challenge was being stopped by COVID. Then, shooting through COVID. This is a small-budget film. We didn't get more days to shoot, it was just reduced hours, reduced crew. And then, we were into another season where lightning storms were happening. So with reduced hours, less crew, and trying to do a vampire movie where people can't touch or breathe on each other is very hard.
People are coughing in the movie. That's the most terrifying thing you can do nowadays is cough public. So, we had people covering their mouths and moving their shoulders like they're coughing, but they're not actually coughing. And for the bites, people had to just position their heads to make it look like they're biting. We had to digitally remove all of their masks.
We were shooting through storms. It rained for like three hours at the beginning of the day. So a lot of the scenes were done in one to two takes because there was really no time to get it done. We realized, "If we don't get this, then we won't be able to tell the rest of this scene, which will affect the story". There was a lot of trying to figure out how to do everything very fast. But, huge challenges, with such a huge payoff. I mean, what an opportunity and how lucky we are to be able to work through a pandemic.
What was it like to work with horror icon Keith David?
Maritte Lee Go: Keith's amazing. He's a very intimidating, powerful person in real life. He just has so much power. He has this booming voice that everybody stops to listen to. He's extremely knowledgeable and talented. I was able to hear his life story before he started shooting.
Keith really vibed with so much of his character in the movie. He could relate to it and understand why people could get a certain way. He's a very talented person. It was such an honor to work with him and I can't wait to work with him on another project.
If you were a character in Black as Night, how would you kill a vampire?
Maritte Lee Go: I would love to be a Japanese Samurai is with a giant sword. And I would just slice their head off and blood spraying everywhere. Kill Bill is on my mind right now. But that's such a badass way. 
What is your favorite Blumhouse horror film?
Maritte Lee Go: I've probably seen Insidious the most. The tension in Insidious is insane. So I watch every scene over and over, to figure out the sound design and the editing. There are other films where they hold tension in silence for so long, I'm yawning. But, for some reason, director James Wan is such a master of tension. He's brilliant.
Do you have any upcoming projects?
Maritte Lee Go: Yes, I'm taking a slight departure from horror on my next film, exploring genres. I'm set to direct a Miramax film. It's a musical. And I'm really, really, really excited for that. We've been prepping for the last few months and we're set to shoot next year.
Black as Night premieres on Amazon Prime on October 1, 2021.