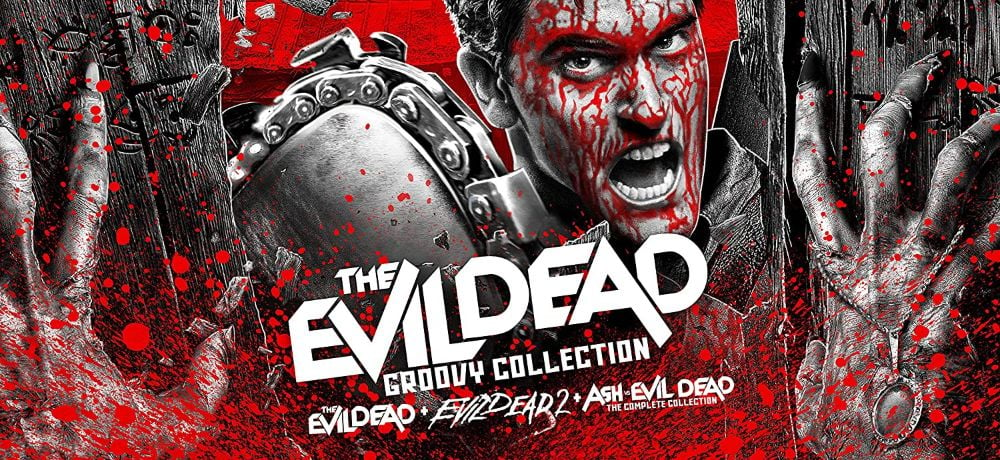 While it's true that we've had quite a few releases of the Evil Dead films over the years, this writer somehow never really got into collecting all those releases, so I think the last time I even bought the first two Evil Dead films on home media was sometime in the early 2010s (I'm a bad horror fan, yes). That's why I was pretty stoked to check out The Evil Dead Groovy Collection, which features both The Evil Dead and Evil Dead II, as well the entire run of the Ash vs Evil Dead series and a ton of special features, making this collection a terror-filled treasure trove of demon-fueled fun. The lack of Army of Darkness is a bit of a bummer, but I understand that its exclusion is due to rights, so I'm not really surprised that it didn't make its way into this set.
After all these years, I'm not sure what's really left to say about the first Evil Dead that hasn't already been said, but I think what surprised me about revisiting it for this 4K release is how Sam Raimi's game-changer felt so revitalized by this new presentation. As I mentioned before, it's been a while since I really sat down and watched The Evil Dead, and I was blown away by how even with this modern UHD polish, The Evil Dead lost none of its admirably rough edges that make it feel like a movie you discovered on some random Memorex VHS tape at a friend's sleepover and popped it in the VCR out of sheer curiosity (yes, that is how I first saw the original as a kid). I can't speak to the quality of the last few Blu-ray releases of The Evil Dead and how this 4K presentation compares to those editions, but I can say that this 4K iteration made me feel like I was watching the movie for the first time all over again (also, a lot of the muddiness I remember from some of the night scenes is no longer a factor here).
Evil Dead II is a slightly different story, as I have watched this one a bit more than its predecessor, as its far more outlandish vibes speak more directly to my own horror-loving sensibilities. That's not to say I don't appreciate the original Evil Dead or anything, but when I go back to this series, I tend to pop in ED2 or Army of Darkness more often than naught. What really struck me about this 4K version of Evil Dead II is how much Peter Deming's cinematography really shines in this presentation. Also, as someone who has always been a huge fan of the amped-up special effects in this sequel, they are another highlight of this 4K iteration, as the Rotten Apple Head looks so damn good and so does Henrietta's makeup. I know a lot of fans call Army of Darkness their favorite of the series (and it IS great), but I honestly think Evil Dead II features Campbell's best performance in the series, and it was fun to fall in love again with the character of Ash Williams with this latest revisit.
I think my favorite part of digging into this set was sitting down and rewatching all three seasons of Ash vs Evil Dead, as I haven't rewatched any of the episodes since they were last on the air, so it almost felt like I was rediscovering the series all over again. I know so many fans still remained bummed that we never got any more seasons after three seasons of Ash vs Evil Dead, especially considering where things leave off, but I think that, for me, going back and rewatching them all together in this collection made me fully appreciate just what a gift those three seasons truly were for horror fans, even when the storytelling dips a bit in season two. Truth be told, I don't really know how different the series looks here versus how it looked back when it was airing on Starz (it's much easier to see the differences in the classics more so than contemporary projects shot in HD, so I can't speak definitively here), but Ash vs Evil Dead does look great here all the same.
As far as all the special features go, as far as I can tell from doing some digging around, these featurettes and commentaries have been in previous releases, so if you're picking up The Evil Dead Groovy Collection for the special features, you may feel a little let down if you already own some of the other Blu-ray and DVD editions of the first two Evil Dead films. For me, as I haven't really sat down with any of the home media releases of these films in quite some time (and definitely not Ash vs Evil Dead), I felt like I was rediscovering all these nuggets of gold as I poured through this bevy of bonus content. The only thing I didn't get a chance to check out were the commentary tracks for both Evil Dead and Evil Dead II, as well as Ash vs Evil Dead (it's been a hectic month), and even though I'm not totally happy that Evil Dead's bonus features are included on DVD, that hardly dampened my enjoyment as a whole. Also, as someone who is a sucker for printed material, The Evil Dead Groovy Collection includes an amazing booklet chock-full of Deadite-themed goodness, and I gotta say that the artwork for the set as a whole is completely badass.
At this point, the biggest question you'll have to ask yourself is: Do I need to own another version of the Evil Dead movies? That's not a question I can answer on your behalf, unfortunately. But as someone who doesn't revisit this series nearly as much as I should, The Evil Dead Groovy Collection is a fantastic reminder of the staying power of those first two Evil Dead movies and how lucky we were to enjoy more misadventures with Ash Williams that also introduced us to a handful of other now-iconic characters to boot.
Movies/Series Scores:
Evil Dead - 4/5
Evil Dead II - 4.5/5
Ash vs Evil Dead - 3.5/5
Disc(s) Score: 4/5
​​Horror fans, return to that iconic cabin in the woods, then travel decades beyond it, with this Evil Dead Groovy Collection. Wisecracking ladies' man Ash Williams (Bruce Campbell) is reborn as a slayer of Deadites in The Evil Dead (4K + Blu-ray™) after a vacation in the country is ruined by the reading of an ancient demon-summoning text. In Evil Dead II (4K + Blu-ray™), a chainsaw-armed Ash is pushed to the brink of madness by unhinged evil yet again, while "Ash vs Evil Dead" (Blu-ray™) follows an older, grayer Ash over three wild seasons as he reckons with his bloody past in the face of a Deadite plague.

THE EVIL DEAD 4K ULTRA HD + BLU-RAY SPECIAL FEATURES

Audio Commentary with Writer-Director Sam Raimi, Producer Robert G. Tapert, and Star Bruce Campbell

THE EVIL DEAD DVD SPECIAL FEATURES:

One by One We Will Take You: The Untold Saga of The Evil Dead

The Evil Dead: Treasures from the Cutting Room Floor

Life After Dead: The Ladies of The Evil Dead

The Ladies of The Evil Dead Meet Bruce Campbell

Discovering The Evil Dead

EVIL DEAD II 4K ULTRA HD + BLU-RAY SPECIAL FEATURES:

Bloody and Groovy, Baby! — Tribute to Sam Raimi's Evil Dead II

Audio Commentary with Writer-Director Sam Raimi, Actor Bruce Campbell, Cowriter Scott Spiegel, and Special Makeup Effects Artist Greg Nicotero

Blu-ray™ Special Features:

Swallowed Souls: The Making of Evil Dead II

Cabin Fever: Behind the Scenes of Evil Dead II

Road to Wadesboro: Revisiting the Shooting Location with Filmmaker Tony Elwood

Evil Dead II: Behind the Screams

"ASH VS EVIL DEAD" THE COMPLETE COLLECTION: BLU-RAY SPECIAL FEATURES BY SEASON

Season 1:

Season 2: 

Inside the World of "Ash vs Evil Dead"

Season 3:

Inside the World of "Ash vs Evil Dead"