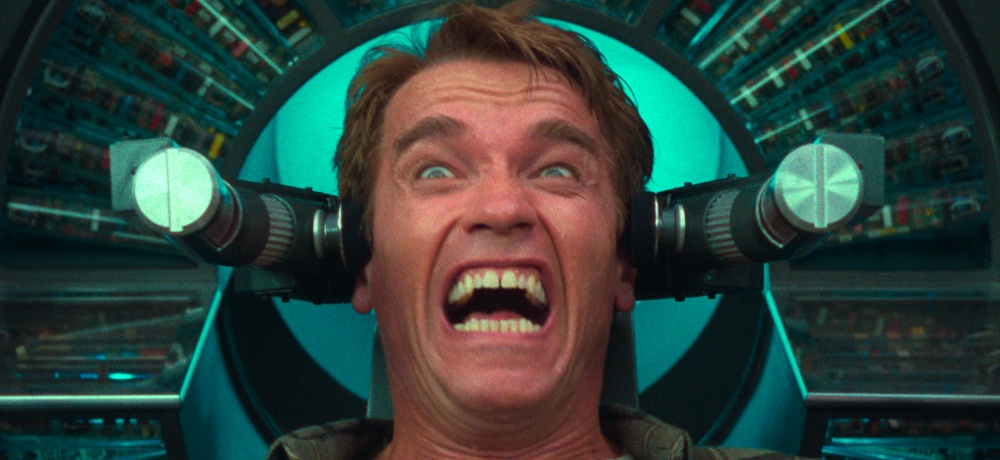 As I dug into the brand new 4K release of Paul Verhoeven's Total Recall, it struck me that it had been nearly 15 years since I last sat down and watched it. And once it was over, I realized just how much of a mistake that was, because Total Recall is still a brutally fun and somewhat trippy experience that definitely ushered in a new era of heady sci-fi action films throughout the 1990s and also proved that, heading into a new decade, Arnold Schwarzenegger was still the tops when it came to headlining ambitious cinematic projects that went against the grain (my ideal "out-of-the-box" Arnie sci-fi trifecta is The Running Man, Predator, and Total Recall).
If you're reading this, chances are you probably have a good idea of what Total Recall is all about, so I'll keep this overview brief. Based on the Philip K. Dick short story "We Can Remember It For You Wholesale," Total Recall transports us to the year 2084 as we follow a construction worker named Douglas Quaid (Schwarzenegger) who is plagued by dreams about visiting Mars and a mysterious woman there. That doesn't sit well with Douglas' wife, Lori (Sharon Stone), who is doing her best to keep his feet—and dreams—planted firmly on Earth. But Doug is still driven by his desire to travel to Mars, wife be damned, and he decides to visit a company called Rekall that implants false memories into its clients so they can live out their wildest fantasies without ever having to go too far. Doug signs up for a vacation package to Mars as a secret agent, but things go horribly awry when Rekall begins the memory implantation procedure and it ends up triggering Doug's suppressed identity, and from there, chaos and espionage ensue as the construction worker realizes that his dreams have a much deeper and more reality-based meaning than he suspected.
There's a whole lot more going on in Total Recall, too—we have a nefarious political agenda from the power-hungry leader of Mars, Cohaagen (Ronny Cox), dual Schwarzeneggers, an unintentionally scorned lover in the form of Melina (Rachel Ticotin), the woman of Doug's dreams who happens to be very real, plus a mutant rebellion on Mars led by a mysterious entity known only as "Kuato," a very angry henchman named Richter (Michael Ironside), who is torn between his sense of duty and his seething anger over his wife (Stone) being used as the stand-in for Doug Quaid's sham marriage, and so much more.
But that's what is so great about Total Recall—it's a film filled with a ton of ideas and storylines, and yet it all seems to work out in the end. It never feels like Verhoeven is shoehorning anything in there during the film's nearly two-hour running time either, and I'm really grateful to have had this opportunity to rewatch Total Recall because it's pretty damn badass, and it's very clear to me upon reflection that there is an entire era of sci-fi action films that certainly owes a lot to what Verhoeven is able to achieve here.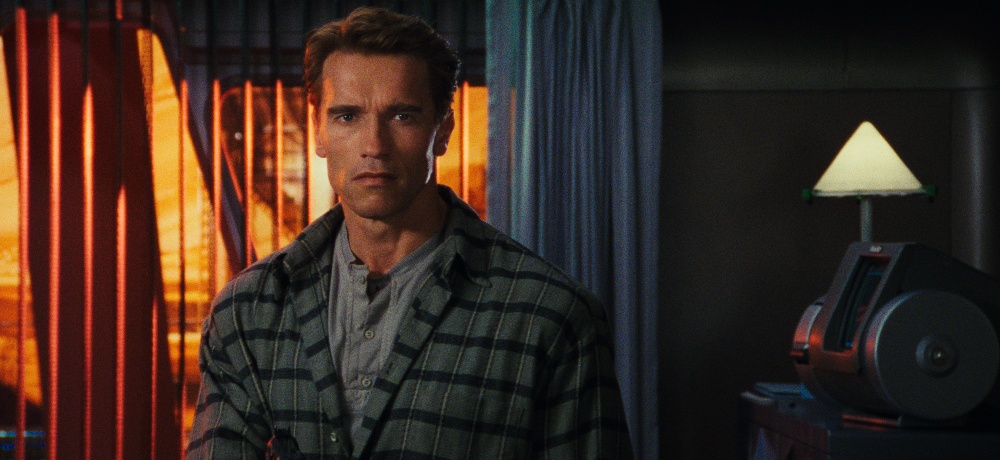 Another reason that Total Recall is such a standout is because it's a film made by artists who were at the top of their game at every level.  Sure, there's no one who made/makes movies quite like Verhoeven, but just look at the other talent assembled on the film: the writing trio of Ron Shusett (Alien, Aliens), Dan O'Bannon (Alien, Aliens, The Return of the Living Dead), and Jon Povill (Sliders, Star Trek: The Motion Picture), cinematographer Jost Vacano (Das Boot, The NeverEnding Story, RoboCop), the legendary composer Jerry Goldsmith, the incomparable special makeup effects master Rob Bottin, who broke new ground once again here, production designer William Sandell, plus miniature effects from Mark Stetson's company SVSI, and both Dream Quest Images and Metrolight Studios handled the film's CGI effects. That's a murderers' row of talent assembled all in one place, and there's no denying that everyone on this team was able to bring their own respective magic to the big screen to create something very entertaining and singular in Total Recall.
As far as the 4K presentation that coincides with the film's 30th anniversary this year, Total Recall is shockingly gorgeous in this release. To be fair, I don't really have a good comparison to make because the last time I watched it was on the Special Edition DVD that came out in the mid-2000s. But I can emphatically say that this release does look so much better than that DVD did, and honestly, this might be the best the film has looked ever since it was first released in 1990. Verhoeven's crimson-soaked palette in Total Recall has always been a feast for the eyes, but here the film feels almost reborn in a way. The imagery is crisp and vibrant, and the sound mix is immersive and soul-stirring, with Goldsmith's innovative score really hitting me hard for some reason this time around.
For this new release, we get a handful of new special features, and a few carryovers as well, and honestly, I enjoyed them all immensely (there's something about old-school promo featurettes that just really get me hyped about the process of moviemaking). In terms of the new supplemental materials, my favorite of the bunch was "Total Excess: How Carolco Changed Hollywood," which dug into the history of Carolco Pictures, and gave us a peek into how Andrew Vajna and Mario Kassar challenged the studio system for decades. Truth be told, I'd always enjoyed seeing the Carolco card at the start of any movie, but I never realized how important the First Blood films were to the indie shingle's success and how director-friendly both Kassar and Vajna were, which may have been to their own detriment on some projects. But "Total Excess" is an insightful mini-doc that's extremely fascinating and really well-told, and I found it to be endlessly fascinating.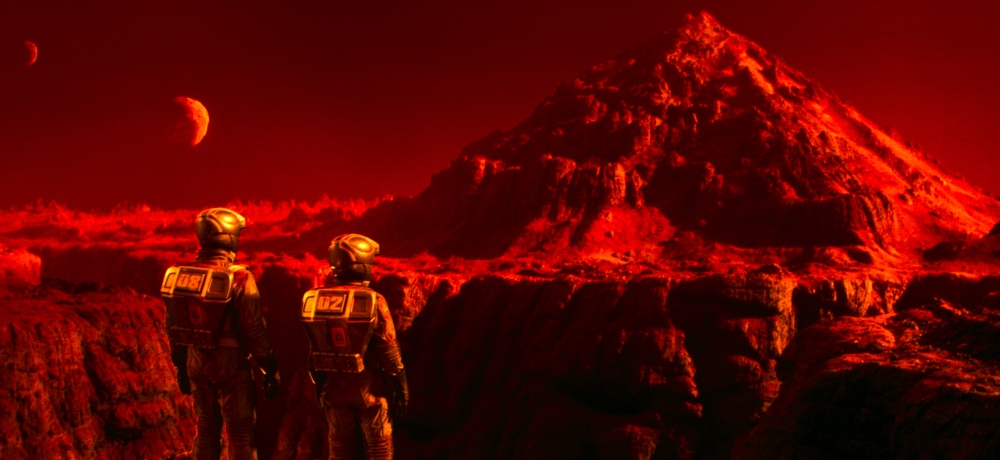 Another newly commissioned featurette is "Open Your Mind: Scoring Total Recall," which focuses on Jerry Goldsmith's incredibly memorable score for the film, as told by music historians and vintage video clips. My biggest takeaway from this mini-doc was how differently that final piece of music Goldsmith created during the film's climatic finale was originally conceived to be, and ultimately how it was integrated into those final moments ended up being very different. I think anyone who is a fan of Goldsmith's (and who isn't???) will enjoy this one immensely. Also, it made me realize that when I first saw Total Recall, it was at the drive-in as a double feature with Gremlins 2: The New Batch, so I ended up inadvertently getting a double dose of Goldsmith that night.
The "Dreamers Within the Dream: Developing Total Recall" featurette feels like the shortest of the new batch of supplemental material, but it's still an informative look back at what went into the making of Total Recall, as told by Ron Miller, the film's concept designer. We rarely get to hear from concept designers in these types of materials, so I was pretty stoked for this featurette, and him discussing his process for Total Recall may go by rather quickly, but I would recommend it to any fellow film geeks out there.
As mentioned, we also get some carryover featurettes included with this release of Total Recall, including "The Making of Total Recall," "Total Recall: The Special Effects," and "Imagining Total Recall," as well as a commentary track featuring both Verhoeven and Schwarzenegger. This might be a bit of "recycling," but honestly, I don't even remember taking the time to watch these on the Artisan DVD release all those years ago (because I'm an idiot, apparently) and their inclusion here hit me right in my nostalgia feels. Also, the "Making of" doc features a rare interview with Rob Bottin and goes into his effects process for Total Recall, and that alone was a thrill for me as someone who still desperately wants to speak with the legend one day.
While I may not exactly be something of a format snob (I appreciate the advent of 4K UHD releases, but it's not like I necessarily "need" every film in that format), I will say that this 30th Anniversary Edition of Total Recall is a must-own for any fans out there who are looking for the definitive release of this classic slice of sci-fi action (I never saw the Blu from a few years back, but I'm guessing this brand new 4K restoration from the original 35mm, which was overseen by Verhoeven himself, has to be miles better). It's a gorgeous edition of a film that is truly worthy of such grandiose attention, and if it's been a while since you decided to get your ass to Mars via Total Recall, this is definitely the best way to do it.
Movie Score: 4.5/5, Disc Score: 5/5