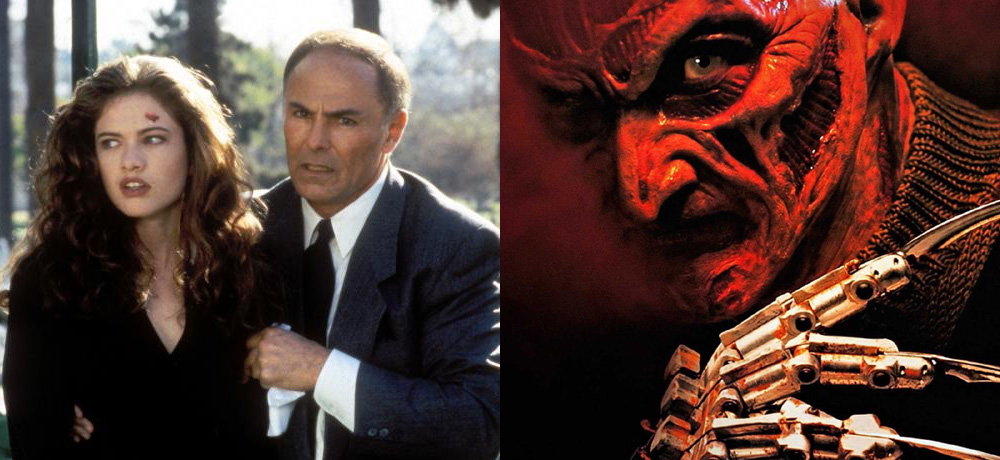 This past weekend, the world got a little less entertaining with the passing of veteran actor John Saxon, whose career spanned over an impressive seven decades. A truly singular onscreen presence, Saxon was teen idol turned character actor with a penchant for playing authority figures throughout his diverse career.
If you look at Saxon's Hollywood résumé, John's contributions to both the cinema and small screen entertainment are endless, with roles in timeless classics like The Plunderers, Posse from Hell, Summer Love, The Appaloosa, Death of a Gunfighter, Gunsmoke, Fantasy Island, The Big Score, Fast Company (which was directed by an up-and-coming David Cronenberg), Falcon Crest, Running Scared (1980), Beverly Hills Cop III, Dynasty, Melrose Place (playing Daphne Zuniga's lawyer for multiple episodes), and of course, Enter the Dragon, opposite Bruce Lee.
In terms of his genre output, the variety of films that Saxon was a part of is equally impressive, as he collaborated with a multitude of talents like Mario Bava, Dario Argento, Curtis Harrington, Bob Clark, Alfredo Zacarías, Sergio Martino, Herb Freed, Roger Corman, Chuck Russell, Umberto Lenzi, and Robert Rodriguez on a variety of horror and sci-fi films, including Tenebrae, Black Christmas, Queen of Blood, Beyond Evil, Battle Beyond the Stars, The Scorpion with Two Tails, My Mom's a Werewolf, From Dusk Till Dawn, Blood Beast of Outer Space, Aftershock, The Arrival, The Bees, and more. Saxon even appeared in episodes of various genre TV shows, too, including Masters of Horror, Monsters, Alfred Hitchcock Presents, and Night Gallery.
To most horror fans, John's most notable working relationship in the world of horror came from a pair of projects he did with Master of Horror Wes Craven: the original A Nightmare on Elm Street and the seventh entry in the series, Wes Craven's New Nightmare (and he was, of course, a part of the ensemble in A Nightmare on Elm Street 3: Dream Warriors). His performance as Lt. Donald Thompson in the OG Nightmare is a truly iconic one, as the no-nonsense man of the law who is faced with the impossible by way of a supernatural killer who has targeted his daughter Nancy (played by Heather Langenkamp) and her friends.
For that first film, Donald's belief in the reemergence of Freddy Krueger happens very late in the game, but he's there when Nancy really needs him at the end, which was nice to see, considering her mother has just been killed by Krueger. What's interesting, though, is that throughout most of the first Nightmare, there's definitely a sense of distance between Lt. Thompson and his daughter, reflective of his diminished role in Nancy's life post-divorce, which is why I don't feel like I ever emotionally connected with his character in that film over the years.
Then, in Dream Warriors, we're initially reunited with a clearly down-on-his-luck Donald, who now works as a security guard. He's eventually asked to "hero up" during Nightmare 3's third act, and we see him valiantly sacrifice himself so that Krueger can be stopped and finally laid to rest (well, that is, as far this third film was concerned).
And again, while I have always enjoyed seeing him in Dream Warriors, I do wish we would have had more of Donald Thompson in the sequel, as you can never get too much of a good thing, especially when it comes to a John Saxon performance. I will say that I definitely now have a deeper appreciation for the fact that Nightmare 3 gives us an opportunity to bid his character a fond farewell in an emotionally satisfying way, and the "I've crossed over, Princess" will now probably wreck me for decades to come now that John is no longer with us.
So, while I've always enjoyed, respected, and revered Saxon's work in those other two Nightmare movies, for me personally, I've always thought that it was in New Nightmare where Craven gave the veteran actor the greatest opportunity to shine in the series, where John proved in the sequel that he was truly one of the most incomparable onscreen talents of his time (or any time, really). I think what I love most about New Nightmare is that we get to watch some of our favorite actors playing iterations of themselves, which makes those performances that much more effective, and so watching Saxon show his softer side in the movie gave me a much deeper sense of admiration for him as both an actor and as a human being (I did get to see him appear at Flashback Weekend in 2007, and he was a genuinely warm and charming presence throughout the entire convention).
The scene where he and Heather Langenkamp are talking in the park as her son Dylan (played by Miko Hughes) tries to "reach God" is truly one of the biggest highlights of New Nightmare to me, as it never really reads as a scene in a movie, but just a conversation shared between two longtime friends. There's a palpable affection between Langenkamp and Saxon in that scene, and I also don't think it's a coincidence that it's John who comes to Heather's rescue during the funeral earthquake, either. Those little tidbits of tenderness feel wholly authentic, and I feel like in many ways, New Nightmare was Wes' way of allowing us fans to fall in love with these actors as human beings, not just the characters that we know and love.
One of my other favorite character moments in New Nightmare also involves Saxon. It's when Heather frantically makes her way home after chasing her son across a highway, and it's John who greets her at her home. She exasperatedly tries to explain that a new version of Freddy Krueger is trying to kill her and Dylan, and Saxon does this beautifully understated "switch" where, without missing a beat, he's Donald Thompson once again, and it's such a subtle moment that every single time I rewatch the film, I'm left in awe of just how brilliantly it all comes together in that moment, and the catalyst for it all is John Saxon's uncanny ability to slip right into the role of Nancy's father in the most minimalist way, and it's just absolutely pitch-perfect.
The reality is that no matter what I write here, it's never going to live up to the legacy that John Saxon has left behind. With more than 200 credits to his name and an impressive career that extended from the 1950s through the 2010s, John made every film and television project he was a part of that much more entertaining, and I'm so grateful that in New Nightmare Craven allowed us fans the opportunity to connect with Saxon in a fashion that was extremely unique and very endearing to boot. Also, I think it's worth noting that somewhere in the midst of keeping extremely busy as an actor, Saxon also somehow found the time to direct the moderately budgeted Death House in the late 1980s as well, proving that he may have conquered every genre out there, but the world of horror was his home.