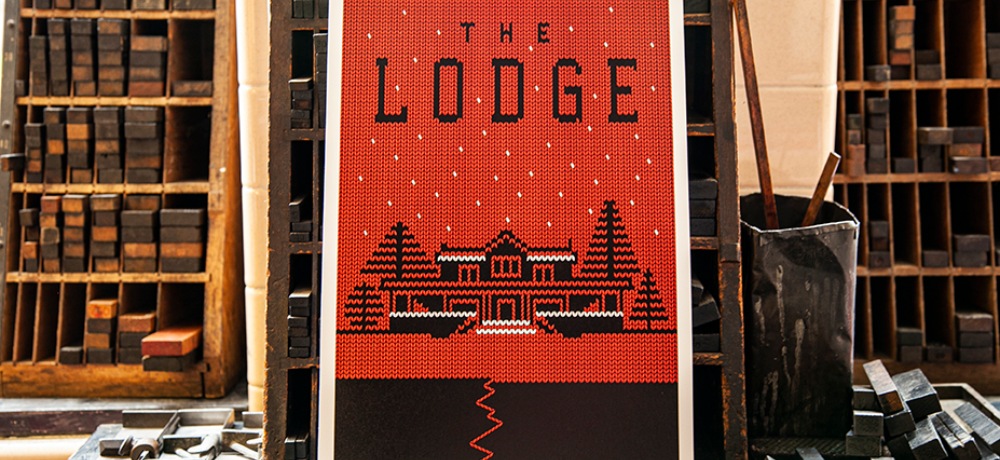 Following its buzzed-about festival run, The Lodge (the latest movie from Goodnight Mommy filmmakers Severin Fiala and Veronika Franz) is coming to cinemas this week, and Alamo Drafthouse is celebrating the movie's release in style by unveiling the first poster in their new limited edition letterpress series.
Featuring artwork by Alan Hynes, The Lodge limited edition posters come from an 83-year-old letterpress and will be available at Alamo Drafthouse cinemas screening The Lodge.
For additional details and the full list of participating theaters, read the official press release below, and in case you missed it, read Heather Wixson's interview with The Lodge co-stars Jaeden Martell and Lia McHugh.
Press Release: New York, NY --- February 4, 2020 --- Alamo Drafthouse Cinema has begun production of a monthly series of limited edition posters for upcoming new releases and repertory screenings, all hand-printed on an 83-year-old letterpress. The first poster in the series was designed by Alan Hynes for THE LODGE, the Sundance 2019 breakout set for release this February from NEON. Directed by Severin Fiala and Veronika Franz, THE LODGE is a psychological horror masterpiece that stars Riley Keough, Alicia Silverstone, and Richard Armitage.

Audiences' first chance to see THE LODGE will be this Tuesday, February 4th, at an exclusive sneak preview beamed to 25 Alamo Drafthouse locations. These screenings will be followed by a Q&A broadcast live from Alamo Drafthouse Brooklyn featuring directors Veronika Franz and Severin Fiala, along with actor Jaeden Martell. Tickets are still available at drafthouse.com/show/livestream-q-a-the-lodge.

"Severin Fiala and Veronika Franz stunning feature provided the perfect muse for Alan Hyne's imagination to run wild," says Alamo Drafthouse CEO and founder Tim League. "We look forward to continuing the long-tradition tradition of hand-printed letterpress event posters in this monthly series."

Last September, Alamo Drafthouse unveiled plans for The Press Room: a museum, letterpress print shop, bar, and event space that's set to open this summer alongside Alamo Drafthouse Lower Manhattan, with a second location in Orlando slated for the end of 2020. Since then, a functioning letterpress print shop has been constructed inside Alamo Drafthouse's headquarters in Austin. The shop is currently printing from and inventorying over 60,000 vintage advertisement plates set to adorn the walls of The Press Room.

The hand-printed, hand-numbered limited edition posters will be exclusively available at Alamo Drafthouse box office locations set to screen THE LODGE.

THE LODGE Locations and Dates
2/7 | Alamo Drafthouse Brooklyn
2/7 | Alamo Drafthouse Los Angeles
2/14 | Alamo Drafthouse Austin - South Lamar
2/14 | Alamo Drafthouse Austin - Lakeline
2/14 | Alamo Drafthouse San Francisco
2/14 | Alamo Drafthouse Denver - Sloans
2/14 | Alamo Drafthouse Denver - Westminster
2/21 | Alamo Drafthouse Raleigh
2/21 | Alamo Drafthouse San Antonio - Park North
2/21 | Alamo Drafthouse San Antonio - Westlakes
2/21 | Alamo Drafthouse New Braunfels
2/21 | Alamo Drafthouse Katy
2/21 | Alamo Drafthouse Lubbock
2/21 | Alamo Drafthouse El Paso
2/21 | Alamo Drafthouse Kansas City
2/21 | Alamo Drafthouse Springfield
2/21 | Alamo Drafthouse Tempe
2/21 Alamo Drafthouse Gilbert

The next poster in the series will be AGFA's 35MM HORROR TRAILER SHOW, which will take place on March 5th – 3/5 – or Reel Film Day, an industry celebration of celluloid culture. The poster will be printed from over 150 vintage letterpress movie ad plates out of The Press Room archive, with a portion of proceeds benefiting the mission of the American Genre Film Archive, a 501(c)(3) organization dedicated to preserving genre film history.

For tickets to THE LODGE: https://drafthouse.com/show/the-lodge

Alamo Drafthouse links
Facebook facebook.com/AlamoDrafthouse
Twitter twitter.com/alamodrafthouse
YouTube youtube.com/alamodrafthouse
Instagram instagram.com/drafthouse
Website drafthouse.com

About Alamo Drafthouse
Alamo Drafthouse Cinema was founded in 1997 as a single-screen mom and pop repertory theater in Austin, TX. Twenty-one years later, with 40 locations and counting, Alamo Drafthouse has been called "the best theater in America" by Entertainment Weekly and "the best theater in the world" by Wired. Alamo Drafthouse has built a reputation as a movie lover's oasis not only by combining food and drink service with the movie-going experience, but also introducing unique programming and high-profile, star-studded special events. Alamo Drafthouse created Fantastic Fest, a world renowned film festival dubbed "The Geek Telluride" by Variety. Fantastic Fest showcases eight days of genre cinema from independents, international filmmakers and major Hollywood studios. Alamo Drafthouse's collectible art gallery, Mondo, offers breathtaking, original products featuring designs from world-famous artists based on licenses for popular TV and Movie properties including Star Wars, Star Trek & Universal Monsters. Alamo Drafthouse continues to expand its brand in new and exciting ways, including Birth.Movies.Death., an entertainment content platform for movie lovers, and the American Genre Film Archive, a non-profit film archive dedicated to preserving, restoring and sharing film.