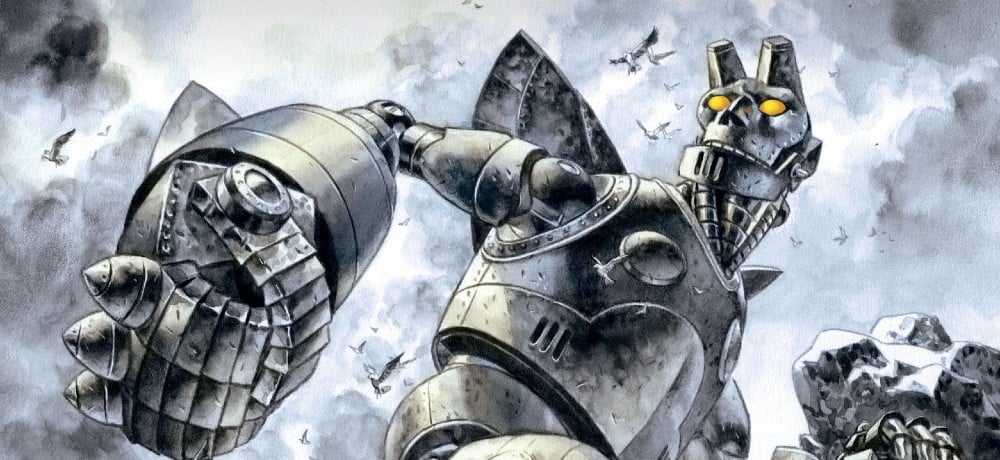 Having read the first issue of Giant Robot Hellboy, I can confidently say that Mike Mignola and Duncan Fegredo have, once again, created something truly special and I'm so excited for Daily Dead readers to check it out for themselves when it's released by Dark Horse Comics on October 25th. However, you don't have to wait until next week, as we have preview pages and details from Duncan Fegredo on the creative process in our Q&A:
You and Mike Mignola have worked together on some of Hellboy's best stories. How did your collaboration on Giant Robot Hellboy come about? 
Duncan Fegredo: Giant Robot Hellboy was one of those ideas Mike has had prowling around his mind since he drew that fateful sketch during the pandemic. You remember all those amazing sketches I'm sure, they were collected as The Quarantine Sketchbook. I loved that Giant Robot Hellboy sketch from the moment it appeared, it made me giggle during a time there wasn't much to laugh about. Well, it made Mike giggle enough to bring it up when we were discussing the possibility of a new collaboration. It was just going to be a short story originally, but laughter is infectious and it grew from there. In fact it is still growing.
With Giant Robot Hellboy an homage to kaiju classics, are you a fan of Japanese monster movies and do you have a favorite kaiju film or anything you watched as reference when getting ready to work on Giant Robot Hellboy?
Duncan Fegredo: Honestly, I never really watched those movies, though I loved the look and scale of those creatures. It's not quite the same but I think the first time I was aware of anything like that as a kid was Talos in Jason and The Argonauts, that huge animated statue blew my mind. I remember learning about stop motion animation, matte paintings, creature work and special effects from Starlog and Fangoria magazines, anything that included a sense of the fantastic was fine by me, I wanted to know about it even if I never got around to seeing the movies! So although I wasn't overly familiar with the genre I understood the appeal of putting Hellboy in that situation.
The first issue does a great job of dropping you right into the action. I also especially loved the sense of massive scale your artwork brought to the first issue. Can you talk about your creative process with Mike Mignola and your approach to bringing the script to life?
Duncan Fegredo: I'm so pleased you felt that sense of scale, it was tricky as it wasn't set in a cityscape where you have more obvious reference points. I should thank Mike for that, drawing thousands of tiny broken buildings and cars sounds like my idea of hell! As for process, it had been a while since I had drawn a comic so I drew thumbnails for all three issues to get a real feel for the story. They were pretty detailed, I designed characters and locations as I went. Every few pages I would send photos of these designs and pages to Mike and he'd give me feedback and let me know if I was veering off course. I remember he suggested a design for a couple of robots early on, nothing like what I would have done, it was a lot of fun imagining the way they would move. As I reached the end of the thumbnails for the first script he'd be writing the next so I could jump straight on to it. It was a lot of work doing it for all three issues, and whilst I did rejig stuff as I penciled the actual pages it was a great blueprint for the whole story, I could see where I needed to give more emphasis or adjust the sense of pacing.
For a lot of our readers "Giant Robot Hellboy" is enough to get their attention, but could you give us a little tease of what's to come and something you're especially excited about?
Duncan Fegredo: Do your readers like rocks? I drew a lot of rocks, real big ones, but they look rather smaller with the big metal guy stomping through them. If that isn't enough then consider that our outsized protagonist is bound to run into various and equally large antagonists, they come in several flavors and they pack a punch. Mysteries to solve, disasters to avert, business as usual for Hellboy but at an unusual magnitude. What am I especially excited about? Right now that would be looking forward to seeing Dave Stewart's color for the third issue, because he really made the first two sing, I know he'll bring the house down with the third.
Aside from Giant Robot Hellboy, is there a recent or upcoming project you'd like to share with our readers?
Duncan Fegredo: I just painted a variant cover for Jeff Lemire's Fishflies, that came out pretty nice. There's an in progress illustration for Rian Hughes's new novel on my desk, and I'm breaking down the follow up to Giant Robot Hellboy!
---
GIANT ROBOT HELLBOY #1: "Hellboy is kidnapped and hooked up to a massive mecha-Hellboy for a mission on a mysterious, faraway island, but the island might just put up a fight of its own.
Inspired by Mignola's viral-hit pencil drawings from Mike Mignola: The Quarantine Sketchbook, Giant Robot Hellboy gets his own story in this 3-part miniseries from Mignola and longtime Hellboy artist Duncan Fegredo!"
Writer: Mike Mignola
Artist: Duncan Fegredo
Colorist: Dave Stewart
Letterer: Clem Robins
Cover Artist: Duncan Fegredo
Publication Date: October 25, 2023
Format: FC, 32 pages; Miniseries
Price: $3.99