Hello again, dear readers. Right now, we're living in unprecedented times, and it's nice that, if nothing else, we still have entertainment to help us through all of this. Most of us are preparing for another month of self-isolation and thankfully we have a ton of horror and sci-fi titles hitting various VOD and Digital platforms throughout the month of April. Also, I decided to feature some special streaming events here as well, beyond the regular digital releases we usually get, as I thought it might be helpful to have as many distractions as we could possibly get over the next few weeks or so.
Later today, the Salem Horror Fest is hosting a virtual premiere for Mass Hysteria over on Facebook Live and the very next day, Shudder's new series, Cursed Films, kicks off with their first episode on The Exorcist. The next installment of Blumhouse's Into the Dark series, Pooka Lives!, hits Hulu on the 3rd, and if you happened to miss it in theaters, Brahms: The Boy II comes home the same day, too.
Shout! TV is hosting a massive two-day streaming celebration in honor of Roger Corman's 94th birthday beginning on April 4th, and April 7th is looking to be a very busy day for digital releases, with Gretel & Hansel, Dead by Dawn, She's Allergic to Cats, and Rotwood all hitting various platforms.
April 10th will play host to a trio of terror films—Sea Fever, We Summon the Darkness, and Into the Trap—and just a few days later, Underwater, one of my favorite films of 2020, arrives on digital as well. The month wraps up with Why Don't You Just Die! on the 20th, Party Hard, Die Young on the 21st, 1BR on the 24th and The Dark Red on April 28th. Oh, and Joe Bob and Darcy are coming back for season two of The Last Drive In on Shudder, beginning on the 24th, too.
Mass Hysteria (Salem Horror Fest) – Virtual Premiere on Facebook Live April 1st
Directed by Ariel Cimino and Jeff Ryan, MASS HYSTERIA tells the story of a group of Salem Witch Trial re-enactors who find themselves the target of a modern day witch hunt. The independent production was set and filmed entirely in Salem, Massachusetts.
Cursed Films (Shudder) – Streaming Exclusively on Shudder Beginning April 2nd
Cursed Films is a five-part documentary series from writer/director Jay Cheel (How to Build a Time Machine) exploring the myths and legends behind some of Hollywood's notoriously "cursed" horror film productions. From plane accidents and bombings during the making of The Omen, to the rumored use of real human skeletons on the set of Poltergeist, these stories are legendary … but what's real and what's myth?  
Cursed Films recounts the horrifying events that haunted these productions through interviews with experts, witnesses and the cast, directors and producers who lived through them, including Richard Donner, Linda Blair, Michael Berryman, Lloyd Kaufman, Kane Hodder, Gary Sherman, Eileen Dietz, Mitch Horowitz. Were these films really cursed, as many believe, or just the victims of bad luck and bizarre circumstances? A Shudder Original Series. Also available on Shudder Canada and Shudder UK. 
Brahms: The Boy II (STXFilms/Lakeshore Entertainment) – April 3rd
In BRAHMS: THE BOY II, unaware of the terrifying history of Heelshire Mansion, a young family moves into a guest house on the estate where their young son soon makes an unsettling new friend, an eerily life-like doll he calls Brahms.
Into the Dark: Pooka Lives! (Blumhouse) – Exclusively on Hulu April 3rd
A group of thirty-something friends from high-school create their own Creepypasta about Pooka for laughs, but are shocked when it becomes so viral on the Internet that it actually manifests more murderous versions of the creature. 
The Other Lamb (IFC Midnight) – April 3rd
For her entire life, the cult she was born into has been all that teenage Selah (Raffey Cassidy) has known. Along with a band of similarly cloistered young women she lives seemingly unstuck in time, cut off from modern society in a remote forest commune presided over by a man called Shepherd (Michiel Huisman), a controlling, messiah-like figure with a frightening dark side. But when her insular world is rocked by a series of nightmarish visions and disturbing revelations, Selah begins to question everything about her existence—including her allegiance to the increasingly dangerous Shepherd. Awash in images of primal, dreamlike dread, this provocative fable is a haunting vision of adolescent awakening and revolt.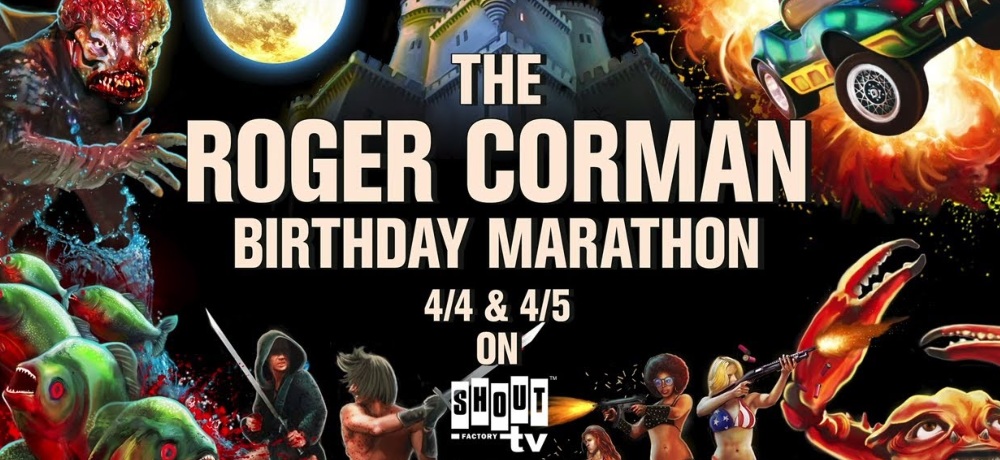 Roger Corman's Birthday Marathon (Exclusively Streaming on Shout! TV) – April 4th and 5th
Shout! Factory TV celebrates cult film icon Roger Corman's 94th birthday with a weekend-long marathon livestream April 4 and 5. The marathon will present notable Corman films such as The Wasp Woman, Attack of the Crab Monsters, Chopping Mall, Crazy Mama and many more, alongside every episode of the Shout! Factory TV original docuseries Cult-Tastic: Tales from the Trenches with Roger and Julie Corman. The 13-part series about the life and work of Roger and Julie Corman provides viewers an extraordinary look inside the Cormans' cinematic universe and features extensive in-depth interviews.
In Cult-Tastic, the Cormans draw upon their vast filmography and footage from over 130 films spanning seven decades. Within each episode, the legendary filmmakers share insightful stories and defining moments from their movies, recall talent and young filmmakers they fostered, as well as provide behind-the-scenes perspectives on how they produced some of the smallest budget films that went on to achieve box-office gold. 
Roger Corman's birthday marathon begins Saturday, April 4 at 12 a.m. PT and continues through the weekend. The stream can be viewed on ShoutFactoryTV.com; Shout! Factory TV's Roku, Amazon Fire, Apple TV, and Android apps; and the following digital streaming platforms: Twitch, Samsung TV Plus, Comcast Xfinity, Xumo, and STIRR. 
Dead by Dawn (Uncork'd Entertainment) – April 7th
A suicidal man in a remote cabin is suddenly faced with protecting a kidnapped woman from three killers and their sadistic games. Unable to contact the outside world and with night falling, he falls backs on creating traps to prevent the criminals from gaining entry. It's a fight to the death where only the strongest will survive until dawn.
Gretel & Hansel (Metro Goldwyn Mayer/Orion Pictures) – April 7th
A long time ago in a distant fairy tale countryside, a young girl leads her little brother into a dark wood in desperate search for food and work, only to stumble upon a nexus of terrifying evil.
Rotwood (High Octane Pictures) – April 7th
ROOTWOOD follows two students who host 'The Spooky Hour', a podcast about paranormal phenomena and urban legends. When they are hired by a Hollywood film producer to shoot a horror documentary about the curse of The Wooden Devil, they smell their chance to become famous. Together, with their friend, they enter Rootwood Forest and investigate the area to find out the truth about The Wooden Devil and his victims.
She's Allergic to Cats (Giant Pictures) – April 7th
Mike Pinkney stars as Michael Pinkney, a stifled creative artist eeking out a living in Hollywood as a dog groomer.  When the girl of his dreams (Sonja Kinski) walks into his shop, he falls down a rabbit hole filled with surrealist detours and melancholic absurdity.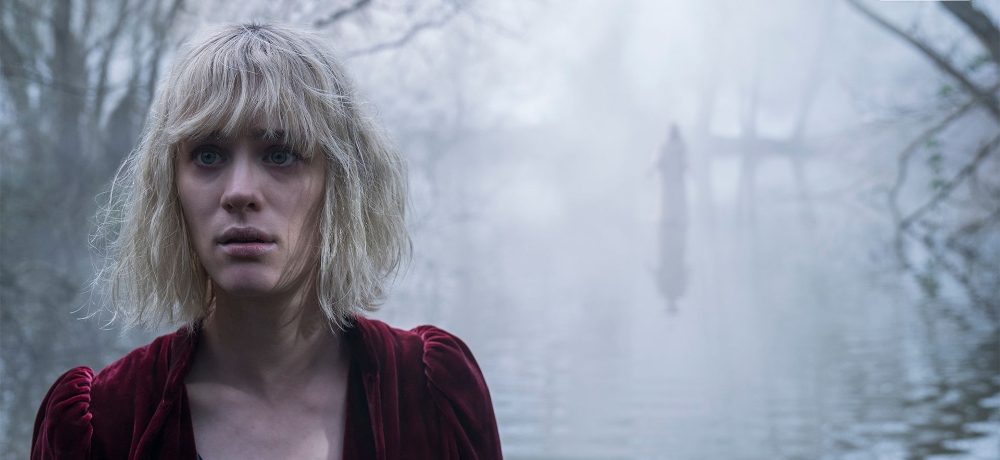 The Turning (2020) (Universal Pictures Home Entertainment) – April 10th
A thrilling adaptation of Henry James' landmark novel about a nanny who discovers dark secrets about an estate and two orphans in her care.
Into the Trap (Dark Sky Films) – April 10th
Philip, a young proofreader, has been living in a self-imposed prison. Convinced that an evil force wants to take possession of his soul, he secludes himself in his childhood apartment, the only place where he thinks he's able to keep himself safe. But a meeting with a mysteriously alluring young woman makes him question his beliefs - have the demons that have haunted him all his life been simply a product of his own imagination, or is this new temptation yet another trap the devil has set for him?
Sea Fever (DUST/Gunpowder & Sky) – April 10th
Siobhán's a marine biology student who prefers spending her days alone in a lab. She has to endure a week on a ragged fishing trawler, where she's miserably at odds with the close-knit crew. But out in the deep Atlantic, an unfathomable life form ensnares the boat. When members of the crew succumb to a strange infection, Siobhán must overcome her alienation and anxiety to win the crew's trust, before everyone is lost.
We Summon the Darkness (Saban Films) – April 10th
On the way to a heavy metal concert, Alexis (Alexandra Daddario) and two girlfriends hear a news report of a local murder believed to be tied to a series of satanic killings. After the show, the girls invite three guys to join them at the estate owned by Alexis's father, a fire-and-brimstone preacher (Johnny Knoxville). What starts as a party suddenly turns dark and deadly in this devilishly entertaining thriller.
Mortal Kombat Legends: Scorpion's Revenge (Warner Bros. Home Entertainment) – April 12th
Lord Raiden, protector of Earthrealm, must gather the greatest fighters of his realm to defend it from the evil Shang Tsung in the battle to end all battles – Mortal Kombat!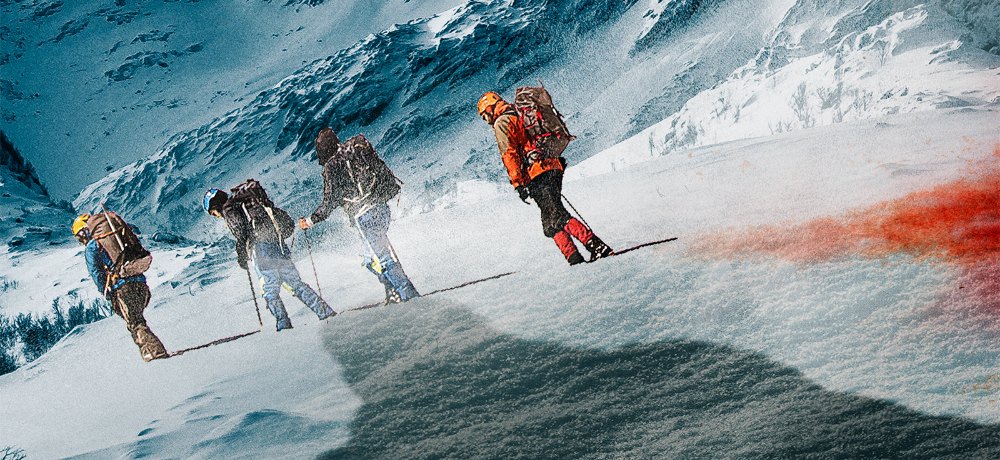 Abominable (Uncork'd Entertainment) – April 14th
A research team embarks on a journey to obtain a plant that can advance medical research by centuries. While stumbling upon clues of the previous expedition, they discover that a Yeti creature lurks within the Himalayan mountains and will do anything to protect its terrain.
Blumhouse's Fantasy Island (Sony Pictures Home Entertainment) – April 14th
In Blumhouse's FANTASY ISLAND, the enigmatic Mr. Roarke (Michael Peña) makes the secret dreams of his lucky guests come true at a luxurious but remote tropical resort. But when the fantasies turn into nightmares, the guests have to solve the island's mystery in order to escape with their lives.
Butt Boy (Epic Pictures) – April 14th
Chip Gutchel, a bored IT Engineer, has an awakening after a routine prostate exam. What begins as a harmless rectal kink, soon grows into a dangerous addiction as he becomes responsible for a missing child. Eventually, Chip buries his desires in Alcoholics Anonymous and tries to move on with his life.
Five years later, he becomes the AA sponsor of Russell Fox, a newly sober detective. And after Chip relapses, Russell is brought in to investigate another missing child… this time at Chip's office. Russell begins to suspect that Chip's addiction may not be to alcohol, but something much more sinister. It's now up to Russell to prove that Chip uses his butt to make people disappear. But the question is, who's going to believe his wild theory?
Powerbomb (Indican Pictures) – April 14th
Powerbomb is the story of an independent wrestler on the verge of breaking into the big time, but he's contemplating leaving it all behind to spend more time with his family. When our wrestler's biggest fan hears the news, he decides to take matters into his own hands to ensure that his champion gets to the top by any means necessary.
Underwater (20th Century Fox Home Entertainment) – April 14th
Kristen Stewart gives a powerful performance in this action-packed sci-fi thriller. The crew of the Kepler undersea mining rig knew there would be hardships on their current mission, but nothing prepared them for the terrors they're about to face. The heart-stopping adventure begins when a devastating earthquake damages the rig, including its communication devices and escape vehicle. Although quick-thinking mechanical engineer Norah Price (Stewart) manages to temporarily stave off imminent disaster, the need to evacuate escalates quickly. Their only hope is to walk across the ocean floor to an abandoned vessel, in hopes that its communication equipment still works. As if their journey isn't treacherous enough, they begin to sense that they're not alone in the murky ocean depths. Also starring Vincent Cassel, Jessica Henwick, John Gallagher Jr., Mamoudou Athie and T.J. Miller, Underwater is a chilling, suspenseful adventure that's filled with nonstop action from start to finish.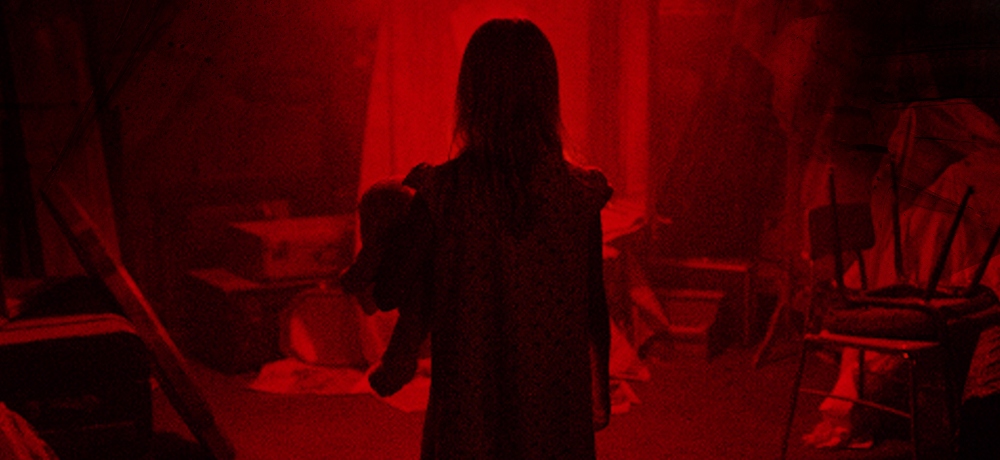 Behind You (Vertical Entertainment) – April 17th
In this directorial debut from Andrew Mecham and Matthew Whedon, two young sisters find that all the mirrors in their estranged aunt's house are covered or hidden. When one of them happens upon a mirror in the basement, she unknowingly releases a malicious demon.
The Quarry (Lionsgate) – April 17th
From the novel by Damon Galgut comes this searing thriller, a tale of sin and redemption set in the wilds of Texas. After murdering a traveling preacher, a fugitive drifter (Shea Whigham, Joker) travels to a small town and poses as the man he killed. Though the congregation loves the drifter's sermons of forgiveness, the local police chief (Academy Award® nominee Michael Shannon, The Shape of Water) is suspicious of the man. Soon a gruesome discovery at a local quarry forces the killer to fight for his freedom.
Why Don't You Just Die! (Arrow Video) – April 20th
Matvey (Aleksandr Kuznetsov) has just one objective: to gain entry to his girlfriend's parents' apartment and kill her father Andrey (Vitaliy Khaev) with a hammer to restore her honour. But all is not as it initially seems, and Matvey's attempts to bludgeon the family patriarch to death don't quite go to plan as Andrey proves a more formidable - not to mention ruthless - opponent than he anticipated... and Matvey, for his part, proves stubbornly unwilling to die.
Party Hard, Die Young (RLJE Films) – April 21st
In PARTY HARD, DIE YOUNG, sun, sand, sex and all-night dancing at a beautiful island resort is the perfect graduation celebration for a group of young friends looking for one last taste of freedom before they go their separate ways. But the dancing and drinking comes to a halt when people start disappearing, and a masked murderer sends the ominous message…this party will be their last! With escape to the mainland suddenly cut off and the body count rising, a wild weekend turns into a desperate and bloody nightmare of survival.
0.0Mhz (Shudder) – Exclusively on Shudder April 23rd
Members of a paranormal exploration club go to an abandoned house in the remote small town to prove the existence of a ghost using radio frequency-based technology. Unfortunately, the young students unwittingly become the ghost's host... Starring  Yoon-young Choi, Shin Joo-Hwan, Eun-ji Jung (of the K-pop group Apink) , directed by Sun-Dong Yoo. A SHUDDER ORIGINAL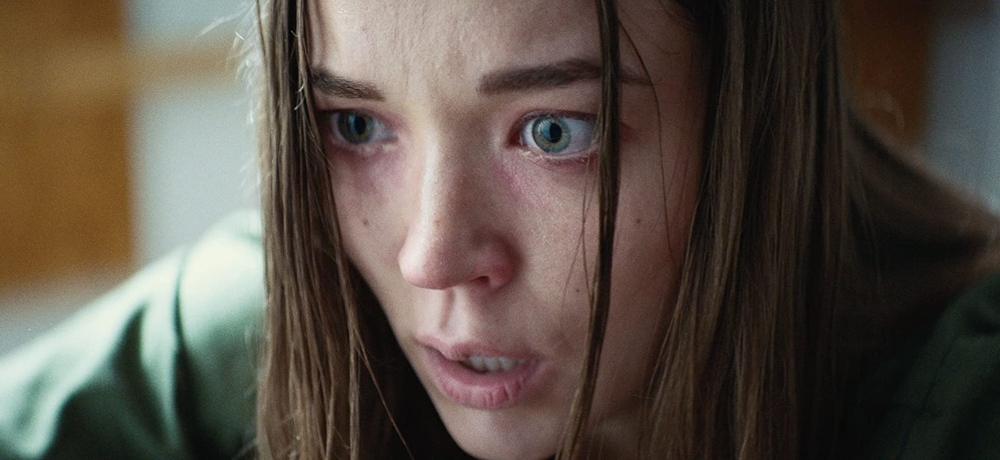 1BR (Dark Sky Films) – April 24th
After leaving behind a painful past to follow her dreams, Sarah scores the perfect Hollywood apartment. But something is not right. Unable to sleep, tormented by strange noises and threatening notes, her new life quickly starts to unravel. By the time she learns the horrifying truth, it's too late. Caught in a waking nightmare, Sarah must find the strength to hold onto her crumbling sanity...or be trapped forever in an existential hell. 
The Last Drive In with Joe Bob Briggs: Season Two (Shudder) – Streaming Exclusively on Shudder Every Friday Night Beginning on April 24th
Proving once again that "the drive-in will never die," iconic horror host and exploitation movie aficionado Joe Bob Briggs is back with an all-new season of weekly Friday night double features streaming live exclusively on Shudder. Over the course of ten episodes, The Last Drive-In series will offer an eclectic selection of movies running the gamut from horror classics to obscurities and foreign cult favorites along with the occasional surprise guest. A Shudder Original Series.
Witches in the Woods (Shout! Studios) – April 24th
A tense tale of survival set in a fabled New England forest, Witches in the Woods is a suspenseful chiller about seven college friends whose off-the-grid snowboarding trip takes a turn for the worst when they get lost in the woods after experiencing car trouble. With temperatures falling fast and their nerves on edge, survival instincts take over as the friends turn against each other…and a witch-hunt begins.   
The Dark Red (Dark Sky Films) – April 28th
A young woman is committed to a psychiatric hospital after claiming that her newborn has been abducted by a secret society called the Dark Red - an ancient, underground cult that harvests and controls an incredibly rare blood type that gives one the power to hear and guide another person's thoughts. The woman, Sybil, claims she is special, that she carries a pure and powerful strain of the blood like nothing seen before, and that the society sees her and her child as central to its next evolution - or perhaps its greatest threat, should she turn against them.
Is the Dark Red entirely a figment of Sybil's imagination - a complex coping mechanism to overcome a terrible personal tragedy - or is there some truth behind her story?
Dreamkatcher (Lionsgate) – April 28th
In this terrifying horror-thriller, Gail (Radha Mitchell, Silent Hill) is forced to come to terms with Josh, her new stepson, at a remote country home. After stealing an evil talisman from a mysterious neighbor, Josh has sinister dreams of his dead mother—who commands Josh to murder Gail. When Josh's dad (Henry Thomas, "The Haunting of Hill House") returns, he and Gail suspect that their son has been possessed by an ancient, bloodthirsty spirit. Is it too late to save Josh's life—or their own?
Guns Akimbo (Saban Films) – April 28th
A guy relies on his newly acquired gladiator skills to save his ex-girlfriend from kidnappers.