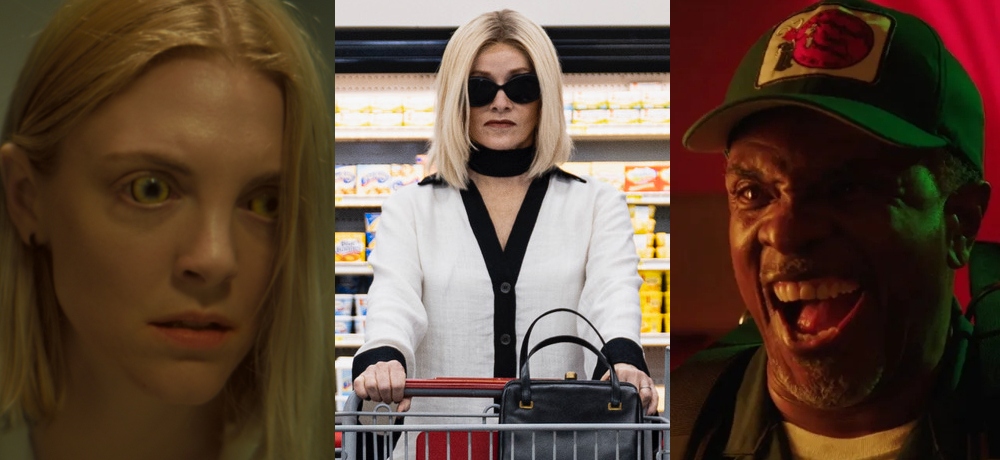 Hello, everyone! Tomorrow is the start of a brand new month, and you know what that means - a brand new batch of horror and sci-fi movies heading to VOD and Digital platforms over the next few weeks! And with Indie Horror Month set to kick off tomorrow as well, there are a ton of brand new indie horror movies making their digital debuts in April, so consider this another resource for supporting and celebrating all the independent filmmakers out there who are keeping the genre spirit alive as well.
Check out all the killer content heading to a variety of platforms in the coming weeks below and happy streaming!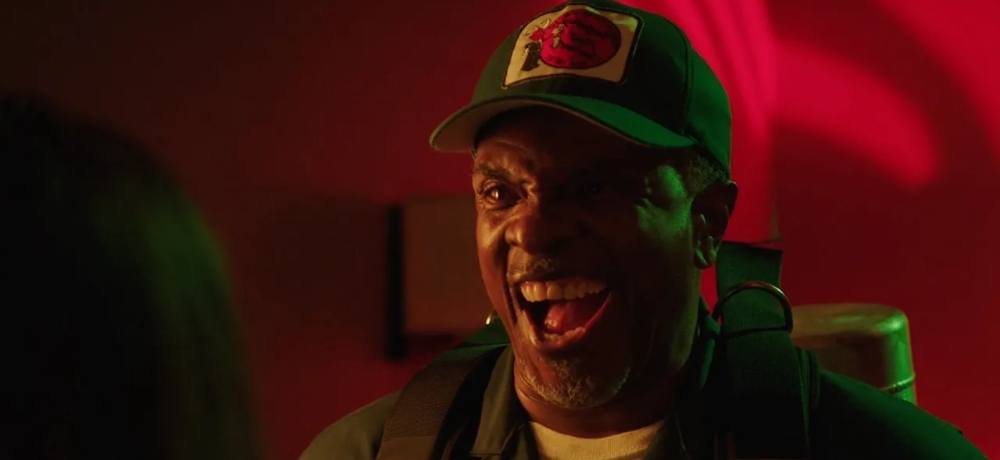 Creepshow: Season 2 (Shudder) - Exclusively on Shudder April 1st (New episodes air every Thursday)
Based on the 1982 horror comedy classic, the anthology Creepshow returns for a second season and is still the most fun you'll ever have being scared! A comic book comes to life in a series of vignettes, exploring terrors ranging from murder, creatures, monsters, and delusions to the supernatural and unexplainable.  You never know what will be on the next page. Executive produced by showrunner Greg Nicotero, Creepshow's second season will feature guest stars Kevin Dillon, Iman Benson, Josh McDermitt, Keith David, Molly Ringwald, Barbara Crampton, Justin Long, and D'Arcy Carden, among others.
The Believer (Freestyle Digital Media) - April 2nd
THE BELIEVER is the story of an out-of-work scientist facing mental deterioration finds he may be battling his wife's obsession with demonic activity. Lucas is an out-of-work nuclear scientist, struggles with tension in his marriage after his wife Violet mysteriously terminates her pregnancy without his consent. As Lucas' physical health begins to inexplicably deteriorate, Violet's behavior grows increasingly bizarre and he seeks clarity from his therapist Dr. Benedict. Exhausted by his job search, strange events begin to occur in the home and his medical condition progressively declines. Benedict recommends they try an alternative therapy, but it only makes matters worse. Lucas questions Benedict's effectiveness as his grip on reality begins to fade. Violet's deceitful behavior arouses his ever-deepening suspicions, and after a visit from two mysterious guests, her insidious behavior becomes disturbingly pervasive. Lucas' anger and frustration turns to fear as Violet's sinister intentions are revealed. Lucas tries in vain to escape the evil web she has spun, but by the time he discovers the truth, it might be too late.
Chaos Walking (Lionsgate) - April 2nd
In the not too distant future, Todd Hewitt (Tom Holland) discovers a mysterious girl named Viola (Daisy Ridley). She has crash-landed on his planet, where the women have disappeared and the men are afflicted by "The Noise," a force that puts all their thoughts on display. In this dangerous landscape, Viola's life is threatened and, to protect her, Todd must discover his inner power and unlock the planet's dark secrets in this thrilling action-adventure based on the best-selling novel The Knife of Never Letting Go.
Every Breath You Take (Vertical Entertainment) - April 2nd
Every Breath You Take is a searing psychological thriller about a psychiatrist (Casey Affleck), whose career is thrown into jeopardy when his patient takes her own life. When he invites his patient's surviving brother (Sam Claflin) into his home to meet his wife (Michelle Monaghan) and daughter, his family life is suddenly torn apart.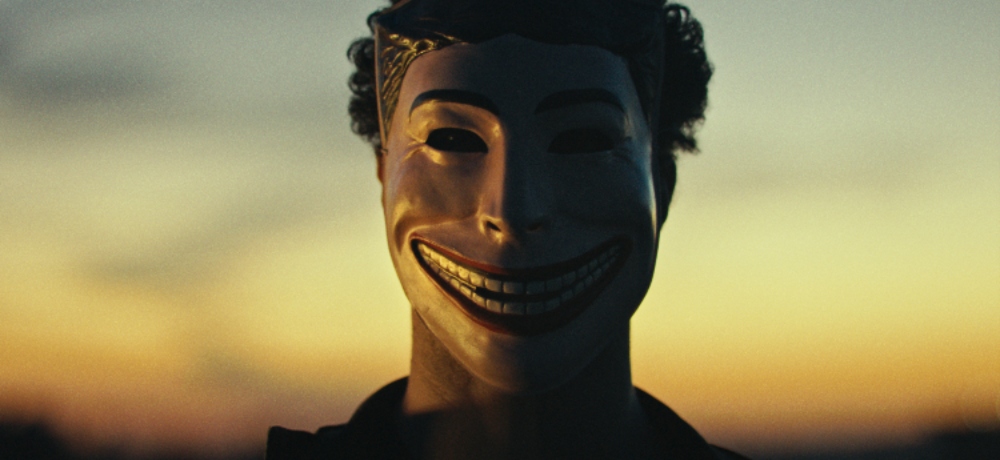 Funny Face (Gravitas Ventures) - April 2nd
A young Muslim woman runs away from her aunt and uncle's house desperate for a new life, but quickly finds that she must survive on the street. A disturbed young man from Coney Island dons the menacing "Funny Face" mask, transforming himself into a makeshift superhero with a rage disorder as he seeks revenge on the Real Estate Developer of a soulless high rise that has displaced his grandparents. Misfit avengers in a changing city, the two embark on a neighborhood odyssey that brings danger, love, and tragedy. And pickles.
The Voices (2021) (Vertical Entertainment) - April 2nd
After visiting her father's grave, Lilly and her mother are involved in a terrible car accident leaving Lilly orphaned and unable to see. In her youth, she struggles with her blindness and begins to hear voices. Unbeknownst to her they don't belong to the living. After years of learning to cope, Lilly is now happily married with a baby on the way. Lilly soon discovers her unborn baby has become a vessel, a second chance for souls stuck in limbo to be re-born. She only has until the baby's first heartbeat to decide which soul will be re-born through her. Now the voices she heard in her youth have returned, clamoring for the chance to come back. Among the voices, she befriends the spirit of a little girl tied to a years-old cold case. Lilly finds herself in a desperate struggle with the girl's murderers and the souls vying to be born again.
Dawn of the Beast (Uncork'd Entertainment) - April 6th
Aiming to see Bigfoot, a group of students venture deep into an area of the Northeastern wilderness known for its strange creature sightings. Soon, they learn that there is a much more sinister evil lurking in the woods, the Wendigo, and once the spirit knows you're there, they will come for you. Who will survive in a battle between the two most notorious monsters of the forest?
The Power (Shudder) - Exclusively on Shudder April 8th
London, 1974. As Britain prepares for electrical blackouts to sweep across the country, trainee nurse Val (Rose Williams) arrives for her first day at the crumbling East London Royal Infirmary. With most of the patients and staff evacuated to another hospital, Val is forced to work the night shift, finding herself in a dark, near empty building. Within these walls lies a deadly secret, forcing Val to face both her own traumatic past and deepest fears in order to confront the malevolent force that's intent on destroying everything around her.
Them (Amazon) - Exclusively on Amazon April 9th
Them is a limited anthology series that explores terror in America. The 1950s-set first season centers on a Black family who moves from North Carolina to an all-white Los Angeles neighborhood during the period known as The Great Migration. The family's idyllic home becomes ground zero where malevolent forces, next-door and otherworldly, threaten to taunt, ravage and destroy them.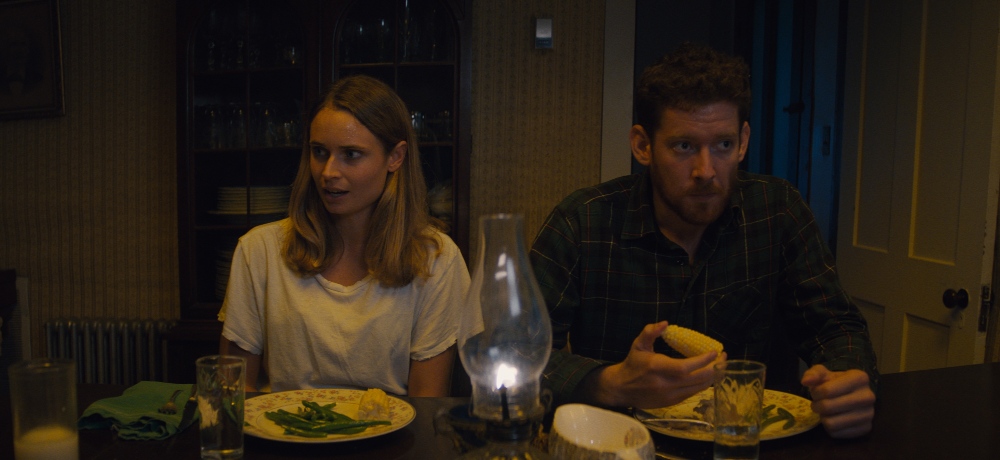 Honeydew (Dark Star Pictures/Bloody Disgusting) - April 13th
HONEYDEW tells the story of a young couple (played by Spielberg and Barr) who are forced to seek shelter in the home of an aging farmer (Kingsley) and her peculiar son, when they suddenly begin having strange cravings and hallucinations taking them down a rabbit hole of the bizarre. 
The Inheritance (Uncork'd Entertainment) - April 13th
A woman's inheritance takes her to Europe where she will uncover a dark and disturbing family secret. Once she is alone in the former family manor, paranormal occurrences in the home begin and slowly intensify. She is forced to face her fears to uncover dark secrets lurking in her family history. And the deeper she delves into the secrets the home possesses, the more horrifying the answers become.
The Banishing (Shudder) - Exclusively on Shudder April 15th
From acclaimed director Chris Smith comes THE BANISHING, which tells the true story of the most haunted house in England. A young reverend and his wife and daughter move into a manor with a horrifying secret. When a vengeful spirit haunts the little girl and threatens to tear the family apart, the reverend and his wife are forced to confront their beliefs. They must turn to black magic by seeking the help of a famous Occultist...or risk losing their daughter.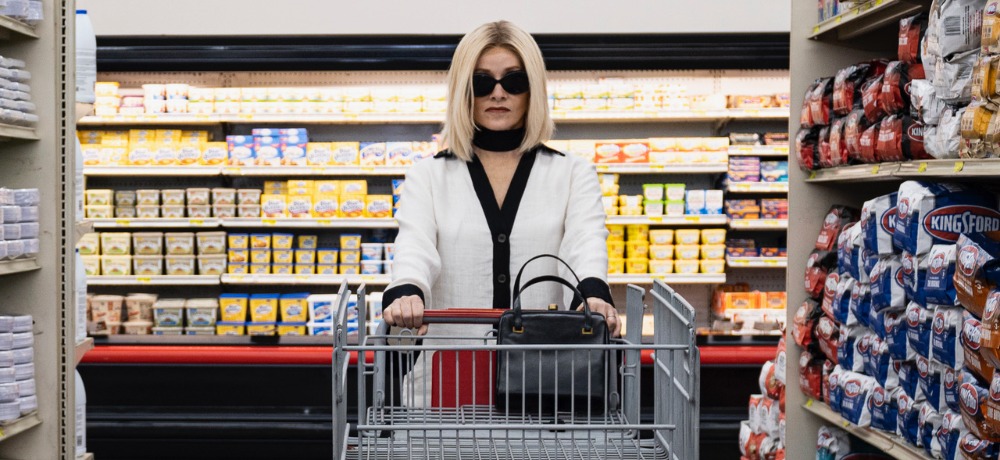 Jakob's Wife (RLJE Films) - April 16th
Anne is married to a small-town minister and feels like her life and marriage have been shrinking over the past 30 years. After a chance encounter with "The Master," she discovers a new sense of power and an appetite to live bigger and bolder than before. As Anne is increasingly torn between her enticing new existence and her life before, the body count grows and Jakob realizes he will have to fight for the wife he took for granted.
Killer Among Us (Vertical Entertainment) - April 16th
On the 4th of July, a rookie female cop partners with a veteran detective to save the life of a high-school student from a radicalized serial killer.
The Last Drive-In with Joe Bob Briggs (Shudder) - Exclusively on Shudder April 16th (new episodes air every Friday)
The hit original series returns with Briggs, the world's foremost drive-in movie critic, presenting eclectic horror movie double features, interrupting the films to expound upon their merits, histories and significance to genre cinema.
2021 Fangoria Chainsaw Awards (Shudder) - Premieres on April 18th at 8 pm EST/5 pm PST
In April 2021, Shudder partners with FANGORIA to bring the Chainsaw Awards, hosted by actor and writer David Dastmalchian, to fans across the globe. This year's nominated films include The Invisible Man, Freaky, Relic, Color Out of Space and Possessor as well as actors Vince Vaughn, Kathryn Newton and Elisabeth Moss. Since 1992, the Chainsaw Awards have honored top achievements in horror film and television, with past recipients including Jonathan Demme, Sam Raimi, Robert Eggers, Toni Collette and George Romero.
Clapboard Jungle (ARROW) - Exclusively on ARROW April 19th
Clapboard Jungle follows filmmaker Justin McConnell through five years of getting his latest feature off the ground, warts and all. McConnell enlisted an impressive number of directors and producers to share their ups and downs, including Guillermo del Toro, Mick Garris, Paul Schrader, Lloyd Kaufman, George Romero, Frank Henenlotter, Heather Buckley, Jovanka Vuckovic, Justin Benson & Aaron Moorhead, Travis Stevens, Izzy Lee and Graham Skipper, among others.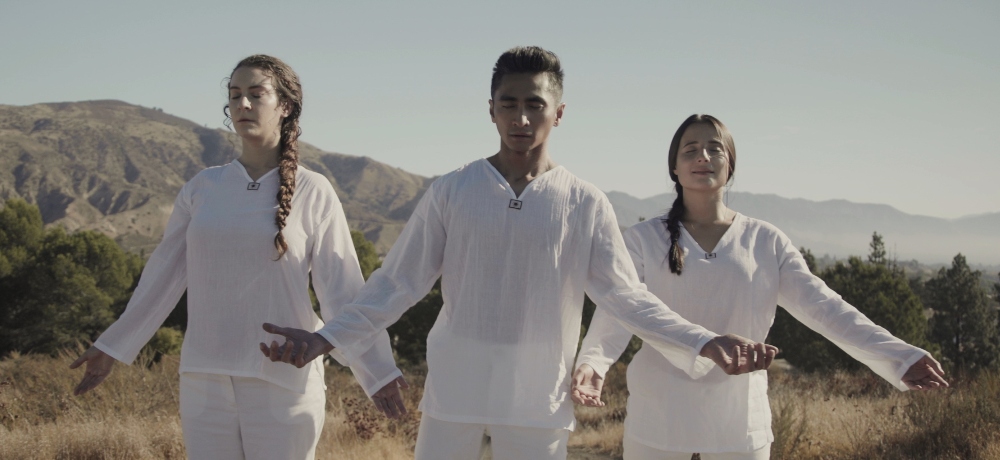 At Night Come Wolves (Gravitas Ventures) - April 20th
In this unnerving tale about misogyny, fate, and sexism comes a story about a woman who is about to change the world forever. After Leah Shaffer finally leaves her emotionally manipulative husband, she finds a friend in a drifter whom she quickly feels a deep connection with. The drifter introduces Leah to a prodigal chemist, and Leah learns her new friends are all that is left of a doomsday cult that disbanded years earlier. Together, the new trio is about to change the world, but before they can reveal their secrets, they have to tie up loose ends with Leah's husband-- and their ex-leader.
Death Ranch (4Digital Media) - April 20th
1970s USA. Three African American siblings, Brandon, Angela and Clarence, on the run from the police, take refuge at an abandoned Tennessee ranch.. But as night falls, Brandon discovers their hideout is on the hunting grounds of a cannibalistic Ku Klux Klan cult, and it's not long before the siblings themselves are attacked and captured by the demented cult. Now, it's up to Brandon to take down the bloodthirsty Klan, and save his brother and sister so they can have their bloody vengeance and escape alive.
For the Sake of Vicious (Epic Pictures) - April 20th
Romina, an overworked nurse and single mother returns home from her late shift on Halloween night to find a maniac hiding out with a bruised and beaten hostage. When an unexpected wave of violent intruders descends upon her home, the trio realize the only way out of the situation is to work together and fight for their survival.
Boys from County Hell (Shudder) - Exclusively on Shudder April 22nd
Strange events unfold in Six Mile Hill – a sleepy Irish town that claims to have been traveled by the famed author Bram Stoker – when construction on a new road disrupts the alleged grave of Abhartach, a legendary Irish vampire said to have inspired Dracula. Deadly and sinister forces terrorize the work crew led by Francie Moffat and his son Eugene, a free-spirited young man who prefers pints to pickaxes, and they're forced to fight to survive the night while exposing the true horror that resides in the town's local myth.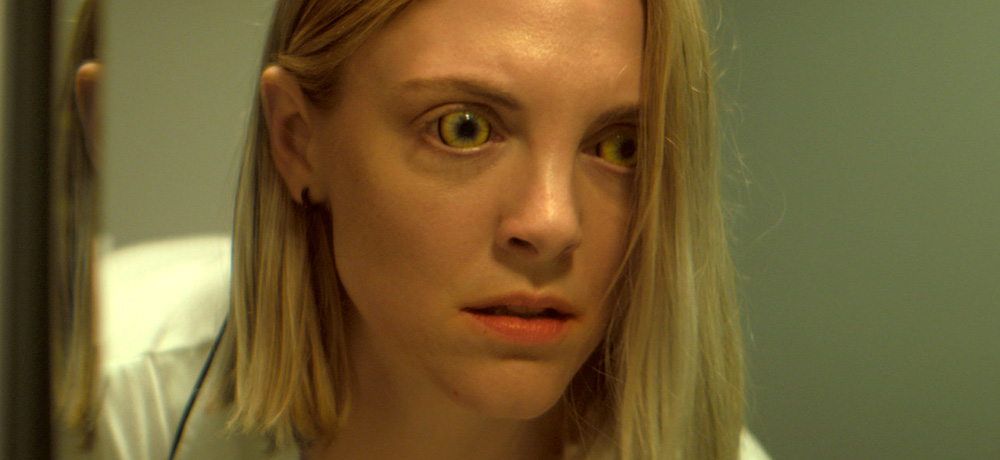 Bloodthirsty (Brainstorm Media) - April 23rd
Grey, an indie singer, whose first album was a smash hit, gets an invitation to work with notorious music producer Vaughn Daniels at his remote studio in the woods. Together with her girlfriend/lover Charlie, they arrive at his mansion, and the work begins. But Grey is having visions that she is a wolf, and as her work with the emotionally demanding Vaughn deepens, the vegan singer begins to hunger for meat and the hunt. As Grey starts to transform into a werewolf, she begins to find out who she really is, and begins to discover the family she never knew. What will it take to become a great artist and at what cost to her humanity?
In Search of Darkness: Part II (Shudder) - Exclusively on Shudder April 26th
Building on the hit 2019 superdoc that Forbes called "a scary good magnum opus," In Search of Darkness: Part II dives deeper into the fabled practical-effects decade of iconic and eclectic '80s horror movies that changed the course of film history. Packed with over four hours of brand-new interviews, including such legendary horror icons as Robert Englund (A Nightmare on Elm Street), Nancy Allen (Dressed to Kill), Linnea Quigley (The Return of the Living Dead), and special-effects wizard Tom Savini (Friday the 13th), Part II features 15 new faces alongside 40-plus returning members of the original In Search of Darkness cast to delve into more fan-favorite titles of '80s horror, year-by-year, expanding its scope to cover more international releases and spotlighting horror-career retrospectives.
Murder Bury Win (Gravitas Ventures) - April 27th
Three friends have created a board game, MURDER BURY WIN, and they think it has what it takes to become a bestseller on the indie charts. When their attempt to crowdfund fails, a mysterious man makes them an offer: he will publish their game on the condition that he takes credit as the sole creator and owner. After a dispute over the gaming rights leaves them with a body on their hands, the young men realize how suspiciously like murder the freak accident appears. Now, with few options remaining, they look to their game for guidance. The premise of their game? How to murder someone and get rid of the body.
Deadhouse Dark (Shudder) - Exclusively on Shudder April 29th
An anthology of six interconnected horror short films, Deadhouse Dark is anchored by a woman who receives a 'mystery box' from the dark web, each item within it gradually unveiling a dark and troubling truth. A boxful of dark and chilling tales of terror inspired by frighteningly familiar modern trends including dark web mystery boxes, dash cam footage and Insta-fame hungry vloggers. Deadhouse Dark is a giant mystery box of chocolates – while there is something in there to suit a variety of different tastes, in the end chocolate is still chocolate. And who doesn't love chocolate?