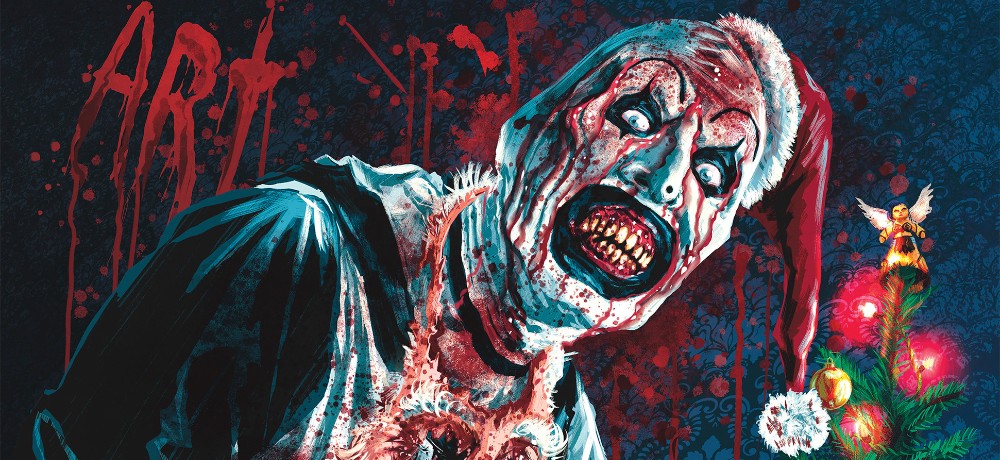 Art the Clown will return to theaters with a blood-soaked vengeance when Damien Leone's Terrifer 3 haunts theaters on October 25th, 2024, and as an early holiday gift for horror fans, the first teaser video and poster for the anticipated sequel have been unveiled, featuring Art the Clown delivering Christmas Eve carnage in Miles County!
Below, you can unwrap the teaser video (from Cineverse, Bloody Disgusting, and SCREAMBOX) and poster (by Uncle Frank Productions), and we also have the official press release with additional details on Terrifier 3:
Art the Clown decks the halls with human entrails in the Terrifier 3 teaser from Cineverse, Bloody Disgusting, and SCREAMBOX. The preview debuted exclusively in theaters with the re-release of Terrifier 2 on November 1, which came in at #5 in gross box office.

From writer-director Damien Leone, Terrifier 3 hits theaters nationwide on October 25, 2024. Art the Clown will unleash chaos on the unsuspecting residents of Miles County as they peacefully drift off to sleep on Christmas Eve.

The latest installment in the subversive slasher franchise arrives two years after Terrifier 2 ravaged theaters during its highly publicized theatrical run in 2022, pulling in over $11 million in domestic box office. Certified Fresh by Rotten Tomatoes, Terrifier 2 found its way to mainstream press with Variety detailing how it "is inspiring horror fiends and skeptics to go to their local cinemas in droves to assess the hype for themselves" and The New York Times calling it "the most talked about horror movie this Halloween."

David Howard Thornton reprises his iconic role as Art the Clown in Terrifier 2, starring with Lauren LaVera, Elliott Fullam, Samantha Scaffidi, horror staple Felissa Rose (Sleepaway Camp), and pro wrestling superstar Chris Jericho.

"Terrifier 2's remarkable success was driven not only by the insatiable appetite for new and thrilling horror icons like Art the Clown but also by its unparalleled theatrical release and marketing, along with its unyielding spirit," says Leone. "In a cinematic landscape where risk-taking is scarce, I will continue to push boundaries in Terrifier 3, and I can't wait for you to see what's in store for Art the Clown."

"In the world of horror, Damien Leone's Terrifier franchise stands as a defiant embodiment of anti-Hollywood ethos," notes Brad Miska, Managing Director of Bloody Disgusting. "With an unwavering commitment to delivering precisely what the fans desire, Leone has crafted an entirely independent sequel. Terrifier 3 is going to have nastier kills, a bigger budget, and an even crazier storyline."

Terrifier 2 is streaming on SCREAMBOX alongside such unique horror content as RoboDoc: The Creation of RoboCop, Hollywood Dreams & Nightmares: The Robert Englund Story, The Outwaters, Living with Chucky, Project Wolf Hunting, Creepypasta, Cube, and Pennywise: The Story of IT.
Poster by Uncle Frank Productions: