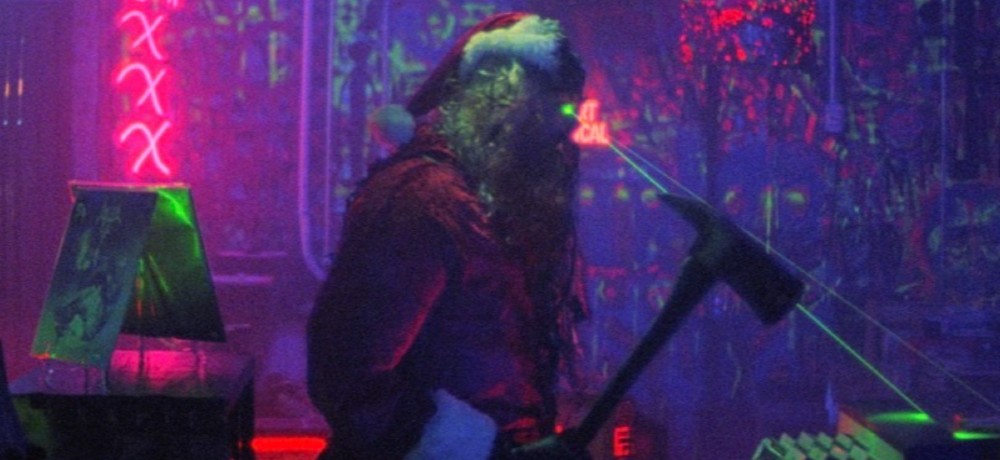 It's the most wonderful time of the year. I'm talking about Beyond Fest: probably one of the best (if not the best) genre film festivals in Los Angeles. Every year they seem to top themselves with the screenings they hold. This year, they had an incredible RRR screening in IMAX at the TCL Chinese Theatre and a William Shatner triple feature with Shatner himself in attendance. But today, I'll be talking about a movie that will be your new favorite Christmas killer robotic Santa movie. I'm talking about the new Joe Begos joint, Christmas Bloody Christmas.
I was lucky enough to attend the world premiere at the Hollywood Legion Theater filled with Christmas cheer, Santa hats from everyone, and a killer robot Santa photo op. So, without further ado, let me tell you what this movie is all about: "...it's Christmas Eve and fiery record store owner Tori Tooms just wants to get drunk and party, until the robotic Santa Claus at a nearby toy store goes haywire and makes her night more than a little complicated. Santa Claus begins a rampant killing spree through the neon drenched snowscape against a backdrop of drugs, sex, metal and violence, ultimately forcing Tori into a blood splattered battle for survival against the ruthless heavy metal Saint Nick himself."
This movie is not your typical killer Santa movie, and if you've seen any Joe Begos movies, you know exactly what you're in for: a big fucking bloody joy ride. This Santa doesn't give any fucks who you are, he'll chop you up, and I loved every minute of this fast-paced 87-minute thrill ride. What's cool about this movie is that you clearly can see that the producers gave Begos a bigger budget than his previous films, so that means more blood, sex, gore, and live explosions. The kills and the animatronic Santa were pretty damn awesome, courtesy of Josh & Sierra Russell of Russell FX (2022's Hellraiser).
This movie also has a fun cast including Jeff Daniel Phillips (3 From Hell, The Munsters), Jonah Ray (Mystery Science Theater 3000, Satanic Hispanics), and Dora Madison (Bliss, VFW), who give it their all, especially Jonah Ray and Dora Madison (you'll know what I mean when you see it). Abraham Benrubi, who plays the killer Santa, had it easy according to the actor during the post-Q&A. He had no lines and just got to walk around and kill. That's an acting gig I'm down for any time! I also want to give a shout-out to Steven Moore, who did the score for Christmas Bloody Christmas. It was as loud as it was heavy and was perfect for this movie.
I don't want to give a lot away, but there's a fun scene where our main leads Tori and Robbie go back and forth about their taste in movies, with one of them saying Blair Witch 2: Book of Shadows is better than The Blair Witch Project, which got hefty applause from the audience. The final 15 minutes were the highlight of the movie that brought the house down, and I loved the way Joe Begos and his team executed the final sequence in a way that kept me on the edge of my seat.
Christmas Bloody Christmas is one of my favorite movies I caught at Beyond Fest this year and it's also my new favorite Christmas movie I'll be playing every year during the holidays. I've been a fan of Joe Begos for quite some time, and I'm looking forward to seeing what he and his team bring to the screen next!
You can check out Christmas Bloody Christmas when it drops on December 9th in theaters and on VOD!
Movie Score: 4/5